Bonnaroo: The Happiest, Hottest Place on Earth
A first-timer visits the iconic rock festival and finds that spirits were high, despite dirt, heat and other hassles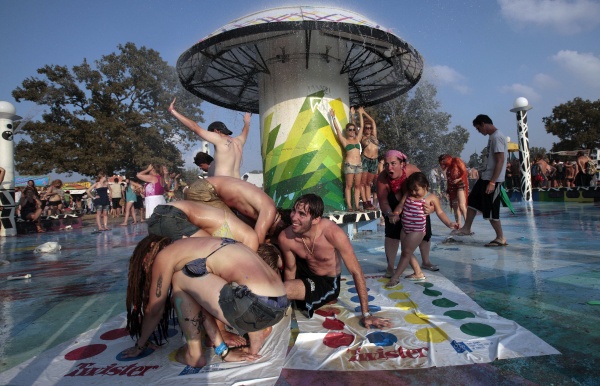 AP Photo/Dave Martin
I flew into Chattanooga last Wednesday and was camped out in a crammed Manchester field by 11 p.m. Tents and cars were packed side by side, dozens deep against the woodlands. As I tripped over tent cords and saw horrified facial expressions of campers returning from blue porta potties, I quickly realized that things here at the Bonnaroo music festival could get ugly. After all, how could 80,000 sweating music fans who haven't showered in days, thrown into conditions more intimate than those between college roommates, remain friendly to one another?
The increasingly famous Bonnaroo is a sweltering, brutal, exhausting slog that lasts four days, over which festival attendees shuffle from campsite to outhouse to water station to stage and back again. The hassles start before even arriving at the festival, as traffic gridlocks for hours on the surface streets leading into the 700-acre Manchester, Tennessee farm where Bonnaroo is held. Quickly, that farm becomes a crowded mess: bottles and gyro boxes accumulate on the ground, dust fills the air, lines at the water stations swell, and, most importantly, it's hot out. It sadly doesn't come as a huge surprise that two attendees were found dead this year.
As if these conditions weren't already maddening, Bonnaroo has given its primary stages the following names: What, Which, That, and Other. Even after four days, I couldn't truly distinguish the Which and the That stages in my memories offhand.
Recipe for disaster, right?
And yet at this year's festival, person after person defied my expectations by showing kindness. Native Tennesseans helped my friends fire up the grill. If someone crouched amid a crowd, others would check to make sure he or she hadn't passed out from some combination of heat and booze. I heard lots of friendly banter while waiting in lines, everything from, "God, I hope they play "Wake Up'" to, "Have you seen them before?" to, "Hey, sweet shirt, man." Inevitably, the questions "So where are you from?" and "What are your favorite bands so far?" framed and kicked off discussions.
Such warm encounters continued despite rising temperatures. When attempting an impromptu shower, I saw a Canadian helping strangers clean off by holding a hose for them. At shows, people would spray rejuvenating drops of water over the sweaty crowd to help them cool off. Walking the grounds, I received multiple high-fives for no reason.
The diversity of the music certainly helped things. Moving from the dub-step of Bassnectar to the howling passion of Grace Potter to the auto-tune of Lil Wayne to the swelling rock intensity of My Morning Jacket was refreshing; the eclectic mix helped people make it through till Sunday.
Perhaps no performance shook the grounds as much as the devastating rock of Arcade Fire. Hot, ethereal darkness shrouded Win Butler as he began singing, but soon orange and green lights rose and enveloped the band members, giving their faces a sickly, intense focus consistent with the brooding, banging anthems. Unsettling visuals accompanied the Canadian act's apocalyptically ominous hits: At one point, a pale open-mouthed face blinked out at the audience, and at another, Spike Jonze's yet-to-be-released music video for the "The Suburbs" was shown. The band pulled freely from its three albums, especially the heartbreaking debut Funeral, and the rapturous atmosphere had an almost religious quality. I saw one woman crying as she looked towards the white lights.
But the real lord of the dance remains Gregg Gillis, the 29-year-old mashup DJ known as Girl Talk. Despite orchestrating his anthems on a laptop from countless different' samples encompassing everything from hard rap to pop jams, his live show brings hypnotic levels of passion. At Bonnaroo, he played from 2:30 to 4 a.m. His epic act included falling balloons, flashing lights, and mobs moshing on stage alongside him. Gillis frequently climbed up to exhort the crowd to dance till morning.
"Bonnaroo!" the shirtless, sweating DJ shouted amid flashing lights. "Follow me!"
These pleasures of music coincide with the joy of being with people. A part of Bonnaroo's fun is the little things--a calm ride on the big Ferris Wheel, a dive down the water slide, or a visit to the many sponsored tents for items like iced bandanas and free scoops of Ben & Jerry's. Sometimes it's important to just take a run through Bonnaroo's iconic mushroom fountain of water, or sit through a movie screening or comedy set.
Woodstock spirit's spirit of sex, drugs and rock 'n roll lives on at Bonnaroo. Franzia was drank before noon; members of both genders wandered around topless. When my friends and I set up camp, the first neighbor we met quickly identified himself as a man of business, and his wares were any drugs you might want (the choice selection this year seemed to be the purified ecstasy known as molly).
Although the majority of drug use appeared more or less benign, the lawless partying could quickly turn dark. "I'm going to trip out and kill him," my hustler neighbor told us the first day we met, referring to his business partner. At Girl Talk's late-night show, a bearded hipster fell and appeared to begin seizing. "Medic!" the crowd yelled. "Medic over here!" Luckily, he soon came to and was pulled away.
The drugs aren't surprising, but what's remarkable is that no tempers flared even when a person was out of their mind on narcotics. I saw no one shove or throw punches, a testament to the good will uniting the diverse crowd. I talked to East Coasters and West Coasters, Canadians, and Australians. Even in 100 degrees, in what virtually amounted to refugee conditions at times, the collective spirit of Bonnaroo remained a caring one, in my experience--truly a feat given the festival's long waits and myriad challenges.
There's a reason people return, year after year. Bonnaroo sees masses of festival-goers rising above the adversity, bonding through both the difficulties and through the countless concerts. Many people I met described the weekend as their second, third, or fourth Bonnaroo, and passersby wished one another "Happy Bonnaroo" in solidarity. Yes, there are struggles and complaints, but those difficulties are just another reason for why the good parts have become as special as they have. Forget the heat, the camps, the walking, the daze of drinks and drugs--these 80,000 people at Bonnaroo came from around the U.S. and across the world for the music.
Then again, perhaps the festival's name itself should have clued me in to its sincere sense of camaraderie. Look to the syllables and consider even the first root bon, which is French for "good." "Bonnaroo" is hardly a meaningless burst of sounds--it's Cajun slang for fun, positive times.
At least in my experience, the festival more than earned its name.