Beyond Dirk Nowitzki: The Unsung Heroes of the NBA Finals
The series brought out the best in Dallas role players like Ian Mahinmi, J.J. Barea, Brian Cardinal, and DeShawn Stevenson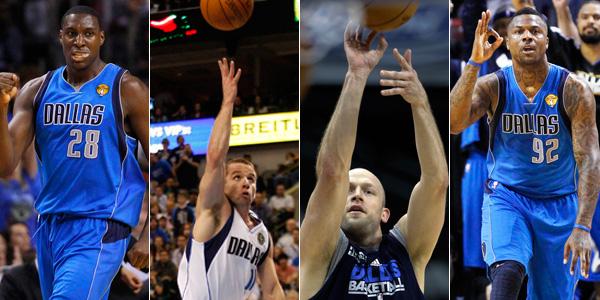 Reuters
The Dallas Mavericks didn't really try to win this one for DeShawn Stevenson. When Jason Terry was approached for his postgame interview, he didn't mention Stevenson's name among the players with "unique stories" who'd contributed to Dallas' chemistry as they captured their franchise's first national title. What's unique about a player most remembered for getting compared to Soulja Boy? And yet one of the most exciting moments of the series-winning Game 6—along with Dwyane Wade blocking Tyson Chandler and every off-balance Dirk Nowitzki shot—was the sight of Stevenson taking aim on the break and hitting his third consecutive three-pointer to cap a 17-4 Dallas run. For Soulja Boy fans around the country, Stevenson's shot justified years of half-empty potential and goofy arrogance. He was no longer a mere journeyman; now, he was a player who mattered when it mattered.
The NBA playoffs have a way of putting the spotlight on normally unheralded players, and this year brought out the best in plenty of them. In the Finals, it seemed like Dallas was loaded with unexpected stars. Game 6 put the spotlight on all of them. There was Stevenson. There was goofy Brian Cardinal, he of the God-given seven feet and six fouls, raking his doughy arms against Chris Bosh's shoulders in a transparent display of goon defense. There was tiny J.J. Barea darting through the lane, doing his best Derrick Rose impersonation as he twisted past his defenders. There was oft-misspelled Ian Mahinmi, hustling on defense and hesitating before he stuck a quarter-ending jump shot. Aside from a few ridiculously confident contested three-pointers (most of which ended up going in), the Mavericks were sharing the ball and getting their guys to take the right shots.
Often, we wait too long for role players to figure out those shots. It can be a hard transition for the player, because remember: No matter how unimpressive they may seem, everyone in the NBA is a former star, whether in high school, college, or Europe. (Case in point: Brian Cardinal once averaged 25 points a game at Unity High School.) The majority of players, upon arriving in the league, are asked to highlight their best skills in the context of their team, rather than being allowed to shape the system. It's a process that can take years as role players are often mismanaged on their teams and asked to do things they're incapable of.
Take Stevenson, for example: On the Washington Wizards, he was allowed to shoot at will and acquired a reputation as an inconsistent talent who made too few of his shots to trash talk as much as he did. But after being traded to Dallas, he was immediately pushed down the rotation by more offensively talented players. By focusing on his strengths (spot up shooting, defense), he was able to find a spot in the Mavericks' freewheeling offense. The stats reflect his adjustment: In two seasons in Dallas, he was assisted on his baskets 94 percent and 81 percent of the time, compared to 50 to 60 percent when he played for the Wizards. Personality-wise, Stevenson didn't appear to change much--he still wears shirts like these--but after ten years and four teams, he found a system to fit into. There's a genuinely euphoric payoff of seeing an unsung player finally make good, which is why I jumped up and down when Stevenson drained that third three-pointer.
On the other end, Miami had Mario Chalmers, a trooper since his college days, and Udonis Haslem, in the dictionary under "grit." But Miami's other role players—Eddie House, Mike Miller, Joel Anthony, Mike Bibby—were largely ineffective during the Finals, sending the team into a panic whenever the Big Three's shots weren't falling. Attribute it to talent or practice or nerves or whatever you want, but as the series wore on, the Mavericks' role players were hitting more shots than the Heat's. Still, Wade and LeBron James continued to pass to their teammates, trying to create a limited form of the Mavericks' egalitarian offense.
You can argue that when you have two of the best three players in the world, egalitarianism is a false aspiration. Certainly, the Skip Baylesses of the world will argue that James and Wade should've just "turned it on," whatever that means. But across NBA history, every talented team has needed a number of role players to win championships. That's the best part about role players: They're fun to root for and they're essential to the game. When James and Wade started struggling, the team's offensive output ground to a halt, while Dallas' role guys carried Dirk through a brutal 1-12 shooting effort in the first half of Game 6. Dirk had plenty of classic moments—it was only fitting that Stevenson and Cardinal and Barea and Mahinmi could get theirs as well. We want to see our stars dominate, but when they're not, it's the role players who make us smile.