Attention Gleeks: You Should Be Watching 'The Glee Project'
The Oxygen show succeeds where many of its reality counterparts fail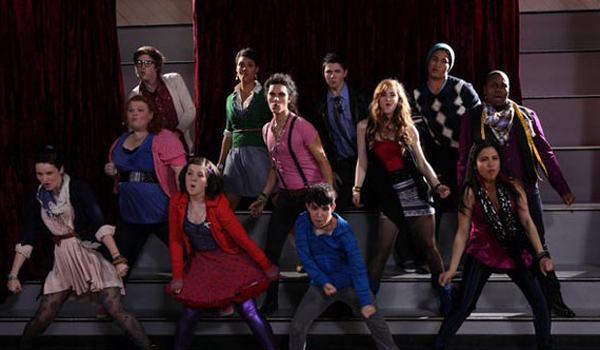 Three weeks ago
The Glee Project
, a reality competition show where performers vie for a seven-episode guest spot on the next season of
Glee
, premiered on Oxygen to a mere 455,000 viewers. That's low. And surprising for a show directly tied to a franchise with a ravenous fan base. In its second week the show managed to pull in
62,000 more viewers
—a 16 percent increase—but at just above 500,000 viewers, it's hardly a hit. Gleeks aren't biting.
But they should be! The show is the best of both reality TV and Glee worlds. It maintains the redeeming aspects of the school-choir dramedy—the goose-bump inducing musical performances—without the irritating plot holes, weak characters (read: Will Schuester), and sappy after school special lessons. And, unlike many talent-based reality TV competitions, the winner is guaranteed a very attractive, career changing, prize: A recurring guest spot on a show with 10 million viewers—not to mention iTunes hits, crazy fans, and a concert tour. So why aren't people watching? We can only speculate. After three episodes, I'm convinced that the world is missing out. And, here's why.
There's lots and lots of quality entertainment.
There's so much singing. You get five songs, plus the closing number, which each week is Avril Lavigne's "Keep Holding On," featuring a solo from that week's loser. Glee keeps plenty of people watching with its spine-chilling performances—and can turn off viewers by spending too much time on convoluted, contrived plotlines. The Glee Project filters out all the other noise, leaving us with little drama and lots of incredible singing. And, unlike some of Glee's members (ahem: Finn), all of these kids are really talented. Among the bunch, it's impossible to pick a favorite—though, it's hard not to love Alex (a.k.a. Kurtcedes, as Matt Cherette has aptly dubbed this mix between Glee's Kurt and Mercedes).
And he's just one of ten! With a group of very talented contenders, it's hard to predict front runners, meaning each week—even in the early episodes—the worst and best performers are not who you might expect. (Or want.)
For a competition-based reality show, it has great pacing.
The hour-long show doesn't last long enough. Unlike other reality shows of its kind, which bait viewers with a short competition in the beginning (like, the "Quick Fire," on Top Chef, for example) and then spend the next 45 minutes following the contestants as they perform mundane tasks like sew buttons, shop at Whole Foods, or prepare for photo shoots, The Glee Project cuts to the interesting parts—singing, winning, and losing—quickly.
The show has a three-part structure, instead of the traditional two. Like its contemporaries, it begins with a short challenge—singing-related, so far—which rewards the winner with a small prize. The show then continues along the trajectory of talent competitions, with a bigger challenge: The crew must put together a music video where each contestant has at least one solo moment. Instead of dragging on the preparations for the music video, the show shuffles us through the dancing and singing prep bringing us to the final product another entertaining performance half the way through the show. With plenty of time left, this leaves room for not just one more, but three additional songs, as the bottom three performers belt one last ballad for Glee creator Ryan Murphy, hoping to convince him not that they are the most talented fresh-faced package of the lot, but that they exemplify some sort of writable character. This structure allows for less forced drama and more of the good stuff: talented kids performing your favorite hits.
There's an authentic connection to the brains and power behind Glee.
The stakes are real. The contestants are competing for a character on the show—not just a guest spot, or the chance to audition, but for Murphy to write a new Glee member around their persona. Not only is the prize very legit, but the process also involves Glee's casting director Robert Ulrich, vocal arranger and songwriter, Nikki Anders, and choreographer Zach Woodlee.
And beyond having Glee's behind-the-scenes masters on set, each week TGP features a star from the show. So far, we've seen  Darren Criss (Blaine), Idina Menzel (Shelby), and Dot-Marie Jones (Coach Beiste). Sure, it's not Lea Michele, but to an aspiring musical actor, these names are huge. By including real players from Glee, both the contestants and the viewers are invested in the outcome.
Glee fans: Watch The Glee Project. You fell in love with Glee for its wit, irreverence, and music. So, The Glee Project doesn't have Sue Sylvester's one-liners, but neither does Glee anymore, really. So you might as well skip all that plot nonsense and enjoy an hour of what keeps you coming back: unbelievable talent.