Albert Pujols and the Plight of Latino Baseball Players
The Cardinals first baseman is the best slugger since Gehrig. Why isn't he a household name yet?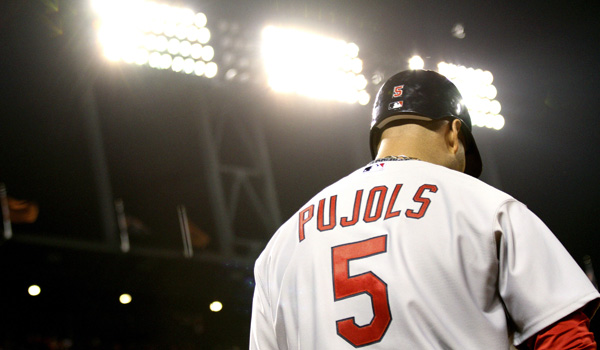 Beck Diefenbach/Reuters
Where, I wonder, is Saturnino Orestes "Minnie" Minoso? I never see him at any Old Timers games—though he would be unlikely to play, wherever he is now living (Florida is my guess, since he is Cuban born), since he is now 85.
I thought of Minnie when Albert Pujols broke his right forearm in a freak on-the-field accident earlier this month. Pujols is regarded, and rightfully so, as the best player in baseball. You probably know this, but if you're only a casual fan or just a sports fans who glances at baseball highlights, let me give you the short form. Pujols is only 31 this year, he has hit 425 home run over 11 seasons. He has driven in fewer than 116 runs in only one season, and in that season he had 103. He led the league in batting in 2003 at .359, has never hit lower than .312 over a season, and has a career average of .329. In OPS—the combination of the two most vital statistics, on-base percentage and slugging average—he's led the National League three times.
If that weren't enough to separate him for most of the sluggers of his era—including Manny Ramirez, David Ortiz, and his current rival for the unofficial title of best slugger in baseball, Prince Fielder—he is much more than just a hitter. He's a superb first baseman and a surprisingly agile and intelligent baserunner who has been successful in better than 81 percent of his stolen base tries over the last three seasons. Since 2001, only Alex Rodriguez is in his class as an all-around player.
I don't have the time or space to make a detailed analysis here, but it should come as no surprise that most baseball analysts regard Albert Pujols as not merely the greatest first baseman in baseball over the last 70 years—that's since Lou Gehrig—but quite possibly of all time. He is a more complete player than Lou, and it will be interesting to compare their batting numbers when Pujols has played 2,164 games, as Gehrig did. (If Pujols is back from his injury in four to six weeks and plays 60 more games this year, he could pass Gehrig near the end of the 2014 season.) And at his current rate, Pujols could hit another 140 home runs by then to bring his total to 565, 72 more home runs than Gehrig in the same number of games.
So when you see Pujols play, you should immediately think Lou Gehrig, Jimmie Foxx, Stan Musial—guys like that. And yet, though he has won three Most Valuable Player awards and finished second four times—that's first or second seven times in ten previous seasons—one wonders exactly what Albert Pujols has to do to become a household name outside of St. Louis. He's made several magazine covers for Sports Illustrated and ESPN magazine, but he has been unable to tap the high-profile, non-sports magazine market—no GQ, Esquire, or Men's Journal covers. No New Yorker staff writer has deemed him worthy of a 5,000-word profile a la Manny Ramirez. This year he has gotten more press for his contract squabbles with the Cardinals than for anything he's ever done on the field.
If the figures bandied about in the press are correct, Pujols was not looking so much for a contract extension in line with what other leading sluggers (such as the Yankees Mark Teixeira and the Phillies' Ryan Howard) have received. Instead, he wanted a contract that would signify he is indeed the game's best player.
What would that mean in dollars? Well, in 2007, when Alex Rodriguez was 32, he signed a $275 million, 10-year extension. Pujols, who is 31 this year, turned down the Cardinals' offer of $200 million over eight years and set a February 15 deadline for making a deal. The deadline came and went, and there's no telling whether or not Pujols, who has played for St. Louis his entire career, will be a Cardinal next year.
When the baseball press wasn't fixating on Pujols's contract, they were all over his "slump," the worst of his major league career which left him with "just" 17 home runs and 45 RBIs over the first 73 games of this season. As Bob Costas put it a couple of weeks ago on the MLB Network, "Pujols's slump got more attention that any streak he's ever had." But not only was Pujols coming out of his slump before he was injured, he was on pace to finish with at least 36 home runs and around 100 RBIs. This would have been a "bad" season by no standards except Pujols's own.
You wouldn't think it would be so hard for the best player in the sport to be paid like it, especially at a time when he represents the new Latin dynasty in Major League Baseball. Alex Rodriguez has won his big contract battles over the years, but he has several advantages over other great Latin players. The first is having played the last eight seasons for the New York Yankees; the second is having been born and raised in the U.S. and never having had to overcome a language barrier. You might also say that A-Rod gets a publicity boost from hanging out with Madonna, Kate Hudson and Cameron Diaz.
Pujols was born and raised in the Dominican Republic; his family immigrated to the U.S. when he was 16, and he went to high school in Independence, Missouri. He became an American citizen in 2007, posting a perfect 100 in the test. He no longer has any problems with the language, but for the most part he chooses not to speak at all except in pre- and post-game arm of his wife, with whom he's had four children. The Pujols Family Foundation was founded to further his and his wife's commitment to "faith, family and others" and is particularly focused on Down Syndrome, which affects one of their children. All baseball fans know his name, but it's doubtful most of them would recognize him out of Cardinals uniform.
I hesitate to say that a Latin player has to be better than other players to receive the same rewards, but you have to wonder. Minnie Minoso was the Jackie Robinson of Latin players, the first black Latin to wear a major league uniform. What must it have been like for him, I wonder, to be both black and Hispanic and play big league ball in the 1950s and early 1960s? There are shelves of books on Jackie Robinson, and in recent years, historians have started to catch up to Larry Doby, the first black player in the American League. But who knows anything about Minnie Minoso?
Here's a thumbnail sketch: there is some dispute about Minnie's actual age, so we'll go with BaseballReference.com on this. In 1951, when he was officially a rookie, he was 25 years old and had already lost about three years of his prime. Playing for the White Sox, he made a spectacular bid, for Rookie of the Year. He hit .326 with ten home runs, 76 RBIs, and 112 runs scored. Gil McDougald of the Yankees hit .306 with 14 home runs, 63 RBIs, and 72 runs. Minnie led the AL in stolen bases with 31 (McDougald had 14) and triples with 14 (Gil had four). Minoso had an on-base percentage of .422 and a slugging average of .500; McDougald was, respectively, .396 and .488. McDougald won.
Minoso's 1951 season was a red flag to Latin players that they would have to do better than non-Latin players just to be noticed, and far better if they wanted to win awards.
Minnie Minoso was a far superior player than many white players who are in the Hall of Fame; he is also better than a few non-Latin black players who are in the Hall. Doby and Enos Slaughter were, for the most part, Minoso's contemporaries, and both, finally, were inducted into the Hall of Fame. Minoso, though his numbers were in every way better than Doby's or Slaughter's, has never made it. He is no longer even considered a serious contender. He was a terrific outfielder and a scrappy player whose nickname was "The Cuban Comet." He never hesitated to take one for the team: he lead the AL in getting hit by pitches an eye-popping ten times. I'd take him over the Boston Red Sox's slugger Jim Rice, who made it into the Hall two years ago, in a heartbeat.
I was much surprised to call the Hall of Fame, which opened a permanent exhibit honoring Latin American baseball heritage in 2009, and confirmed that only seven Latin players—Luis Aparicio, Juan Marichal, Rod Carew, Orlando Cepeda, Tony Perez, and this year, Robert Alomar, Jr.—have been voted into the Hall of Fame. The seventh, Roberto Clemente, the first Latino player to be inducted, was a special case, having died in a plane crash in 1972.
That doesn't seem possible given the scores of great Latin players who have dominated the major leagues over the last half century—where is two-time AL batting champion Tony Oliva, who hit .304 over 15 seasons from 1962 to 1976 (when batting statistics were at a low)? What about Luis Tiant, the colorful right-hander who pitched from 1964 to 1982, winning 200 games, including 20 or more four times. Where is Dave Conception, the nine-time All-Star shortstop for Cincinnati's Big Red machine, a five-time Gold Glover who was as good a hitter as Hall of Fame shortstops Phil Rizzuto and Luis Aparicio?
There will be a wave of great Latin players eligible for the Hall of Fame over the next ten to 15 years, In fact, the ballots are likely to see more Latin names than any other racial group. Many, alas, tainted with the same performance enhancing drug stigma as Barry Bonds and Mark McGwire face. Sammy Sosa, Juan Gonzalez, even, perhaps, Ivan "Pudge" Rodriguez may all have problems finding enough support after accusations of juicing.
Many more, though will not be associated with PEDs. Players such as Mariano Rivera, the greatest relief pitcher in baseball history, Edgar Martinez, who hit .312 over 18 major league seasons, and Vladimir Guerrero who, at age 36, is still going strong with the Baltimore Orioles, batting .319 over 16 seasons with nearly 450 home runs. It's a safe bet that these three as well as other Latin players will be inducted into the Hall of Fame when they become eligible.
Albert Pujols, of course, will also make it in when he finally retires. But whether or not this will signal a greater general awareness of the contributions of Latin players who came before him is something we will have to wait to see.