Why Coachella Is Cloning Itself
The famed California rock festival will be held over two weekends next year. What does it mean?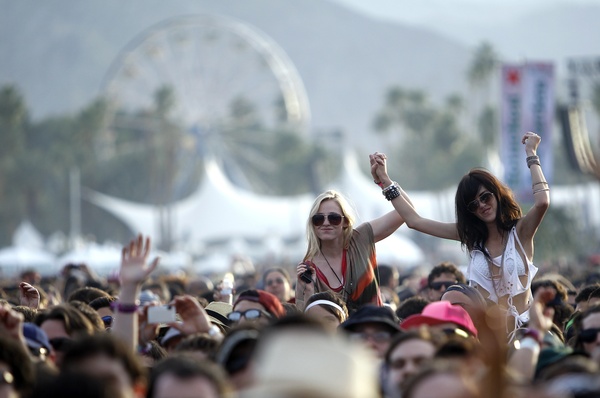 Mario Anzuoni/Reuters
Say what you will about sweat-drenched, dust-choked rock festivals--for example, that the sound quality is spotty, pizza slices are overpriced, and the attending masses are less than charming when drunk. But you can't say they're easy to put together.
No, getting hundreds of the most in-demand bands into one location for a few days while handling the finer details of riot prevention, local government permits, and Porta-Potty maintenance seems like it would take some logistical magic.
That's part of why concert organizer Goldenvoice's announcement today that the 2012 Coachella Valley Arts and Music Festival would take place over two consecutive weekends--"same lineup, same art, same place, different people"--is so mind-boggling.
What's more, tickets for the festival, which will be held in Indio, California from April 13 to 15 and from April 20 to 22, go on sale for $266 a piece this Friday. That's more than a full ten months ahead of the first festival weekend.
A few scattered, initial thoughts:
Goldenvoice is correct that there's a lot of demand for a higher number of tickets. Both fans and festival organizers were astonished when passes for this year's event, which has a capacity of somewhere south of 80,000 people, sold out less than a week after they went on sale. Any western-U.S. music junkie likely has tales of themselves or their friends frantically scrambling for a way to get in the festival after being blindsided in early 2011 when tickets became unavailable. "We know many of you were unable to attend this year's festival because passes sold out much sooner than anticipated," today's message from festival organizers reads. "We were truly surprised by the overwhelming response and remain honored by your passion and enthusiasm."

But it's unclear to what extent this change will thwart scalpers. "We also know some of you purchased through non legitimate sources and were inconvenienced, gouged or totally scammed," Coachella says. "We hope that these changes will give everyone the opportunity to purchase directly from Coachella.com." That last sentence will only turn out to be true if resellers, who apparently already have figured out how to circumvent Goldenvoice's and others' safeguards against big-batch ticket buying, end up deciding that there isn't enough demand to justify them snatching up as many passes as quickly they can.

The lineup could be adversely affected. Coachella's appeal nowadays lies in its ability to get music's biggest stars--Kanye West, Paul McCartney, The Killers--in the same place as hotly tipped up-and-comers and one-off reunion acts. Of course, bands now route their tour schedules with Coachella and other summer festivals in mind, but the two-weekend change means that every band who performs will have to commit to spending a far-longer chunk of time in Southern California. Some acts, theoretically, may not want to do that. Then again...
Coachella is making a lot of money. Goldenvoice must be earning quite a profit if it can afford the surely astronomical fees they'll have to pay the headliners to stick around for two weekends.
There's also a question of whether this diminishes or enhances the festival's magic. As the American summer music festival with arguably the highest cultural cache behind its name--and the earliest weekend in the festival season--Coachella can boast that each and every set on its schedule is an event. Bands trot out one-time guest stars, covers, set lists, and props. Festival-goers agonize over deciding between beloved bands playing at the same time. These things could change with the prospect of two Coachella weekends. Some fans, undoubtedly, will pay up for two weekends. Others will jealously read the recaps of the dates they didn't attend.
More on Coachella:
With Kanye West and Arcade Fire, Coachella Offers a Revenge of the New
At Coachella, Kanye West Keeps the Spotlight on Himself