Welcome to the Preakness (and the Future of Horse Racing)
Is the sport ready for less Cannonade and more Cannonball?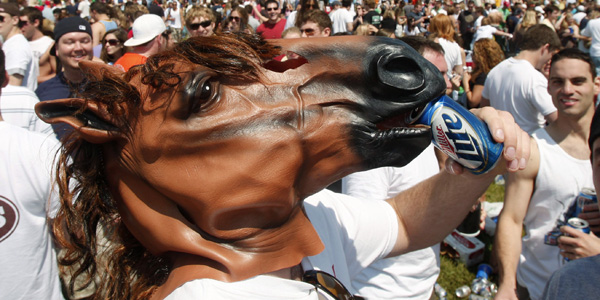 Reuters/Jim Young
This year's Preakness Stakes—on tap this Saturday afternoon at Pimlico Race Course near downtown Baltimore—isn't just the second leg of horse racing's daunting Triple Crown. For industry insiders especially, pretty much out of the blue, it has become a referendum of sorts on the future of the sport in North America. And what's at stake is far more important than which particular beautifully-bred three-year-old colt or gelding wins the 136th running of the great race.
The issue is borne of simple economics. Horse racing in the United States has failed to attract nearly enough new fans and bettors to replace the old fans and bettors who have died or moved on to other interests since the sport's heyday last century. This is true in the Standardbred racing game, of which I am a part, and to a lesser extent in the bigger and better known Thoroughbred game. Over the past few decades, empty tracks have closed, attendance at existing ones has waned, and handles are down. Like the great Yogi Berra once said: "If the fans don't come to the ball park, you can't stop them."
In Maryland, where the Preakness will be run, the problem is particularly acute and telling. Fabled Pimlico itself is on life support—it had to take a state handout just to stay open this year—and the state's harness racing track, Rosecroft Raceway, didn't even make it that far. Maybe revenues from slots and other gaming will help—but they aren't there yet. So track officials and racing operators decided to do something drastic: they signed off on a lowest-common-denominator marketing plan (think sophomoric beer commercials during football games) designed to bring young adults out to the track for the big show.
Pimlico Race Course
The result was so-called "party manimal" mascot named Kegasus, a half-man, half-horse creation designed to bridge the gulf between people who like to drink beer outdoors until they barf and people who enjoy a day at the races. Kegasus looks like Will Ferrell's character in a skit on SNL about a horse racing mascot—I'll give you this a moment to contemplate that—and when it was first unveiled to the world in March horse racing traditionalists literally gasped in horror at the affrontery of such a low-brow symbol for such a high-falutin' race. A local  communications professor immediately labeled it "awful," "depressing," and "sad"—before predicting that the gimmick would work.
And it has! Ticket sales are up sharply this year for the big race—sharply from when such frivolity was frowned upon, anyway—and you can be sure that track owners and operators all over this country and Canada (where harness racing is more prevalent) are paying close attention. If horse racing can bring the Kegasus Konsumer to the races on a consistent basis it will have made its most important marketing advance in decades. And if that occurs, the sport's venerable old guard, the traditionalists who own and breed and bet on horses, will simply have to change their expectations about what a day at the races will look and feel like. Less Cannonade and more Cannonball perhaps.
The New York Times' Joe Drape has a great piece about all of this, in greater detail, and I recommend it to you. What we are seeing here, from the industry-wide level down to this specific race, is the cusp of change. The blue-bloods alone are no longer willing or able to carry the sport. And the middle-class participants in the sport—from the husband and father who bought a few horses to the guy who went to bet at the track once a week—have been alienated for so long that they've just about given up (or at least new need incentives to return). Drastic times call for drastic measures.
Marketing-wise, what the Preakness is doing—and what some of the most clever track operators around the country are doing as well—is to go for the X-Games-watching, online poker-playing crowd. The Generation Xers who have disposable incomes, the college-aged kids, the people who would come to a track to hang not at first for the racing but perhaps to see some live music in a festival-like atmosphere. The folks who wouldn't otherwise know a fetlock from a forelock. Having lost nearly two generations of racing fans, racing officials are going back to the roots of the sport, the county-fair sort of feel. Whether the bettors follow is a whole other matter (and column).
If Kegasus, the essence of a counter-culture symbol in the sport, works as well as predicted don't be surprised next year, or the year after that, if we're all talking about The Preakness Stakes Sponsored by Coors/Molson (or something like that). It's been done before, you know, and it seems to have turned out just fine. And it'll certainly be fine with me so long as track operators everywhere have a coordinated plan to educate those beer-drinking young fans about the joys of horse racing as a spectator sport and as a betting option. No point in leading the horse to water if you aren't even going to try to make it drink, right?
So the Preakness this year—and perhaps forever more—will thus be a big festival of cognitive dissonance; the sport of lords witnessed by a hundred thousand vassals with bottomless beer mugs and scores of Port-a-Potties. The horses I'll be rooting for especially on Saturday are:
1) Mucho Macho Man, for reasons I recently explained here.
2) Norman Asbornson, for human-interest-story reasons very well explained here.
3) Shackleford, because he was much better than I thought he would be when he ran the Kentucky Derby.
And if Animal Kingdom wins and keeps alive his Triple Crown hopes that wouldn't be bad, either. Mostly, though, as always, I'm just rooting for good luck and health for all the horses and their human connections.