Tribeca Film Festival: Which Movies Won Awards, and Which Should Have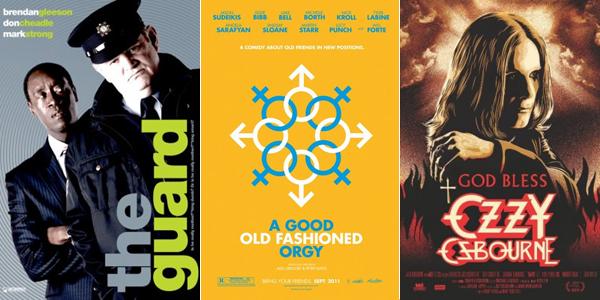 Reprisal Films/Fierce Entertainment/Next Entertainment
The 2011 Tribeca Film Festival ended on Sunday. The jury and audience awards were doled out, with honors going to the following films:
Founders Award for Best Narrative Feature – She Monkeys
Best Actor in a Narrative Feature Film – Ramadhan "Shami" Bizimana in Grey Matter
Best Actress in a Narrative Feature Film – Carice van Houten in Black Butterflies
Best Cinematography in a Narrative Feature Film – Luisa Tillinger, Artificial Paradises
Best Screenplay for a Narrative Feature Film – Jannicke Systad Jabobsen, Turn Me On, Goddammit
Best New Narrative Director – Park Jungbum, Journals of Musan
Special Jury Mention – Kivu Ruhorahoza, writer and director of Grey Matter
Best Documentary Feature – Bombay Beach
Best Editing in a Documentary Feature – Purcell Carson, Semper Fi: Always Faithful
Best New Documentary Director – Pablo Croce for Like Water
Special Jury Mention – Michael Collins, director of Give Up Tomorrow
Heineken Audience Award winner – Give Up Tomorrow
So, before wrapping up The Atlantic's coverage of this 10th anniversary edition of the festival, a consideration of a few titles that didn't win—and a deeper exploration of one that did:
"I can't tell if you're really dumb, or really smart," says FBI agent Wendell Everett (Don Cheadle) to Galway, Ireland police sergeant Gerry Boyle (Brendan Gleeson) in The Guard, a conventional dark comedy with an unconventional protagonist that played Tribeca after opening this year's Sundance Film Festival. The film, from writer-director John Michael McDonagh, covers standard narrative territory, centered on the investigation of a drug-smuggling ring, but Gleeson gives it colorful, tone-defying energy. Boyle—a whirlwind of blustery behavior, jaw-dropping unfiltered declarations and investigatory smarts—anchors the production whenever it threatens to veer into mundane small-town Irish comedy territory (think Waking Ned Devine, for example).
The Guard came to Tribeca with a built-in audience. The Swedish coming-of-age drama She Monkeys, winner of the Founders Award for Best Narrative Feature (in many respects the festival's top prize), found one there. This patient, classically composed film from Lisa Aschan parallels the confusing stirrings of sexuality in teenage equestrian competitor Emma (Mathilda Paradeiser) with those felt by her eight-year-old sister Sara (Isabelle Lindquist). With gray skies and moody light pockets mirroring the turmoil felt by both characters, who have grown up with an absentee father and without a mother, it's an evocative portrait of life's tricky, conflicting emotions.
Sexuality gets a very different treatment in the matter-of-factly titled A Good Old Fashioned Orgy, which made its world premiere at Tribeca last weekend in advance of a planned late-summer release. This straightforward sex comedy about a group of friends who decide to stage an end-of-summer orgy benefits from inspired set pieces, entertainingly outsized characters, and a madcap spirit that's largely gone missing from its more cynical counterparts. It's not clear why Tribeca needed the film, from co-writers/directors Alex Gregory and Peter Huyck and starring Jason Sudeikis, but it's one of the better cut-and-dry mainstream comic efforts in recent memory.
Ozzy Osbourne has surely had a lot of sex in his day, but God Bless Ozzy Osbourne, a documentary about the legendary rocker's life, focuses primarily on the rampant drug and alcohol abuse that fueled his insanely wild, destructive antics. Therein lays the basic problem with this documentary from co-directors Mike Fleiss and Mike Piscitelli, co-produced by Ozzy's son Jack. Rather than exploring the underlying psychological reasons for Ozzy's behavior, celebrating his musical achievements, the import of Black Sabbath or the ways he fundamentally changed rock 'n' roll, the movie bogs down in its chronicle of his excesses. Maybe the abusive behavior depicted here was the defining theme in Ozzy's life—it undoubtedly profoundly impacted everyone around him. Yet, a story of staggering Prince of Darkness-fueled debauchery, told by Mötley Crüe rocker Tommy Lee, serves as the film's dramatic centerpiece, it's true eye-opening moment, and that seems wrong.
The documentary Marathon Boy, which airs on HBO later this year after premiering at Tribeca, depicts another form of astonishing abuse. But it's a less clear-cut version, a murkier portrait of right and wrong that raises sincere questions of intent. Budhia, a four-year-old Indian boy rescued from a slum by Biranchi Das, operator of an orphanage for impoverished kids, has a gift: He can run, without stopping, for hours. His guardian takes note of that talent and sets out to turn the frail youngster into an Olympian by forcing him to run dozens of marathons, promoting him through the media and grassroots campaigns and framing him as a beacon of hope and odds-defying achievement throughout their home state of Orissa. Biranchi's conduct becomes a hot-button issue, the subject of widespread debate throughout India and concerted governmental action.
While Gemma Atwal's film makes it clear that Biranchi is, at best, willfully naïve in his treatment of Budhia, it refuses to outright vilify him. As interviews with Biranchi and Budhia are interwoven into Atwal's overarching vérité approach, one can see how Biranchi and his fellow countrymen might be genuinely inspired by the young runner. There's love and care in their regard for him, interspersed with profound greed, astounding shortsightedness and a contemptible disregard for the young boy's health. Distilled to its essence, Marathon Boy, like so many of the best films at this year's festival, is about nothing less than life itself.
Read all of The Atlantic's Tribeca Film Festival coverage.