The Unparalleled Greatness of Mariano Rivera
The Yankees closer just played in his 1,000th game. A look at what has made his career so remarkable.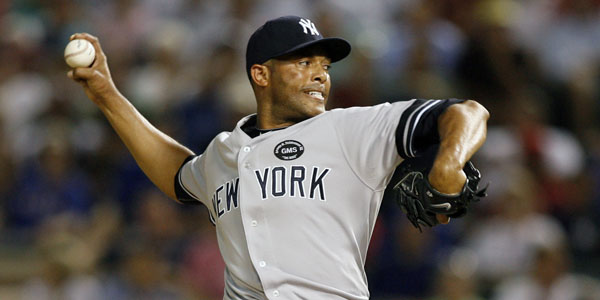 Reuters/Mike Stone
The pitch itself was unremarkable, a fastball that hugged the outside corner and strayed perhaps a quarter of an inch from the catcher's target. But when the ball hit backstopper Russell Martin's glove for a called strike one, history was made in the Bronx.
With the pitch in Wednesday's matchup with the Toronto Blue Jays, New York Yankees closer Mariano Rivera officially played in his 1,000th major league game, becoming just the 15th pitcher ever to do so. More significantly, Rivera became the first player in the league's 135-year history to pitch in 1,000 games for the same team.
The achievement garnered scant national attention, less than the buzz Alex Rodriguez received for his 600th home run last summer or the recognition Derek Jeter will get when he reaches 3,000 hits later this season. But Rivera's accomplishment is the most remarkable, the latest milestone in the career of the lithe, quiet reliever from Panama who by at least one metric is the greatest team sports athlete in modern history.
Rivera is obviously no Michael Jordan, Babe Ruth, or Wayne Gretzky. But if you judge a player's greatness by the distance between him and the second best player to ever play that position, Mariano stands alone. Only wide receiver Jerry Rice can claim a similar distance from his peers, and even at 41, Rivera's career appears to be far from over.
How much better is Rivera than the countless other relief pitchers to play the game? The argument should really end with this simple fact: For the last 15 years, any major league team that could choose one reliever to pitch the final inning of Game 7 of the World Series would have chosen Mariano. That is a period of position dominance unmatched by anyone in baseball history—no one else can come close to approaching his stretch of excellence. But for the stat wonks who demand quantitative proof of Rivera's supremacy, here are just a few of his unbelievable numbers:
572 saves (second all-time)
Earned run average under 2.00 in 10 of 15 full seasons (career ERA: 2.22)
ERA+ of 205 (first all-time by 51 points)
Career WHIP (walks + hits per innings pitched) of 1.002 (third all-time)
Playoff save percentage: 89.3% (42 of 47)
Playoff ERA: 0.71
Never allowed more than two earned runs in an entire playoff series (and only did that twice)
The numbers don't even begin to tell the story. Rivera came into the league with a wickedly darting 97 miles per hour fastball and quickly developed the most unhittable pitch in baseball history (his cut fastball, which breaks in on lefties and away from righties, is responsible for thousands of broken bats and causes most switch-hitters to bat right-handed against him). As his velocity slowed over the years, Rivera re-invented himself and developed Greg Maddux-like accuracy, allowing him to remain on top with a fastball that at this stage of his career barely exceeds 90 mph. His career is littered with unforgettable moments, like saving three of New York's four wins in the 1998 World Series without allowing a run, ending 1999 with 43 consecutive scoreless innings, or pitching three scoreless frames in Game 7 of the 2003 ALCS against Boston to earn the win, then sobbing with joy and exhaustion on the mound.
Rivera has not been perfect in the clutch—his blown save and loss in Game 7 of the 2001 World Series and two blown saves in the 2004 ALCS collapse against the Red Sox are his most memorable failures. But given his integral role in five championships and sheer number of playoff appearances (most postseason save chances in baseball history), his blemishes are smaller in context. Contrast that with longtime San Diego Padres' closer Trevor Hoffman, the all-time save leader and reliever most commonly mentioned in the same breath as Rivera. Hoffman blew the three most important save chances of his career, including Game 3 of the 1998 World Series (in which Rivera eventually got the save for the Yankees) and a one-game playoff against the Colorado Rockies in 2007.
Rivera's worth cannot be truly measured, because like so many great players, he epitomizes one of the sport's intangible qualities. Earlier this week, Life magazine released never-before-seen photos of Willie Mays, considered by many to be the best all-around player ever. They showed the Say Hey Kid's exuberance in everything he did, encapsulating the joy of the game in every broad grin. Over the years, Mariano has become synonymous with finality, bringing an air of finished business to Yankee Stadium every time he jogs in from the bullpen with Metallica's "Enter Sandman" blaring in the background. He is Secretariat turning for home with nothing between him and the finish line, Jordan lining up a game-winning shot, Don Meredith warbling "turn out the liiiiights, the party's ooooover." If there is any sight in sports that matches the sound of a final buzzer, it's Rivera on the mound.
The Yankee closer has also been a model of class and decorum on and off the field. When he pitches, he goes about his business without preening or fist-pumping and takes his successes and failures in stride. Away from the stadium, he is largely anonymous outside of his notable charity work, with nary a scandal or black mark to his name.
Perhaps the only uncouth thing Mariano ever did was to push hard for the closer's job after a sizzling 1996 season, leading the Yankees to ditch reigning World Series Most Valuable Player John Wetteland and hand the reins to Rivera. Fifteen years, four titles and a legendary career later, that seems like a pretty good call.