The Stories Behind Baseball's Longest Game
An conversation with New York Times columnist Dan Barry about his new book, which explores a 1981 33-inning minor league match-up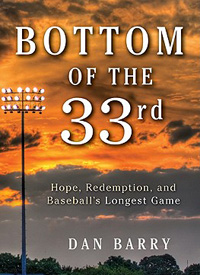 Harper
In Bottom of the 33rd: Hope, Redemption, and Baseball's Longest Game, New York Times columnist Dan Barry chronicles a pivotal moment in baseball history: McCoy Stadium, Pawtucket, Rhode Island, April 18th, 1981, when the Pawtucket Red Sox and the Rochester Red Wings played the longest game in professional baseball history. Told with reverence, wit, and grace, the story is a moving meditation on baseball, community, and the importance of dedication and dreams. Focusing on both the players who "made it" (including Wade Boggs and Cal Ripken Jr. who both played that night) and those who did not, Barry transforms a sports story into something that captures a singular moment in time and place. Pivoting from the history of Pawtucket's mills, to the dynamics of the game, to the 20 or so freezing fans who stayed in the stands until 4 am that Easter Sunday, he evokes baseball's essence. This is a story of people who see things through to the end because, "...we are bound by duty. Because we aspire to greater things. Because we are loyal. Because, in our own secular way, we are celebrating communion, and resurrection, and possibility."
As a born and bred Rhode Islander, familiar with Longest Game lore, I can tell you that if you put two transplants from the state in a room together, there is a game we like to play. Where did you go to high school? Where is your grandmother from? By the time we get to the fourth or fifth question we've likely discovered that we went to the same confirmation party in 1993 and are possibly second cousins by marriage. While not a native Rhode Islander, Barry is certainly one in spirit, having spent many years living there and writing for the Providence Journal. When we met on a rainy Wednesday at the New York Times Building to discuss Bottom of the 33rd, we swapped stories of team loyalties, the history of the state, and of course, what drew Barry to write about the Pawtucket Red Sox in the first place.
---
What made you decide now, after 30 years, to write about this game?
I think it begged to be written in many ways. When I was living in Rhode Island I played baseball in an over-30 league on Tuesday nights at Cranston stadium. The quality of baseball in this league was decidedly bad. No one could field, no one could pitch, and the games would go on and on. I played center field and the grass would be getting wet with dew, and it's after midnight and we're only in the seventh inning, and we all had day jobs. I would be thinking, "This is crazy!" And you do have the sensation in baseball that it could last forever, even in this silly over-thirty league.
So I had an epiphany one night while I was waiting to meet a friend for a beer. I was looking through this children's book by Steven Krasner about the 33 inning game which is very charming, but very simple. I'm looking at this and waiting for my friend and my head exploded. I thought what would it have been like to be the centerfielder that night in the 30th inning that night? Does a baseball game even happen if no one is watching?
When you are watching a major league game, everyone there has "made it" in the sense that they have reached the highest level they can in their chosen endeavor. They are now officially in the Baseball Encyclopedia—no matter if they are up for one at bat, or pitching for a third of an inning. But at a minor league game, particularly in the triple A (the level right below the major leagues) there is an added layer of poignancy and certain tragedy because not everybody will get up there and everyone watching knows it. These guys are playing in Pawtucket, this struggling mill city, for four or five years, and some will never get the 40 miles north to Fenway to play in the major leagues.
So I looked to see if a book had been written and what I found was that usually every five years there is an anniversary story where the familiar war stories and familiar anecdotes are told. But I was interested in more than anecdotes. I was interested in the fact that it was Holy Saturday night and the game would go into Easter, the holiest day, and that it was freezing out. I wanted to know who the bat boy was, who was keeping score. I wanted to know, again, what it was like to be that centerfielder. I wanted to create a community out of this eight-hour moment. For me, it was an opportunity to give pause and think about the wonders and tragedies of not only a baseball game, but of all our endeavors. We all pursue redemption and validation of some kind. And here it is. In a crappy ball field in a Depression-era stadium.
You weave every aspect of the game, from the players on the field, to the wives at home, to the history of the mills in Rhode Island, to how Pawtucket came to be Pawtucket. That widens the scope of the book. What made you choose to do that?
My counter-intuitive thought was to take the longest game in baseball history and make it even longer. So I wondered, what if I bent time and freeze-famed, fast-forwarded, and rewound? The ball field is a kind of stage and when a player gets up to bat he has a whole story to tell. For instance, here's Sam Bowen. He comes from Coastal Georgia, and he was 15 when his mother killed herself in a bar, and his father died from drink not long after, and baseball was his salvation. And he really hit the ball, and he's had some trouble, and he's probably done in major league baseball. And then you can say—forward: what happened to Sam Bowen? And then you can go back and Sam Bowen is going to hit a fly ball and everyone thinks it's out and is going to end the game and suddenly there is another player on the field: nature, the elements, wind. And the wind stops the ball and the game goes on.
When I began getting beyond the anecdotes it dawned on me that this game, this moment, was really America. This was a celebration of American striving. Here are these guys from all over the country. If you put a pin on a map from where all of these ball players came from it would cover all of the US and parts of South America. It would go from housing projects in Chicago, to a farm in Kansas, to Southern California, to the mills in New England, to the Deep South. But here they all are in Pawtucket and they are all held captive. They can't leave because this is their job, and more than a job it's their calling. It's their ticket to something greater.
And the fact that two future Hall of Famers, Wade Boggs and Cal Ripken, happened to be in the game was extraordinary. But I found myself not as drawn to them as I was to some of the other people in the game. I realized sometimes you just had to get out of the way of the story. I didn't want it be a recitation of stats because at some point you have to level with the reader, really they would go three more innings and nothing much happened. So I aimed for something deeper than balls and strikes.
I was struck by the description of the stadium and how dumpy it was. I don't remember it that way. Was I just seeing it through the eyes of a kid?
Particularly when this game was being played it really was dumpy. But as Ben Mondor (owner of the Pawtucket Red Sox) made money on the franchise he invested it into the infrastructure. He really wanted it to be a place where your father could take you. And now the stadium has a million dollar jumbo-tron and it's like being in a major league field. I threw out the first pitch the other day. It was exciting.
Because this was 30 years ago, there is a sense of innocence. Do you think a game like this could happen again? Could it happen now?
I think probably not, if only because after this game everybody made damn sure the allowance for the curfew was in the rule-book. So it was a fluke. It was a runaway train of a baseball game and they really didn't know how to stop it. In this day and age you have cell phones, you have texting. Back then you would leave a message for a guy at his house and hope he got it. Now fortunately or unfortunately we are almost always available.
You have said this is a book about baseball that is not about baseball. Can you explain that?
The best of any book takes a subject and uses it as a prism into other things. It isn't just about baseball. It's about 19th century America and the importance of diversions and how the mill owners would use baseball as a distraction. And it's about New England cities, struggling NE cities: this is Lowell, this is New London, this is Lawrence. These are cities that once were something and have yet to find the next big thing. They are in a somewhat despairing place where they don't know how they will redefine themselves. I wrote with great affection for Rhode Island and Pawtucket. It's a validation. We're here. This happened. Slater Mill. The longest game. These are ours.
And it's about all of us trying to get to the next stop, to do the best we can. And how time slips by. We can't master time.
So can I ask who your team is?
[Laughs] It's complicated, Leah. It's very complicated. Let's just say I always root for the underdog.
When I was a kid in 1966 the Yankees were the worst team in baseball. They had won a bunch of series- it was like rooting for US steel—and then just as I become of baseball age all the great stars were broken- Mickey Mantle was a broken-down alcoholic, Whitey Ford was broken, Elston Howard was broken, and they finished in last place. So I grew up seeing the Yankees as an underdog. Then when they become very good I was uncomfortable with the arrogance and started rooting for Mets. And in early 80's they become very good and I'm uncomfortable with that, and by then I'm living in New England and I'm following the Red Sox and they win the 2004 World Series and some of the charm goes away.
So I root for Rust Belt cities. If Minnesota is playing the Yankees and Minnesota's salary is a third of the Yankees, how can I in good conscience root for the Yankees? The one time I rooted really hard for the Yankees was in 2001 after 9/11. I found myself really thinking that a World Series championship for the Yankees would make things better. When they lost to Arizona, I felt crushed. I'm a man who wanders about looking for underdogs until they get better and break my heart. They break my heart by getting better. [Laughs]