An conversation with New York Times columnist Dan Barry about his new book, which explores a 1981 33-inning minor league match-up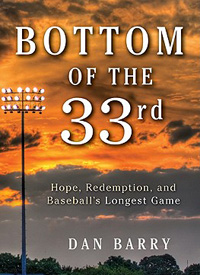 Harper
In Bottom of the 33rd: Hope, Redemption, and Baseball's Longest Game, New York Times columnist Dan Barry chronicles a pivotal moment in baseball history: McCoy Stadium, Pawtucket, Rhode Island, April 18th, 1981, when the Pawtucket Red Sox and the Rochester Red Wings played the longest game in professional baseball history. Told with reverence, wit, and grace, the story is a moving meditation on baseball, community, and the importance of dedication and dreams. Focusing on both the players who "made it" (including Wade Boggs and Cal Ripken Jr. who both played that night) and those who did not, Barry transforms a sports story into something that captures a singular moment in time and place. Pivoting from the history of Pawtucket's mills, to the dynamics of the game, to the 20 or so freezing fans who stayed in the stands until 4 am that Easter Sunday, he evokes baseball's essence. This is a story of people who see things through to the end because, "...we are bound by duty. Because we aspire to greater things. Because we are loyal. Because, in our own secular way, we are celebrating communion, and resurrection, and possibility."
As a born and bred Rhode Islander, familiar with Longest Game lore, I can tell you that if you put two transplants from the state in a room together, there is a game we like to play. Where did you go to high school? Where is your grandmother from? By the time we get to the fourth or fifth question we've likely discovered that we went to the same confirmation party in 1993 and are possibly second cousins by marriage. While not a native Rhode Islander, Barry is certainly one in spirit, having spent many years living there and writing for the Providence Journal. When we met on a rainy Wednesday at the New York Times Building to discuss Bottom of the 33rd, we swapped stories of team loyalties, the history of the state, and of course, what drew Barry to write about the Pawtucket Red Sox in the first place.
---
What made you decide now, after 30 years, to write about this game?
I think it begged to be written in many ways. When I was living in Rhode Island I played baseball in an over-30 league on Tuesday nights at Cranston stadium. The quality of baseball in this league was decidedly bad. No one could field, no one could pitch, and the games would go on and on. I played center field and the grass would be getting wet with dew, and it's after midnight and we're only in the seventh inning, and we all had day jobs. I would be thinking, "This is crazy!" And you do have the sensation in baseball that it could last forever, even in this silly over-thirty league.