The Kentucky Derby: I've Got the Horse Right Here
There's no clear front-runner in this year's race, but here are some contenders worth rooting for, even if they don't win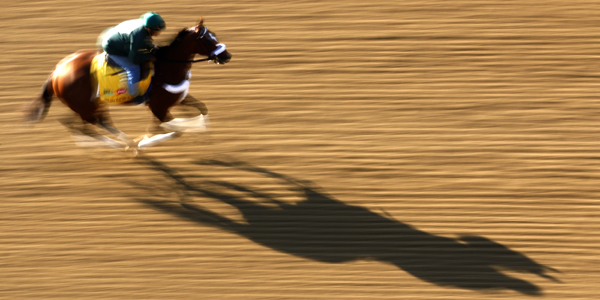 Jeff Haynes/Reuters
I don't know who is going to win the 137th Kentucky Derby Saturday, and even if I did I wouldn't tell you. There is no overwhelming favorite this year, and even if there were it wouldn't mean much. The legendary Barbaro, after all, went off at odds of 6-1 in 2006 in the last full race of his star-crossed life. Besides, betting on the Kentucky Derby is sort of like partying hard on New Year's Eve. Amateurs love it. The professionals tolerate it (because they make money), and those of us in between typically appreciate it at home with good friends.
After a springtime of rain and thunder in the Bluegrass, the biggest question leading up to the big race was whether Uncle Mo, the undisputed 2-year-old champion, was sound enough again to run for the roses (his worst race--and only defeat--came in his last race, the Wood Memorial in New York exactly four weeks ago). On Thursday, superstar trainer Bob Baffert, the quote-ready, mind-game-playing handler of a Derby horse named Midnight Interlude, even took a poke at Mike Repole, Uncle Mo's energetic owner.
"Uncle Mo looks fantastic out there to me," Baffert said to reporters Thursday (as recounted in the Paulick Report). "He's the best horse in the race. I don't care what rumors you hear. You can't throw him out. He's looked great to me. Everyone is talking about him being 50/50. I think [owner Mike Repole] is just trying to build a price for himself because it sounds like he likes to gamble. He's going to be dangerous. I don't think it's some [gastrointestinal issue], I think he just got tired at the Wood [Memorial]. From what I've seen visually, there is nothing there that tells me the horse isn't ready to run. I'm not buying that crap. He's just trying to steal this race."
So how did Repole respond? First thing Friday morning, he scratched Uncle Mo. Take that, Baffert! But maybe such backstretch edginess, real or perceived, will help drive television and online ratings for the Derby and Friday's running of the Kentucky Oaks, the under-appreciated female edition of Saturday's race. The Oaks is now gloriously partnered with the folks at the Susan G. Komen for the Cure, which accounts in part anyway for the fact that is now the second-highest attended day of racing anywhere in the country. The Oaks has given us, just recently, the magnificant Rachel Alexandra, and Churchill Downs has done a masterful job of raising its profile--"Lillies for the Fillies!--without tarnishing the stature of the following day's festivities.
But I digress. The Atlantic.com's man in Louisville, Nicholas Jackson, already has the right idea. He's picked his horse--Decisive Moment--and seems primed to have a blast at Churchill Downs whether the horse wins or not. I can't wait to read his coming reports. Alas, I will not walk under the Twin Spires this first Saturday in May. But that doesn't mean I can't help. For example, here is how to make a killer Mint Julep (spoiler alert, if you don't have your mint leaves yet it may be too late). And here are four or five "talking points" you can toss up in casual conversation in case you are invited over to a neighbor's house to watch the big race:
The human interest pick: Mucho Macho Man. Why? Because his trainer, Kathy Ritvo, is a heart transplant recipient who has, as you might imagine, overcome a great deal of adversity in her young life. And because the horse leaves from Post 13. No female trainer or jockey has ever won a Kentucky Derby, and it would be great if Ritvo were the first. I will have a big smile on my face if this horse gets under the wire first.
The horse karma selection: Archarcharch. I have already written in this space about this beautiful colt and his trainer, William Henry "Jinks" Fires. The man has been training horses for at least 50 years. And aside from a few years of military service he has not missed a Kentucky Derby live and in person since he saw--from the top of a barn in the backstretch--Carry Back win the 1961 Derby. But he and his horse drew Post 1, on the far inside, and so my main hope for Team Archarcharch Saturday is that the horse doesn't get smushed against the rail too badly.
The hoped-for Hollywood scenario: Dialed In/Nehro become the Affirmed and Alydar of this era. With Uncle Mo now out of the race, Dialed In surely will be the odds-on-favorite at Post Time. Nehro likely will be the second choice. A springtime duel between these two horses--or, really, any two horses--would be great for the sport and for NBC and Versus, which so far have done an excellent job covering Derby week.
The horse you'll smack your head over (because you didn't bet on him) if he wins: Soldat. If you throw out his last race, and if he returns to form, he should be right there.
Or you could do what my mother did for years at Blue Bonnets Raceway in Montreal. She would bet on the horse which took a dump on the track during warmup. And speaking of my mother, I will be watching this Derby with her on the eve of Mother's Day. Derby Day was always a big deal in my house when my father was alive. And I guess it will always be a big day in my house, too. This is my third Derby without my dad and I just know my mom will be thinking of him at post-time. Me? I just hope he's up there, with Barbaro and Ruffian and Secretariat, watching the action. Hey, Dad. Any tips for the big race? Give me a sign. Any sign.