'The Good Wife': Sex, Murder, and Sarah Silverman
The comedienne stars as an sexual freedom advocate who runs a website that arranges extra-marital liaisons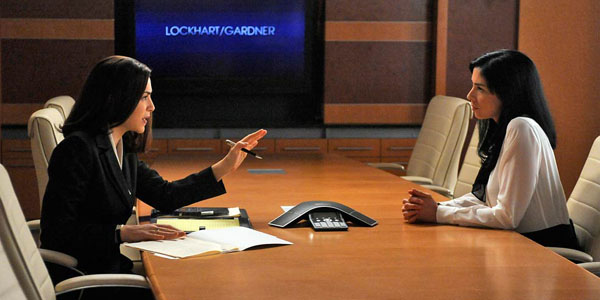 CBS
Now you see her; now you don't. Kalinda bows out, facing unflinching hostility from Alicia, and is apparently going to work for another law firm, headed by a former (female) lover. Then Kalinda finds out that the new firm has sub-contracted to handle some legal affairs for the State's Attorney's Office, which means she's going to be working with Peter Florrick, the agent of her falling-out with Peter's wife. So back she goes to Lockhart & Gardner, determined, evidently, to endure Alicia's unforgiving rancor and possibly to win, once again, her friendship. Kalinda also seems bent on nudging Alicia into the waiting but cautious embrace of Will Gardner, who has seemed reconciled to more or less permanent separateness from Alicia, the object of his law school romance.
On the legal front, Alicia is defending Sarah Silverman, who plays the part of an open-marriage advocate whose online efforts to bring together sexually adventurous adults, seeking partners outside of marriage, has resulted in the particularly savage sex-themed murder of one of her clients.
She is being sued by the victim's widow, and the case, to be continued next week, promises to be full of surprises and a demolition of conventional pieties.
Adding flavor to the case is the once again odious Cary, still working against the interests of his former employer, and feeding damaging information to the widow's disingenuous attorney, an attractive blonde who shares (we will find out next week why this matters) with Cary a penchant for decorating her note-pad with hearts and flowers, like an eighth-grader celebrating the early stages of hopeless infatuation.
We expect, next week, to find that the pious widow is not quite the pitiable victim she seems, and Alicia is plainly being maneuvered toward a torrid encounter with the ever-available Will. Whether Alicia, now apparently given to periodic tantrums, will drift back to the principled stoicism we've come to admire, remains to be seen.