Does home court advantage really help teams win?
This year's NBA's playoffs have had more than their share of drama. Kobe Bryant's and Phil Jackson's Lakers melted down at the end of their four game sweep by the Dallas Mavericks. Lebron James finally triumphed against the vaunted Boston Celtics. Now the conference finals feature four stellar teams in matchups that are as notable for their tactical and strategic contrasts—the star-studded Heat versus the defense-minded team concept of Tom Thibodeaux's Chicago Bulls—as for their outstanding players. And the archetypal confrontation between the Thunder's 22-year-old Kevin Durant and the Maverick's grizzled veteran, the seemingly unstoppable Dirk Nowitzki, promises still more scenery-chewing.
But beyond their individual stars and lineups, there's that intangible force of the proverbial sixth man—the ineffable but undeniable jolt that players get from a noisy fan presence in the stands. Playing on your home court in front of devoted fans who whoop it up and cheer you on while booing your opponent, creates an extra level of energy that is almost impossible to measure.
But instead of waving our hands at it, let's try to quantify it. As part of our ongoing study of the geography of sport, that's just what my MPI colleagues Patrick Adler, Charlotta Mellander, and I have been doing. Poring over statistics on wins, losses, and attendance, we've looked at series of conventional measures and tried our hand at developing some new ones that might offer a better gauge of fan devotion—and that will allow us to zero in on which teams have the most devoted fan bases and which either reward or punish their fans' loyalty. The maps below prepared under the steady hand of the MPI's Zara Matheson plot these metrics for the NBA's 30 franchise cities.
The first map (above) charts the total number of fans that each NBA team has drawn over the past three years. Of current playoff teams, Chicago is in first place in attendance, Dallas fourth, Miami fifth, and Oklahoma City 13th. Across the NBA, Portland is second, followed closely by Cleveland in third (likely a legacy of the Lebron years), and the until-recently woeful New York Knicks in fourth. Some fabled and very good teams place further down the list: the reigning champion LA Lakers in eighth place, four-times champs San Antonio Spurs in eleventh, and the 17-times champions Celts in 12th. At the very bottom are the New Jersey Nets, a franchise that is relocating to Brooklyn, the Sacramento Kings (a team that has threatened to move), and the Indiana Pacers. Each of these teams has drawn about two-thirds the attendance of the league leaders'.
But total attendance doesn't show how much of an arena is filled at each game. To get at this, we use a second metric of "attendance capacity," also relatively standard, which compares the average attendance numbers for each NBA team to the average capacity of their stadiums. Doing so enables us to compare teams from smaller markets (many with smaller arenas) to teams in much bigger cities. We also averaged this measure over the past three years. The second map (below) charts how the NBA's 30 franchises stack up.
Two of the current crop of playoff contenders—Dallas and Chicago—do extremely well. Dallas is first and the Bulls are third (little wonder their hyper-dedicated fan base traveled en masse to Indianapolis during the first playoff round). The Portland Trailblazers are second. Oklahoma City ranks seventh. Interestingly, the Miami Heat ranks just 13th. But recall, this is a three-year average. This year, with the Big Three, the Heat moved up to fifth position. Among other teams, the Orlando Magic are fourth, the Lakers fifth, and the Celtics sixth. The New York Knicks are a respectable eighth, despite their abysmal record over two of the past three years. At the opposite end of the spectrum, the Philadelphia 76ers post the worst attendance capacity, followed closely by the New Jersey (soon to be the Brooklyn) Nets, and the Memphis Grizzlies, despite their solid season and playoff performance. Attendance capacity, not surprisingly, tracks closely with winning: There's a strong correlation (.67) between the two (see the scatter graph below).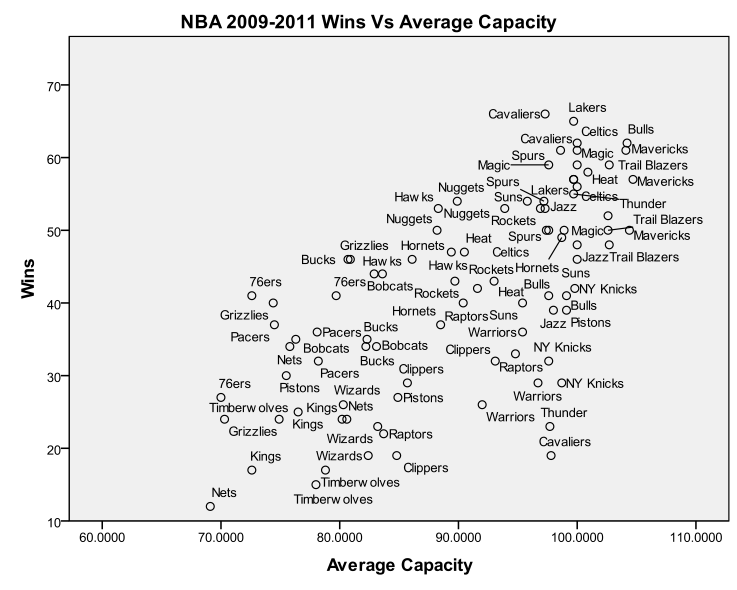 This raises still another, perhaps more interesting question about the fan factor: Which NBA teams reward their fans with the highest wins to attendance ratio, generating the highest level of "fan ecstasy," and conversely, which  have the highest level of "fan misery" (the highest losses to attendance ratio)?
The third map (above) shows how NBA franchises and cities stack up on our "Fan Ecstasy Index," which compares wins to attendance capacity. The Dallas Mavericks come in first; the Bulls are sixth, the Heat ninth, the Oklahoma City Thunder 11th. Among other teams, the Orlando Magic, a perennial playoff also-ran, are second, followed by the Lakers, Trail Blazers, Celtics, Bulls, and Spurs. On the opposite side of the spectrum, the New Jersey Nets, Sacramento Kings, Minneapolis Timberwolves, Philadelphia 76ers, and Washington Wizards have the lowest Fan Ecstasy scores.
But when all is said and done, truly fanatical fans show up to watch whether their teams are winning or losing.  The fourth map (below) charts NBA teams and cities on our "Fan Misery Index," which compares losses to attendance capacity. It builds on previous attempts to create misery indices—see here and here—but our measure connects losses to fan commitment.
Two of the current playoff teams—the Chicago Bulls and the Oklahoma City Thunder—have relatively high Misery Index scores, fourth and third respectively over the past three years. Their tried-and true fans stuck by them during down times, only to be rewarded this past season, as their Misery Index Scores have shifted along with their records.
Far and away, the team that generates the most pain for its fans is the New York Knicks, who personally cause me no end of pain. As a New Jersey native, I grew up watching and loving the great Knicks teams of Walt Frazier, Earl "The Pearl" Monroe, Willis Reed, Dave DeBusschere, and Bill Bradley. Over the past three seasons, the Knicks have won just 41 percent of their games. At the same time, they've averaged 98 percent attendance capacity. Knicks fans are true "masochists" according to this measure, suffering stoically through the Dolan era, Stefan Marbury, Isaiah Thomas's harassment lawsuit, botched trades, over-paid players, and no playoff wins still, since the Ewing era. Maybe things will improve as Stoudemire and 'Melo begin to gel, or with the addition of another superstar in the off-season. A true Knicks' fan is nothing if not hopeful, unless they just like to be hurt. But back to the main point.
As we head down the road in the conference finals, it will be interesting to see how the fan factor plays out. Chicago and Dallas are attendance leaders with big capacity. Miami has turned it around with its winning team. Oklahoma City fans, like Chicago's, are extremely loyal, steadfastly standing by their teams even in down years. Miami's arsenal of talent and Dallas's overall experience may carry either of them to victory, but Chicago and Oklahoma City are solid teams that, though each has one great player, have shaped their game around team play. And both of them have another edge—the sixth man of their perennially devoted fan base.
As far as that sixth man is concerned, winning isn't everything or the only thing. It's all about love. Just ask Spike Lee or Woody Allen, if you see them at a Knicks game.
We want to hear what you think about this article. Submit a letter to the editor or write to letters@theatlantic.com.
Richard Florida
is a co-founder and editor at large of CityLab and a senior editor at
The Atlantic.
He is a university professor in the University of Toronto's School of Cities and Rotman School of Management, and a distinguished fellow at New York University's Schack Institute of Real Estate and visiting fellow at Florida International University.