'The Dark Knight Rises' Goes Viral: See the First Photo of New Villian, Bane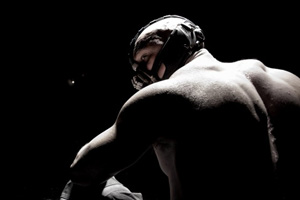 Warner Bros via Collider
Christopher Nolan's hotly anticipated third Batman film The Dark Knight Rises began filming yesterday, which can mean only one thing: a new viral marketing campaign.
Much like previous film The Dark Knight's "Why So Serious?" campaign—which offered fans their first glimpse of Heath Ledger as the Joker—this website is unveiling the first image of new villain Bane through a Twitter campaign. Collider explains:
Every time someone tweets the hashtag #thefirerises, a new image appears on this site. The tiny image is your Twitter profile pic, but they're being arranged and contrasted in such a way as to show a larger image.
Unsurprisingly, web-savvy fans have already found a way to circumvent the viral campaign (Collider posted the full photo earlier today). But since The Dark Knight's campaign quickly grew from a single website to a sprawling, real-life scavenger hunt—complete with phone calls from the Joker and actual Harvey Dent campaign vans—this is probably a good time for hardcore Bat-fans to get in on the ground floor.
Read the full story at Collider.