Paul Splittorff, Kansas City's Legendary Pitcher and Broadcaster, Dies
Remembering the iconic Royals' player for his contributions on and off the field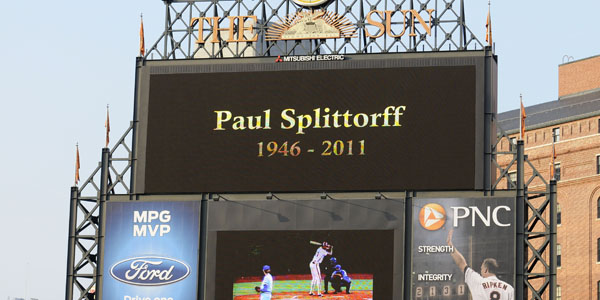 AP/Nick Wass
Yesterday, a terrible storm ripped through Kansas City. Tornadoes threatened all afternoon, leaving the streets deserted, with empty sidewalks echoing the sad wail of warning sirens. It was fitting, that mournful sound, because of what else happened yesterday near Kansas City. Yesterday was the day Paul Splittorff died.
Splittorff embodied the Kansas City Royals. In 1968, he threw the first ever pitch for the new franchise, starting in the opener for one of the club's early minor-league affiliates. He was the team's first 20-game winner, going 20-11 in 1973. Over 15 seasons in the majors, all wearing Royal blue, the lanky light-haired left-hander set team records for wins, starts, and innings pitched, and was a mainstay of the teams that won four division titles and a pennant. Never overpowering, but fiercely intelligent and a ferocious competitor underneath his mild demeanor, Split won with masterful control and meticulous study of hitters' tendencies.
Retiring from the mound in 1984, Split went into broadcasting. He approached his second career with the same tenacity as his first one, with a level of commitment virtually unknown for an ex-athlete, then or now. Too often ex-players who step into the broadcast booth hope to coast on their charm, goodwill, and what they already know of the game. Not Split.
He worked. He dedicated himself to the profession of broadcasting. He read. He practiced. He studied tapes of himself for hours, finding ways to improve. He worked at a small radio station in Blue Springs, Missouri, to learn the business from the ground up. He broadcast high school football games and college basketball games and eventually won the same respect as a broadcaster that he'd earned as a player. On the radio or television, pregame or postgame, analysis, play-by-play or color commentary, Split did it all, and did it well.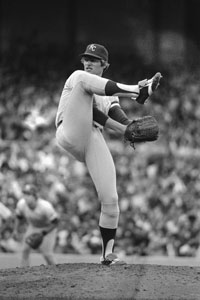 AP File Photo
But it was by broadcasting his beloved Royals that Split made the deepest impact. In baseball, as in no other sport, the sheer number of games creates a special intimacy between an announcer and fans. Over decades, through cold Aprils and sultry Augusts, through tight games and blowouts, the broadcast voice of a baseball team is a constant, near-daily presence in fans' lives—a companion to share and mark the seasons. For 24 years, and for a whole generation of fans not old enough to remember his playing days, Split was that signature voice.
At their very best, baseball broadcasters reflect the values and personality of their fans. They come to embody the values those fans hold dear. Just as Harry Caray came to personify a certain kind of Chicago-ness like no one else could, Paul Splittorff embodied the values that matter most to Kansas City's heartland faithful. Where Caray, for instance, was boisterous, and where Vin Scully is dramatic, Split embodied those qualities midwesterners love see in themselves. He was a hard-working family man, warm and friendly, but with a certain dignified reserve, who cherished his privacy. Above all, he was religiously unpretentious, unfailingly polite, and humble to the point of invisibility.
Split didn't have a famous catch-phrases or distinctive look. If you weren't paying close attention, you might not notice he was announcing—which would have been just fine with him. When his broadcast partner Bob Davis would introduce him as the pitcher with the most wins in Royals history, Split would inevitably remind fans that he also had the most losses, then immediately turn the focus back to the game, where he knew it belonged.
He was funny, but shied away from long stories, especially about himself. He was more prone to quip, as in a 1983 Sports Illustrated article, when he said of a George Brett homer, "Anything that goes that far in the air ought to have a stewardess on it"—a line that later showed up in Bull Durham. His humor was bone-dry. It was a blink-and-you'll miss it deadpan, like the sly farmer with a gleam in his eye who somehow challenges you to see through a hayseed exterior to the wise man underneath.
He famously got mad, at least as mad as fans ever heard him, during a horrible loss to Texas a few years back. TV cameras caught some of the Royals' players laughing in the dugout. Split was hot and said so. On the air. Lots. He wasn't scolding the players, exactly. He was just angry, almost offended that any ballplayer could be so cavalier about losing. That was just how he saw the game. And the world. A guy might hit the world's easiest two-hop grounder to the world's best shortstop, but he was still supposed to run as hard as he could to first base. Always. Every time. Not just because there's a chance he might be safe, but because that is how the game is supposed to be played. That's how it must be played, or why even bother to play at all? In both of his long, successful careers, on the diamond and in the broadcast booth, Paul Splittorff always ran hard. Now, gone too soon at age 64, he doesn't have to run any more.