On 'The Good Wife' Finale, Sex With Consequences
Alicia gets a new lover, while Kalinda learns something unexpected about hers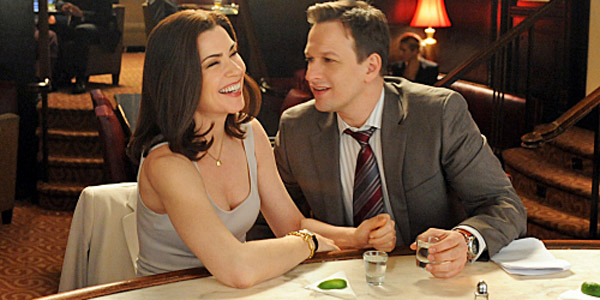 CBS
Alicia and Will finally get it on, and one supposes she's entitled to a little fun, now that Will has unloaded his suddenly-domestic girlfriend and Alicia, in a fit of pridefulness, has ejected Peter from the family apartment. We'll find out next season whether this rapturous moment is merely the product of courtroom triumph (Alicia has just won another skirmish with the malevolent resident State's Attorney) and a few too many at a hotel bar—or the beginning of a new life for the star-crossed lovers.
Complicating things ever-so-slightly is a hint that Alicia's husband, soon to resume his title as State's Attorney, is responsible for putting in Alicia's hands the evidence: a bloody glove she needs to save an innocent man from a murder conviction. And, to muddle things still further, Peter Florrick's campaign manager has decided to bring his political PR firm to Lockhart & Gardner, with Alicia as liaison. That means, as Alicia shrewdly perceives, she will soon be working with her estranged husband, now already being touted as Illinois' next governor, and reporting to her at-long-last lover.
This week's episode also provides a set-piece featuring Cary, smarmy and self-interested as always, and another in which Kalinda, sharing a heavy-breathing moment with her sometime lover, learns that the lover, a woman, has a husband, news that reminds Kalinda, uncomfortably, of the damage often built into spontaneous, uncaring sex.
No doubt we'll hear more about the subject in season three. In the meantime, The Good Wife has become a skillful lawyer, a watchful parent, and, at least for the moment, a willing sex partner of the man who adores her.