'Modern Family': Mother's Day, With a Side of Guilt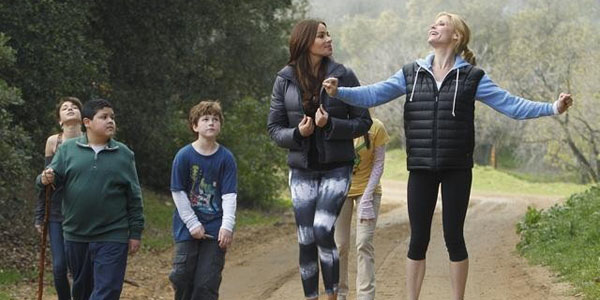 ABC
Mother's day—or really, motherhood—is all about guilt, and it's no different for the Modern Family clan. On this week's episode, Claire and Gloria take the kids on a family hike to celebrate their day. Of course, like any normal children, the kids complain the entire time. After chastising them for being bad kids on this day, of all days, Gloria and Claire storm off (a classic mommy guilting tactic), to finish the hike alone.
Let the guilting begin.
After the moms leave, the Dunphy kids figure out their mothers' game. She exits in a huff, making the children feel bad for their sins and thus obligated to apologize and do more unfun stuff in the future that they really don't want to do. Congrats, Dunphys, you've just cracked the parent/child relations code.
But, the kids won't stand for it. They make a pact: resist mom's guilt—no apologizing. They last for most of the episode, but, it's Modern Family, so you know eventually they will give in. And they do. At the way end of the episode, after Jay starts crying over his deceased mother, making them feel extra guilty, facilitating a group apology, hug, and cuddle session.
It's all very heartwarming, really. But, Dunphy kids, here's a word of advice: Don't give in to mommy guilting forever. You'll become that doctor she always dreamed you'd be, marry that nice boy she set you up with, and live in that nice suburb not too far away. Basically, you'll be miserable.
Now, Manny, on the other hand, has the desirable position in his relationship with his mother. After Gloria storms off, she lets off some steam, complaining about Manny's idiosyncrasies. He overhears her dissing his poetry. Instead of apologizing for his earlier behavior, Manny somehow guilts Gloria into apologizing.
Now, that takes skill. Well done, Manny; good luck, Dunphys; and happy Mother's Day to all.
In this week's episode, the kids get wise to their moms' manipulation tactics