Max Lamb's Striking, Sand-and-Packing-Foam Furniture
An artist uses a beach, pewter, and the raw material of coffee cups to make everything from stools to library shelves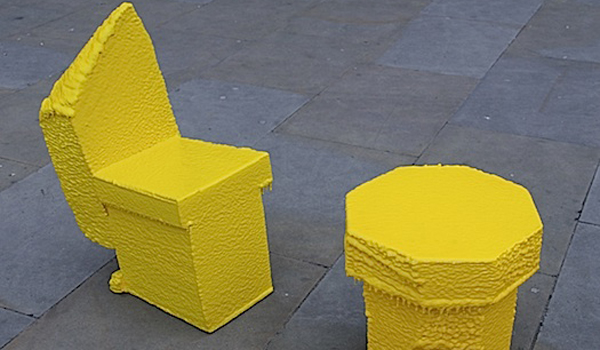 I fell HARD for artist
Max Lamb
's work after I sat on a Lamb stool owned by my friend A.S.C. (Sandy) Rower, president of the
Calder Foundation
(more on that big adventure soon). The stool was beautiful and comfortable and made by an ancient process of sand casting: Lamb goes to the beach and makes a mold in the wet sand, then pours molten pewter (heated on a camping stove) into it, waits for it to set, then digs out the strangely elegant stool with its roughly granulated legs.
Lamb embarked on his ad hoc method of sand-casting after he was unable to afford to have a professional foundry do the casting process for him. He remembered building sand castles as a kid, and knew he could figure out sand casting himself. He publishes videos of his work process, because he wants other people to know how he does it. Watch the sand-casting video here (making the mold runs until about 2:40 when Lamb pours the liquid metal; he digs out the work at 3:37).
Hexagonal Pewter Stool from Max Lamb on Vimeo.
Then Sandy showed me a picture of some incredible library shelves he'd commissioned Lamb to make for him (below). They were based on another classic Lamb technique: carving polystyrene (think packing materials and take-out coffee cups) into a usable form (like the chair, above), then spraying it with a polyurethane rubber finish. I love it because, as Lamb says: "A variety of simple tools and a reasonable amount of energy is all that is required..." He makes us believe WE could do something like that,because once you know how something works--the mechanics or internal structure--you can apply that knowledge to improvise; it becomes a foundation for your ideas. I instantly started researching "polyurethane rubber spray" and curiously, kept seeing references to PlastiDip, which I've already been deep into.
Poly Chair from Max Lamb on Vimeo.
Says Lamb about his chair: "A process of destruction is used to construct a bombproof chair. By making furniture by hand the unique is achieved and individual beauty inevitable." Which is what A.S.C. Rower got in these amazing library shelves.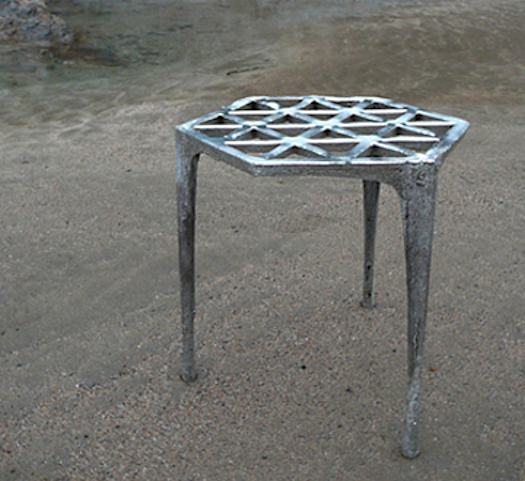 For more on Max Lamb, check out
American Craft Magazine's illuminating article.
---
This post also appears on The Improvised Life.
Images: A.S.C Rower