King James and the Miamians Smite Noah and the Chicagoans
Game 4 of the NBA Eastern Conference championship series, King James Bible version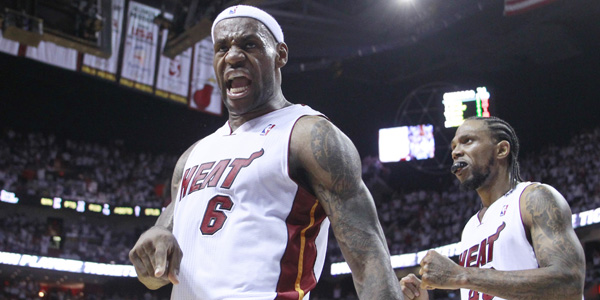 Joe Skipper/Reuters
On the twenty-fourth day of the fifth month, in the time of war for the eastern lands, King James of Miami and his armies doth entered into battle. The Miamians fought with Rose and Noah the Chicagoans, and their minion Bulls. And they did fight evenly with them from day to night.
And it came to pass, when King James tried to strike the final blow of the battle, Bennett the Judge spake unto the king. And the judge sayeth unto him "Thou hast displeased me. Thy kingly ways are foul and offensive to me. Thine enemy, Rose of Chicago, shall be given the ball that is now thine, that he might forthwith slay thee with it, and tie thy best-of-seven series at two games apiece."
Yet, verily, Rose did not slay the Miamians. For he did not goeth strong unto the hole. Nay, he shot from far away and he misseth badly, condemning his people to overtime, where Miami thus did smote them in great numbers, 101 to 93.
And so it came to pass that King James did scoreth thirty and five points in the game. And that Bosh of Miami doth have twenty and two points. And Wade of Miami, though he hath a sickness upon him, hit a big jumper in overtime.
And the coaches hath spoken unto Udonis the Miamian, saying unto him, "Scourge the Bulls as though with whips and scorpions. Suffer not thine enemies to enter thy lane, nor to get open looks from the outside, nor to score easy buckets upon thee."
And, verily, it was so. And Rose the Chicagoan, woe unto him, hath seven turnovers. He taketh nine shots from beyond the three-point line, and he maketh just one. Thus, were his people discomfited and delivered into the hands of their enemies, the Miamians, who slew the Bulls with a great slaughter.
In days to come, King James and the Miamians will pursue their enemies. As it is written, for the fifth battle of the Eastern wars, King James and his armies will enter the lands of the Chicagoans, and try to smite them there, in the land upon which they dwell.