Katie Couric Takes Charge
America's first solo female anchor has faced many challenges since 2006, but she's about to own her future more than ever before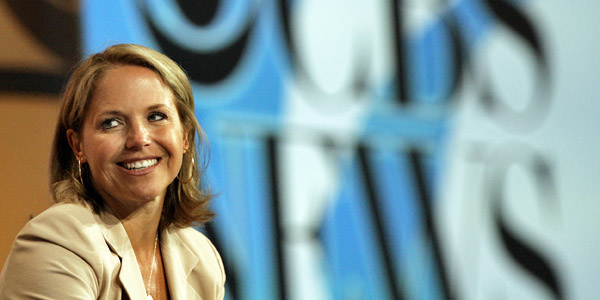 In 2006, When Katie Couric was named anchor of the CBS Evening News at a salary of $15 million a year, I wrote a piece under the headline "In Your Dreams," suggesting that she consider investing some of her own earnings in the show. The idea, admittedly somewhat whimsical, was that Couric could choose "original reporting on issues she thinks are relevant to her viewers, from China to china. It would be her money, so Couric could control it, bringing her distinctive experience and style to news in the way that Oprah has come to influence books, lifestyle choices and values."
The only reaction I saw to the idea came from a blogger on CJR.org (this was before I was associated with the Columbia Journalism Review as vice-chair). In a scathing commentary, he called the notion that Couric consider being an investor in her program "silly," "stupid," and "irrational." Rather than respond, I gave CJR.org the last word.
Couric's tenure as the first solo woman anchor got off to a very bumpy start. Within a year, she seemed to be on her way out. There was a New York magazine cover story in which CBS President Les Moonves, who had recruited Couric to switch from NBC, was asked whether he felt any "responsibility for how the show has failed." "Nope, I really don't," Moonves replied. The criticism and petty backbiting was clearly hard on Couric, who told Howard Kurtz in a Newsweek interview recently that she "kept having a dark fantasy that one of the New York City buses with her face splashed along the side would run her over, completing her demise."
But then the worst seemed to be over. Her coverage of the 2008 presidential campaign won accolades, especially her famous interview in which she rattled Sarah Palin with a series of simple questions about Supreme Court decisions and what newspapers and magazines she read. The nightly program's early efforts to tinker with the conventional model of evening newscasts were dropped, and the show settled into a rhythm very much like its competitors on ABC (where Diane Sawyer eased into the anchor chair after the election with much less hoopla, and none of the vengeful coverage) and NBC (where Brian Williams's natural anchorman style held on to Tom Brokaw's long-time dominance in the ratings contest). The evening newscasts still draw 23.2 million viewers, but that is down 21 percent from the figures a decade ago.
Although her nightly ratings never budged from third place, and some weeks saw precipitous drops, Couric and her program won increasing respect for her straightforward presentation and energy. Her periodic contributions to 60 Minutes added to her standing as the Sunday program secured its place as the best of network television news and returned to the top tier of audience rankings. Her interview with U.S. Air Captain Chesley "Sully" Sullenberger, hero of the Hudson River landing, was a major hit. In reflecting now on the vitriolic attacks of her early years at CBS, Couric, whose husband died of colon cancer at 42 in 1998, is philosophical: "I'm not the kind of person who allows myself to be permanently scarred by anything," she told Kurtz, "unless it's the death of my husband, which I think about on an almost daily basis still. But life goes on, and you have to put it in a place where you can tolerate it."
Lately, most of the controversy and gossip about television news has focused on cable rather than the networks: Fox News' overwhelming ratings lead, the rise and fall of Glenn Beck, Keith Olberman's feud with his bosses at MSNBC and his eventual departure, and now the role of Mike Huckabee, Sarah Palin, and Donald Trump as television personalities with presidential ambitions. By comparison, the activities of Couric, Sawyer, Williams, and the other network stars are paragons of traditional dignity.
But as Couric's lucrative contract started to wind down, her future again became a story. Would she stay at CBS News? Would any newscaster ever be paid $15 million a year again? Finally, Couric chose People magazine to make her departure announcement. "Time is not necessarily your friend on the Evening News," she said. "It has left me less time to be spontaneous or show the extent of my interviewing skills. ... In making the decision to moveon I know the Evening News will be in great hands, but I am excited about the future."
So what will Couric do next? Here's the kicker: The odds are she will host a syndicated daytime talk show with an audience, assuming it is successful, close to what she was getting in the evening. The plan is that she'll also make regular appearances on the news division of one of the networks. (It will be ABC, according to the Wall Street Journal.) Assuming the syndication deal goes through, Couric will clearly be a significant equity partner in the enterprise—and the whimsical notion of five years ago doesn't seem as far-fetched as it did then. As an owner of the program, she'll have influence she never could have as a network anchor. Katie Couric's days as an employee, at whatever stratospheric salary she could command, seem to be over. Oprah herself is moving on as the proprietor of an entire channel (which in its early months is having trouble attracting an audience).
But from all indications, Katie Couric has made a choice about her future. She is determined to take charge in a way she never has before about what she does and what she puts on the air. She's come a long way from 2006.
Image credit: Reuters/Mario Anzuoni