Jorge Posada's Hissy Fit: Unsportsmanlike Conduct Strikes Again
The Yankees designated hitter's refusal to play this weekend is just the latest example of bratty behavior by a big-name athlete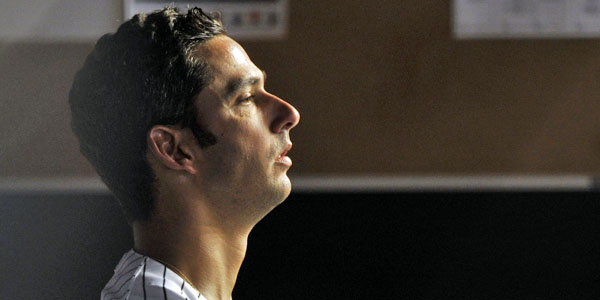 Ray Stubblebine/Reuters
It's not every day that a millionaire athlete publicly pouts in the face of adversity and acts like a spoiled, ungrateful... wait, that's not right. Let me start over: It seems like every day in America a millionaire athlete exposes himself as a selfish egomaniac untethered to the unadorned, unsponsored life outside professional sports. The richer these sports stars get, the larger their protective bubble becomes, the less capable they seem to comprehend just how bad they look to the rest of us when they stomp their feet and act like brats.
Unsportsmanlike conduct is everywhere in pro sports these days and if it isn't getting worse it's clearly not getting any better, either. Last weekend, for example, Los Angeles Lakers forward Andrew Bynum, earning millions, could not muster up the grace and integrity to lose a game and playoff series with pride. Instead, the young star acted like a thug late in a game in Dallas. To a lesser degree, so did his more famous teammate, Lamar Odom, the reality show prop whose celebrity wife publicly defended him last week. "He definitely thought it wasn't the smartest thing to do, you know," Khloe Kardashian told Jay Leno. "But, what can you do?"
And this weekend comes the newly-minted Posada-gate spawned, of all places, in the House next to the House that Ruth Built. New York Yankees' designated hitter Jorge Posada, a multiple World Series winner as catcher of the team, threw what many called a hissy fit Saturday night after he and his .165 batting average were dropped to ninth in the team's lineup for a nationally-televised game against the Boston Red Sox. Rather than help the team stop a losing streak, Posada pulled himself out of the lineup an hour before the game, telling reporters that he needed to clear his head (before telling them that he had an ailing back).
He did the opposite, in other words, of what a responsible teammate is supposed to do. And he seemed to do it for all the wrong reasons. He and his manager, Joe Girardi, don't get along? Doesn't matter, you play the game. His pride was hurt by the demotion in the lineup? Doesn't matter, you pick up a bat. He is frustrated by his lack of production this season? Doesn't matter, you take your turn at the plate and try harder. These aren't just baseball's hallowed commandments. They are general rules of life; you never, ever give up, ever, especially when you are down and out. Duly down and out this year, what Posada really did was to give up, on himself and his team.
To their credit, team officials were visibly furious. General Manager Brian Cashman, architect of the current Yankees run of success, took the extraordinary step of holding an informal press conference in the middle of the game to distance the organization from the veteran player's conduct. He's not injured as far as we know, the boss told reporters and Joe Buck, and if he is he didn't tell anyone about it in advance. Cashman's comments, in turn, prompted Posada to get angry at his boss for breaching press protocol. The clubhouse blow-up completely overshadowed Saturday's game, which the Red Sox won 6-0.
Even before Sox pitcher Rich Hill struck out Yankees' legend Derek Jeter to end Saturday's affair, the blogosphere was awash in speculation and righteous indignation about Posada's stand. On a night when the political world lost its head over an announcement that a potential candidate had decided (like 308 million other Americans) not to run for president, the sports world went nuts about a player who decided not to play. Imagine that. And of course the Fox Sports crew, which had the Saturday game, added blood to the water by offering viewers endless close-up shots of a brooding, pensive Posada sitting in the dugout.
Posada was a tragic figure, an aging athlete coming to grips right this very weekend with his own professional mortality. No, he was a bum who gave up on his team in a fit of pique. Posada's public tantrum was a sign of things to come for the Yankees when they begin, soon enough, to diminish the playing time and batting rank of Derek Jeter, one of the greatest Yankees ever. No, Posada's shtick was a slap in the face to the very same Jeter, his good friend and longtime team captain. Posada is a proud man struck low. No, Posada committed the cardinal sin in team sports; he refused to play when called upon to do so. Pick your poison. Pick your spin. If only Dick Young were still alive and writing about New York sports...
Of all the themes and statistics that floated around in the wake of Posada-gate, the most striking to me was the discussion about the player's 2011 salary. It is $13.2 million per season. Whether Yankees manager Joe Girardi decides to play him or not, Posada earns $71,978 each game of a 162-game season. By striking contrast, the median yearly family income in America for 2009 was $49,777. And you probably don't need me to tell you that there are tens of millions of employees around the country who could be fired immediately from their work if they didn't show up one day -- or if they showed up and decided they just didn't want to work. The guy making $72 per day can't show up for work and act like Hamlet. Why should the guy who makes $72,000 per day be able to do so? 
That's part of the reason why I didn't need to hear an explanation from Posada and why I'm not buying his apology either. Sometimes sorry just isn't good enough anyway. With the salary he makes, and the tens of millions he already has pulled in over the years, what Posada did Saturday night is an insult to every worker in America who shows up ready to work each day worrying about putting food on the table or paying the mortgage. It is a slap in the face to every student and coach who spend hours talking about what it means to be a good teammate and a good sport. Worse, Posada cannot claim youth as a defense. Unlike Bynum, he is a grown man.
By Sunday night's game-- nationally televised as well by ESPN, natch -- Posada had indeed dutifully apologized privately to Girardi and publicly to everyone else. He said that he had a "bad day" Saturday, frustrated by his lack of success. Curt Schilling, the former Red Sox hero and current ESPN analyst, said in turn that Posada had said everything on Sunday that he should have said on Saturday. Fair enough. But although the Yankee icon was sufficiently contrite on television before the game, he was not in Sunday night's lineup because he hits left-hander pitchers, like Boston's starter Jon Lester, even worse than he hits right-handed pitchers. Late in the game, he came on as a pinch hitter-- to boisterous cheering by Yankees fans-- and promptly walked.
If Posada wants to make something positive out of this sorry episode, I suggest he do more than a mea culpa. He could do worse than start by departing with his now famous paycheck. Maybe he should donate his salary from Saturday's game-- all $71,798 of it-- to a charity related to Major League Baseball or the Yankees (both of which do admirable work in the area). Maybe Posada could spend the money to fund a local scholarship or help ill children or make the lives of New York's elderly citizens a little brighter. Or maybe he could donate it to improve the understanding and appreciation of good sportsmanship in elementary and middle schools.
Whatever he does to put to right this self-created mess, Posada ought to do it now, today, before he starts another game for the team and the city that made him a star. That would be a good start to the rest of whatever is left of his suddenly blemished career.