James Durbin Voted Off 'American Idol,' Angering Jennifer Lopez (Again)
American Idol contestant James Durbin was eliminated last night, to the great disappointment of the show's three judges. Jennifer Lopez started crying when she heard the news:
The only person more upset to learn of James Durbin's American Idol departure than the contestant himself? Judge Jennifer Lopez, 41, who broke down in tears when host Ryan Seacrest delivered the bad news during Thursday's results show.

"I worked so damn hard and I was hoping to get there," Durbin said while tears rolled down his cheeks. "But I did so much stuff that's never been done on the show. I did what I came here to do, and that was to give metal a chance."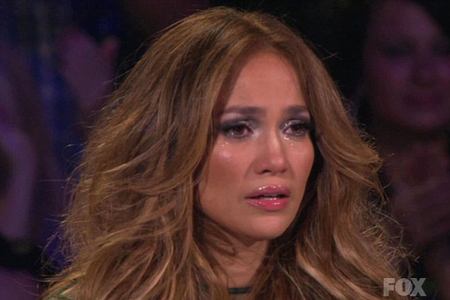 FOX via Daily Mail
This isn't the first time this season that a judges' favorite has been voted off. Just last month, Pia Toscano was eliminated, causing Lopez to chastise the audience: "I have no idea what just happened here," she said, her voice breaking.
Read the full story at Us Weekly.