Big cities can attract big talent, but this year's Dallas-Miami final features teams from medium-sized markets. What do populations and regions have to do with rings?
This year's NBA finals pitting the Dallas Mavericks against the Miami Heat is a rematch of 2006 championship, but still it's just the second time that each team has appeared in the finals. Miami came away victorious in that first matchup; Dallas has yet to claim a title. Will the "Heatles" -- Lebron, Wade, Bosh -- win the championship they banded together for? Will Mark Cuban, the Mavericks billionaire owner and former Dancing with the Stars contestant, finally get a crown after years of falling short? Which city will get its parade?
But might this budding rivalry signal something bigger at play? Are we witnessing a shift in the geography of the NBA's dominant teams?
Others have already speculated on this (here and here). With the help of my Martin Prosperity Institute colleagues Patrick Adler, Charlotta Mellander and Zara Matheson, I decided to look at the geography of NBA champions over the past six decades spanning 1947 to 2010.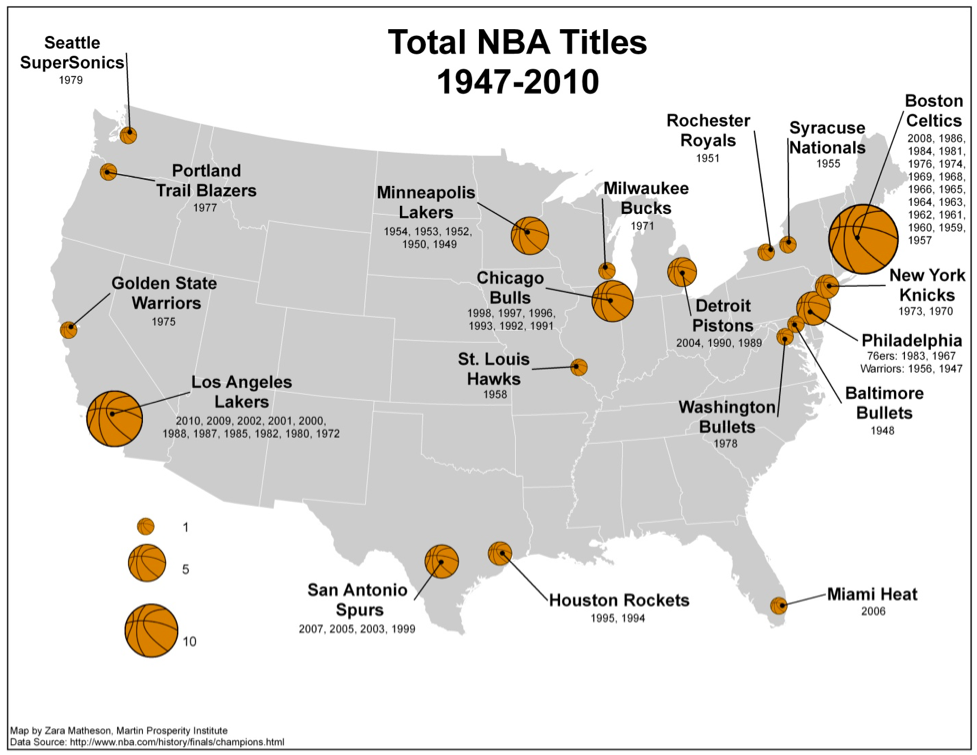 The first map (above) shows the teams that have won the most championships. With 17 crowns, the Celtics -- the team that dominated the 1960s, with an astounding nine titles -- are still the winningest franchise by far, followed by the Lakers with 11 (16, if you count the five won by the Minneapolis Lakers). The only other team that approaches them is the Chicago Bulls, with six championships.* San Antonio (also eliminated this year) has four. Over the decade just past, a very small number of teams have been dominant. Since 1999, nine crowns went to either the Lakers or the Spurs, while the Pistons, Heat and Celtics have won one each. And get this: Between them, the Lakers and the Celtics have featured in two-thirds (40 out of 63) of the NBA finals completed to this point. The two have met each other head-to-head for the championship 11 times.