In Praise of TV Mom Guest Stars, From Elaine Stritch to Shelley Long
Big-name comediennes routinely make comebacks as mothers on television. Why this is one sitcom cliche that's actually worth celebrating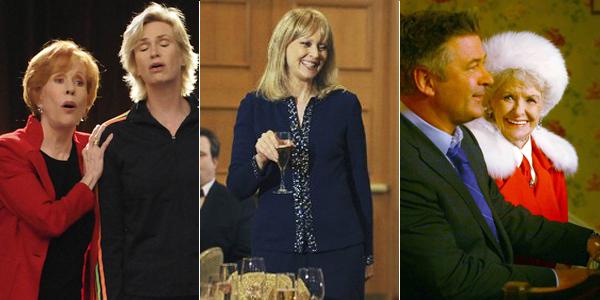 Fox/ABC/NBC
This TV season found Shelley Long guest starring on Modern Family as Claire's mom, Carol Burnett making a rare TV appearance to play Sue Sylvester's Nazi-hunting mother on Glee, and the return of Elaine Stritch to her Emmy-winning role as Jack's cranky mother on 30 Rock. These three cases are emblematic of what's become a sitcom tradition: revered, classic comediennes making cameos on popular sitcoms.
Michael Patrick King, the creator of Sex and the City spoke about the trend when defending the decision to never write an appearance by Carrie Bradshaw's mother in the show or its two movie spin-offs: "Who was going to play Carrie's mother? Connie Stevens? It's such a traditional sitcom limb. It's the Thanksgiving episode, and there are Wilford Brimley and Elaine Stritch. I never wanted to do anything like that."
While King should be applauded for scoffing at clichés, this is one common practice that should be embraced. These appearances are doubly satisfying: They give us a chance to see our favorite actresses again, often after long stretches of time out of the spotlight. And they also serve to remind us why we loved the actresses in the first place, as the sitcoms they appear on often borrow heavily from comedies of the past.
As I outlined last week when comparing Steve Carell's exit from The Office to the departures of past TV stars, Long's career didn't really take off when she left Cheers at the height of its popularity. It's sad, really, because she was so good on the show, brilliantly making a frazzled, neurotic character relatable, down to earth, and, most important, funny. Her portrayal of Diane on Cheers is iconic, something we're happily reminded of with her cameo on Modern Family. Casting the sitcom vet in the "crazy mom" role may be playing to one of the genre's clichés, but it doesn't make the all-too-rare appearance of Long on TV any less welcome.
And it's not just Long. Carol Burnett's on-screen presence has been far too sporadic, particularly this past decade. It's one reason why her role as Sue Sylvester's abrasive mother on Glee was so well received—audiences just plain missed her. (The other reason, of course, was that she was funny.) There's an undeniable nostalgic element that underlies these guest appearances. Seeing Dixie Carter play a conniving mother-in-law from hell on Desperate Housewives takes us right back to her forceful verbal takedowns on Designing Women; Georgia Engel's turn as Robert's sweetly dim mother-in-law on Everybody Loves Raymond was like peering into a portal back in time to her performance as Georgette on The Mary Tyler Moore Show.
Whatever the reason these women are largely absent from TV screens—Hollywood ageism, their own personal choices—having them back in these bit parts surfaces fond memories of their previous comedy brilliance. If the clichéd mom role is the impetus for their television returns, then even more of these parts should be written, not discouraged, as King implies.
Furthermore, the reason these comedy vets routinely fill these roles isn't solely so the network can promote a rare Shelley Long appearance for ratings. It also happens that these women are perfect casting. As Claire on Modern Family, Julie Bowen plays a constant state of exasperation and frustration as she tries to keep up the appearance of a perfect, ordered life. The character and Bowen's performance are undeniably reminiscent of Shelley Long's Diane on Cheers. That a character played by Bowen would be the offspring of one portrayed by Long is not just believable—it's brilliant. Jane Lynch's line readings as Sue Sylvester on Glee are a master class in sarcasm. And who wrote the class's book? Carol Burnett, whose dry wit for all those years on The Carol Burnett Show is certainly paid homage to by Lynch's performance on Glee. Playing Sue's mom on the show is almost like a full circle for Burnett.
In fact, there are numerous examples of these mom roles also paying tribute to the actress's legacy. Casting Marlo Thomas on Friends as the mother to Jennifer Aniston's Rachel Green—a character struggling to find independence in New York—added a layer to the relationship between those characters, at least to audience members who remembered Thomas as the struggling single actress on That Girl in the '70s. On Chuck, NBC's action comedy about a computer geek-turned unlikely spy, Linda Hamilton played the lead character's mother, also a spy. It was perfect casting, and a genuine joy to see Hamilton kicking butt just as she did in her Sarah Connor days.
From Vacation's Beverly D'Angelo as Laurie's mom on Cougar Town to Happy Days' Marion Ross's hilariously against type appearance on That '70s Show to Blythe Danner and Debbie Reynolds on Will and Grace, this particular trend in stunt casting is one that we should definitely celebrate. As for King, he was certainly on to something: Connie Stevens as Carrie Bradshaw's mother would have been perfection.