'How I Met Your Mother' Finale: Guess Who's Getting Married?
The wedding that's been teased all season is for the character least expected to make a lifetime commitment
The wedding that's been teased all season is for the character least expected to make a lifetime commitment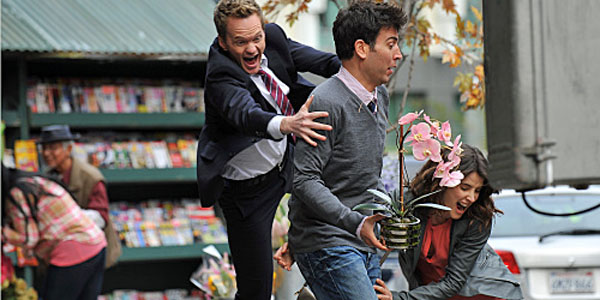 CBS
We learned a few things in the Season 6 finale of How I Met Your Mother: That wedding we keep getting teased about? it's Barney's. Dave Foley has resigned to playing bland supporting characters. When you're having stomach issues, you should just say you're under the weather. "Do you want to get coffee some time?" always means, "Do you want to get back together?" And finally, and perhaps most embarrassingly, CGI is not in the show's budget.
Though things spiraled into chaos for Barney, Marshall, Lily, and Ted (Robin was resigned to comedic sidekick status for the entire season), in "Challenge Accepted" they all choose to embrace the fact that they don't always have control of their lives and stories. Ted doesn't get back with Zoey, as tempted as he is, and actually manages to blow up the Arcadian and begin this next phase of his career. And Barney does the mature thing when he runs into Nora: apologizes for how he treated her.
Over all, season 6 belonged to Marshall and Lily. It begans with their decision and then indecision to have a child, was interrupted by the unexpected death of Marshall's father and his subsequent mourning period, climaxes with a moment of bleakness, and finishes with the news that Lily is pregnant. Sappy at times, poignant at others, the arc was told with amazing patience on the part of the writers who managed to stretch it out over the course of an entire season, a formula that will serve the show well in the future.
"Challenge Accepted" wasn't a great episode, but from a series-long narrative standpoint, it leaves us with both enough closure and questions to keep us interested. It will be difficult to accept Barney's transformation to the marrying kind and Lily and Marshall as parents, but, for the final two seasons of the show, the writers have the complicated task of continuing to allow the characters to mature, while still maintaining the energy, quirks, and selfishness that endeared fans to them in the first place.