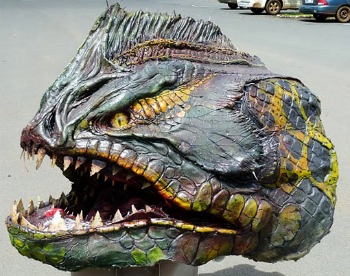 Just for the record, The Atlantic was on this zombie trend looong before it was popular. James Parker wrote the sharpest critical analysis of our national zombie fixation. And before that, I profiled one of them. Jed Rowen was my old college buddy and roommate, who had gone on to build an unusual career, and a cult following, as a B-movie zombie. To my knowledge, he's still most famous for portraying Inbred Jed, the zombie redneck from Zombie Farm. Since the piece ran, people have periodically inquired what he's up to, or Jed has emailed me to share career news, and on occasion I've pressed him into service as a correspondent for this blog.
It being a weekend, the time feels right for an update. And Jed has big news. Back when I profiled him, one of his goals was to work with the director Roger Corman, the infamous "King of the B's." Actors including Jack Nicholson and Al Pacino both started out in Corman's low-budget horror films. Add Jed Rowen to the roster--he's set to appear in the forthcoming Corman film,
Piranhaconda
. What, you ask, is a piranhaconda? It is a voracious predator, "Part Snake! Part Fish! All Killer!" per the movie poster. (See above pic.)
It's my understanding that
Piranhaconda
will eventually air on the Syfy Channel. It nearly won 
Syfy's "Monster Madness"
horror-movie bracketology showdown a couple weeks ago, getting bested by
Sharktopus
only in the finals. I don't think there are any zombies in the film, though I couldn't swear by it, and Jed plays a character called "Slate Man," who, one hopes, gets gorily devoured by the piranhaconda. (Hate spoilers, so I didn't ask.) For aficionados, more info can be found
here
, and here is the all-star team behind the film:
Executive Producer:   Roger Corman

Producer:   S. Forest King

Director:   Jim Wynorski

Line Producer:    Steve Goldenberg