Go Lake People! Go Calves!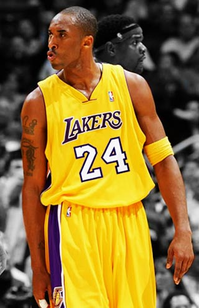 Things look bad for LA's pro basketball team, down 0-3 in the playoffs to Dallas. An American friend in Beijing sent in this report while watching Dirk Nowitzki and his Dallas teammates stage a dramatic last-minute surge last night to win and put LA in a historically insurmountable bind. He writes:
>>I'm watching the Lakers vs the Mavericks on CCTV, which in China means watching the Lake People vs the Calves.  [The Lakers are

湖人

, literally "lake persons," and the Mavs are

小牛

, "calves" or even more literally "little cows."]

Lake People is wrong but there probably aren't many Americans who know why the LA NBA team is called the "Lakers" either.*  But calling the Mavericks "the Calves" completely misses the meaning of the name.  The majority of Americans probably don't know the origin of the term 'maverick' -- a calf that has lost its mother, forced to go its own way -- but they do know what the word means today, and why Dallas chose this term as the name of their team.  This is especially interesting right now because the name 'maverick' seems to be so closely associated with Ai Weiwei, in the West, at least.<<

*I grew up with the Los Angeles Lake People of Elgin Baylor and Jerry West, but within my time of grade school consciousness they had moved to LA from their previous home in Minnesota, the Land of Ten Thousand Lakes. Thus their name. And while I totally lack enthusiasm for the current Laker star known to Chinese fans as 科比 ("Kebi," above) and for the modern Lake People dynasty in general, I suppose that in the interest of avoiding a blowout and having a more competitive series, if I watch their next game against the Little Cows of Dallas I will have to say: 湖人 加油 -- "lake people, add oil!" or "Go Lakers!"
____
Note: on some browsers, these Chinese characters render fine. On others, the ones for Kobe and 'jia you'/"let's go!" are gibberish. Not sure exactly why, since I've used them before on this site. Another of the combined mysteries of Movable Type and the Chinese lexicon. At least the Lake People and the Calves come through OK.