'Glee' Is All About 'Rumours,' But Do We Care?
Our panel weighs in on this week's episode, which was a tribute to Fleetwood Mac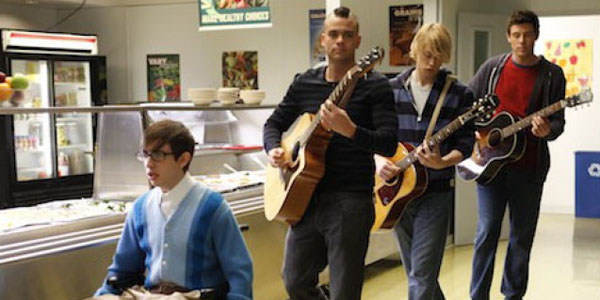 Fox
After tributes to Britney Spears, Madonna, and Lady Gaga, Glee took a detour last night from paying homage to pop princesses and instead devoted the entire episode to songs from Fleetwood Mac's Rumours album. The episode also marked the return of Kristin Chenoweth as April Rhodes, and, after sitting out last week's supersized outing, Sue—who came back as ruthless as ever.
To help make sense of the episode, we have a panel of musical theater and pop culture buffs—Meghan Brown and Kevin Fallon—to provide their takes on how realistic the show feels, how well the romances develop, and of course, how good the musical numbers are.
Here's what they had to say:
Kevin Fallon (writer and producer for The Atlantic's Entertainment channel): Kristin Chenoweth's April Rhodes had barely just returned to Ohio from her disastrous Broadway run in an all-white production of The Wiz, yet she could already diagnose New Directions' problems. Love triangles, sexual confusion, betrayal: The club's "got a touch of the Mac," the Fleetwood Mac! All it takes is the loosest connection to spur an episode of Glee, because—lookee there!—Mr. Schuester just happened to be the last suburban male in America to own a record player. And his Rumours LP isn't buried in a box in the attic. It's right there in the living room! Well call the Fleetwood Mac royalty lawyers, and cue up a "Dreams" duet with Chenoweth, because we've got ourselves an episode theme. (The duet, as is the Cheno way, was superb.)
Of course, the word "subtle" doesn't exist in the world of Glee. Because it's not just Rumours that gets a lot of play this week, it's also lowercase "r," no "u" rumors—gossip and secrets. You see, Sue revamped the school's newspaper with a Blind Items column: "We're no longer concerned with facts, fact checking, integrity, or facts," she tells a never-funnier Terri. "If I heard it, it's probably true—or something." Well, wouldn't you know it, all that gossiping and "rumors startin'" (Lindsay Lohan, anyone?) is tearing the glee club apart! And the only cure is for everyone to sing out their feelings to the tune of Nicks and Buckingham.
The parade of minstrels led by Artie, strumming and singing "Never Going Back Again" was a somber highlight. Lea Michele's "Go Your Own Way" was a belty highlight. And Kristin Chenoweth's every sly smirk, eyebrow tick, and note sung—well, that was my week's highlight. Glee's themed episodes haven't been able to reach the initial amazing-ness of that first Madonna tribute. But an episode devoted to Mac songs? It certainly was a refreshing change of pace.
Meghan Brown (co-founder of the Giraffe Hunt Theater in Los Angeles): I want Will to go to Broadway.
Not because I'm particularly invested in Will's success, mind you. In fact, I'd go as far as to say that Will is my least favorite character on the show.
I want Will to go to Broadway so that someone, anyone, will go away.
Now before the Internet destroys me, hear me out: Glee is overcrowded. There are too many characters, too many scenes, and too many plot elements that are going nowhere. "Rumours" brought back one of the show's fundamental problems: That instead of investing in emotional stakes (with the exception, arguably, of Santana and Brittany) Glee expects us to accept a contrived set of circumstantial ones. Think of the hours of plot devoted to questions we already know the answer to. Will Finn leave the glee club? Will Rachel leave the glee club? Will Quinn leave the glee club? And now, the kicker: Will Will leave the glee club?
He won't, of course. Which is part of the problem.
There are only so many times that New Directions can come thisclose to disbanding before viewers stop taking plot seriously altogether. Does anyone feel any legitimate concern about Sue and her henchmen? Of course not. But that's OK, Glee says. It's OK not to feel any degree of suspense whatever! Because it's a comedy!
But here's the thing: it would be funnier if we cared.
Glee would be a much more interesting show if it gave itself the time to actually delve into the characters' psychology. Look at Will, for example. I understand that we're expected to see Will's uncertainty about following April to Broadway as a legitimate conflict—after all, April is sort of a wild card, and Will knows it—but there simply isn't time to devote to treating the subject with any sort of nuance. Exploring the idea that Will's dependence on his students for emotional support is unhealthy would be fascinating. I'd love to see him question his own impulses, reexamine his dreams, and come to terms with his own failures and limitations.
Instead April Rhodes breezes into town, and in some sort of alternative universe / time warp Will goes from lending her the auditorium to directing her to singing with her in a bizarrely professional dress rehearsal. And then she wants him to come with her! And all the while he's eating lunch with Emma and making tenuous connections between 1970's pop music and gossipy teenagers. By the dizzy conclusion, any emotional weight the subject might have carried had been lost.
I've enjoyed the past few episodes of Glee but was reminded tonight that there are fundamental structural problems that need to be addressed in order for the show to live up to it's full potential. It's time to slow down, figure out what to do with Sue, cut some characters, and let us concentrate on the good stuff.
Past Glee panels:
'Glee' Gets Supersized: Now With More Lady Gaga
'Glee': Original Songs, a Long-Awaited Kiss, and More
'Glee': Gwyneth Paltrow Brings Sexy Back
'Glee' Is Funny When It's Drunk
'Glee': When Cancer, Cattiness, and Justin Bieber Combine
'Glee' Valentine's Day Episode: Love Songs and One-LinersThe 'Glee' Super Bowl Episode : Football and Musical Theater Can Co-Exist

'Glee' Does Christmas: Cheesy but Charming

'Glee': Sectionals Bring Out the Best in Everyone

'Glee': Two Weddings and an Anti-Bullying Message

'Glee': Gwyneth Paltrow Brings Fun Back

'Glee' Takes On Katy Perry, Gay Bullying

Why Did 'Glee' Do 'The Rocky Horror Picture Show'?

'Glee': Hitting a High Note, or a Sophomore Slump?

'Glee' Gets Religion, With Mixed Results

'Glee': Britney Spears Meets Britney S. Pierce

'Glee' Season Premiere: The More Things Change...