'Glee' Captures the Glorious Awfulness of Prom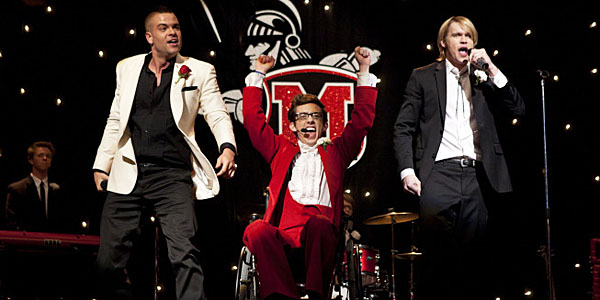 Fox
It was prom night on last night's episode of Glee, with New Directions rising to the occasion when the dance's entertainment pulled out at the last minute. In addition, a surprising King and Queen were crowned, and Rachel dealt with the return of her ex-boyfriend, Jesse St. James.
To help make sense of the episode, we have a panel of musical theater and pop culture buffs—Meghan Brown and Kevin Fallon—to provide their takes on how realistic the show feels, how well the romances develop, and of course, how good the musical numbers are.
Here's what they had to say:
Kevin Fallon (writer and producer for The Atlantic's Entertainment channel): Prom is just the worst, isn't it? I mean it's the best—but it's the worst. First of all, there's the music: you think you're going to be dancing to the sweet tunes of Air Supply, but then they cancel and you're forced to get your groove on to the stylings of ... your high school's show choir. The night always kicks off with that unfathomably awful, ubiquitous hit of the moment, and everyone gets irrationally excited and forgets the song is terrible. At my prom it was "Hollaback Girl;" for Glee it's Rebecca's Black's "Friday." But then, magically, the DJ plays something that perfectly captures the moment. Lea Michele's version of "Jar of Hearts" was haunting and filmed gorgeously, perfectly capturing Rachel's bittersweet feelings that night.
Then, of course, there's the tragedy of finding a date. There are fabulous, beautiful girls like Mercedes who put up a brave front but still can't toss aside their desire to be Cinderella for just one night—but no one asks them. Yet that's when, if you're lucky, a group situation arises like the one with Rachel, Sam, and Mercedes.
There's also the "prom proposal," where a guy asks a girl to be his date with a grand gesture that is as adorable as it is absolutely heinous. I mean, can you blame Rachel for forgiving Jesse St. James's unfortunate skinny scarf and past cruelty and agreeing to be his prom date when his proposal is a scorching a capella rendition of "Rolling in the Deep?" But then there's Artie's misguided invasion of Brittany's Home Ec class, singing "Isn't She Lovely" in hopes of winning over a girl who had already explicitly said she was not interested in being his date.
Like prom, this episode was Glee at its best and its worst. Not only were the musical numbers top-to-bottom pretty darned good, but plots advanced. Kurt's coronation as Prom Queen was devastating for many reasons, but most impressively was the way his reaction was spliced against everyone else's own personal meltdowns. Though his bubble was the biggest one that got burst, we learn that Quinn and Santana also suffered from inflated expectations for the night. Major steps were made towards the end of the Quinn-Finn-Rachel love triangle and Santana's identity crisis. But then there were dance floor brawls, bathroom slaps, and hallway soap box speeches—subtlety is not Glee's strong suit. But, really, it's not prom's either—which is why it all worked.
Meghan Brown (co-founder of the Giraffe Hunt Theater in Los Angeles): The haunting "Rolling in the Deep" was strong (and also weird). Adele might be the only contemporary pop singer who Lea Michele can't out-sing, so passing the song off to Jesse St. James was a smart move.
Karovsky's tearful apology to Kurt was painful and poignant, but the rest of the drama felt shallow and forced. Mercedes' pining for a prom date, Jesse and Finn's fight, and even Quinn slapping Rachel in the bathroom lacked any real emotional stakes, and seemed tonally inconsistent with the snarky snap of the rest of the episode.
My favorite number of the night was Artie's "Isn't She Lovely?", delivered to a reluctant Brittany. His voice sounded great, and served as a nice grand gesture. I'm proud of Brittany for standing up for herself so succinctly: "I'm not gonna go to prom with you. You called me stupid and I really didn't like that." You go.
For the picky: I know it's TV logic, but how exactly did Kurt end up as Prom Queen? Didn't you have to be nominated? If it was a cruel joke, why did Figgins go along with it? And who, exactly, was it that voted overwhelmingly for Kurt? I was expecting some explanation—a subplot involving a stuffed ballot box, or maybe some crazy scheme from Sue—but was left with nothing. Weird.
Past Glee panels:
'Glee' Is All About 'Rumours,' But Do We Care?
'Glee' Gets Supersized: Now With More Lady Gaga
'Glee': Original Songs, a Long-Awaited Kiss, and More
'Glee': Gwyneth Paltrow Brings Sexy Back
'Glee' Is Funny When It's Drunk
'Glee': When Cancer, Cattiness, and Justin Bieber Combine
'Glee' Valentine's Day Episode: Love Songs and One-Liners

The 'Glee' Super Bowl Episode : Football and Musical Theater Can Co-Exist
'Glee' Does Christmas: Cheesy but Charming
'Glee': Sectionals Bring Out the Best in Everyone
'Glee': Two Weddings and an Anti-Bullying Message
'Glee': Gwyneth Paltrow Brings Fun Back
'Glee' Takes On Katy Perry, Gay Bullying
Why Did 'Glee' Do 'The Rocky Horror Picture Show'?
'Glee': Hitting a High Note, or a Sophomore Slump?
'Glee' Gets Religion, With Mixed Results
'Glee': Britney Spears Meets Britney S. Pierce
'Glee' Season Premiere: The More Things Change...
Girlfights! Broken hearts! Rebecca Black! This week's episode highlights all that is good and bad about the high school milestone