Getting Ready for the Rapture: 3 Doomsday Movies to Watch
What The Book of Eli predicts will happen after the apocalypse, plus two other endtimes-related films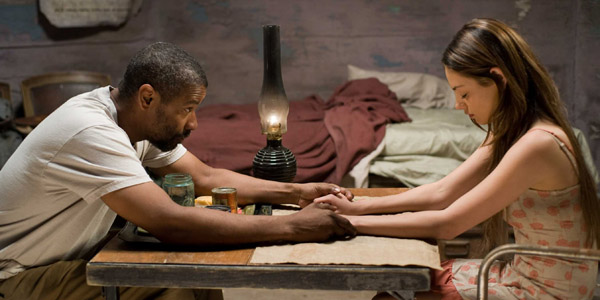 Warner Bros
The end of the world begins tonight, according to 89-year-old radio station impresario Harold Camping. But what happens after the apocalypse? What can we expect from a post-rapture earth?
According to the 2010 film The Book of Eli, we can look forward do a world where books are much more important than they are today. In a roundup of doomsday films last year, The Atlantic's Benjamin Mercer described the Denzel Washington movie's depiction of life post apocalypse:
Books are especially valuable in Eli's economy, the crux of the movie being the Good Book in the protagonist's possession, which a local despot, Carnegie (Gary Oldman), is desperate to get his hands on. Carnegie, whom we first see reading an oversize biography of Mussolini, loves to read--he sends his minions out to collect whatever books they can find--but he is primarily preoccupied with using the Bible's teachings to extend his own influence. He just needs to get his hands on one.

And there does appear to be only one--the leather-bound volume in Eli's knapsack. His flight from Carnegie is a long one, so the seemingly invincible wanderer--who dispatches entire goon squads during this otherwise hushed movie's controlled bursts of comic-book violence--eventually gets a pert sidekick, Solara (Mila Kunis). This odd couple treks on to a New Agey conclusion that recalls a certain Ray Bradbury book (one that François Truffaut adapted for the screen).

Some might find The Book of Eli's mixture of Christian creed and ultra-violence more than a little dubious. But especially with all the recent talk about how the Internet is reshaping our neural pathways one hyperlink at a time, Eli's earnest argument for the value of the good old-fashioned codex proves substantially appealing.
Mercer also recommends The Road and Collapse for endtimes-related viewing.
Read the full version of "The End Is Near! Rent 'The Book of Eli'"