'Frontline': The Best News Program on Television
The PBS show has won more awards than virtually any other newscast—and it deserves more visibility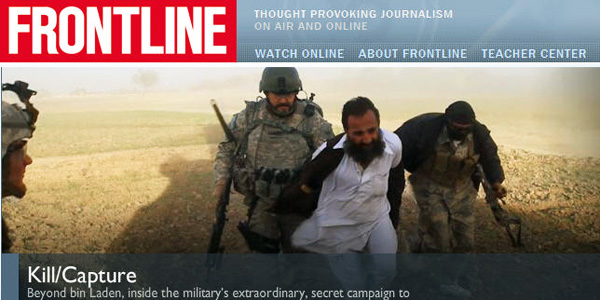 PBS
What is the best news program on television?
Week in and week out, 60 Minutes delivers great storytelling, making news with correspondents and producers whose competition to get their pieces on the air—under the brilliant leadership of executive producer Jeff Fager—has made this venerable hour a standout in broadcast television, especially compared to other network magazine shows. PBS NewsHour, which Jim Lehrer and Robert MacNeil led for so long with such distinction, will carry on providing a daily survey of news and reasoned analysis from anchors and correspondents that attracts an audience—bigger than most cable news shows, I'm assured.
HBO acquires documentaries from some of the country's best filmmakers. PBS presents periodic blockbusters, such as Ken Burns' The Civil War and the long-running historical series American Experience. C-SPAN's original programs—most recently their comprehensive survey of the Supreme Court, including interviews with all the justices—are instructive, methodical, and, if you're the right kind of viewer, fascinating. I can't comment on shows I never see: Sunday Morning on CBS, Nova on PBS, and CNN documentaries that take on big subjects such as race and immigration, among others. So let's give them all credit for ambition.
But in my view, the best news program on television is Frontline, the PBS series that has been on the air since 1983 and has produced 530 documentaries (a total of 640 hours of programming) with consistent quality, technical skill, and provocative intent. And yet compared to programs that offer much less of substance, Frontline, with a weekly audience of 2.7 million, seems far less visible than it deserves. Aside from its regular slots on virtually all PBS stations, Frontline maintains one of the outstanding websites on the Internet. Right now, you can watch 107 full hours of Frontline programs, each supplemented with additional material intended to provide context and depth to what is on the air.
Frontline was created in 1983 by David Fanning, who as executive producer has led a small Boston-based team (housed at WGBH) that has won more awards than any other program staff in television history. Okay, I can't prove that to be the case, but it takes nine pages to print out the prizes, including, uniquely, a 2003 Pulitzer Prize Gold Medal for Public Service in recognition of its collaboration with the New York Times on a devastating portrait of workplace hazards. The full roster includes 45 Emmys, 24 duPont-Columbia University Awards (including two Gold Batons for its "total contribution to the world of exceptional television"), 13 Peabody Awards, and 11 Robert F. Kennedy Journalism awards, as well as scores of others.
In the days immediately after the killing of Osama bin Laden, Frontline produced a program of interviews and archival footage that was as thorough as anything available in the hours of coverage devoted elsewhere. The quick turnaround was a major new initiative for Frontline, which has specialized in films that take months to prepare. What is particularly striking about the collection of programs is the range of subjects they have covered. In an interview a few years ago, Fanning characterized the programming this way:
The hardest challenge has been to be fresh and surprising week in and week out. ... I think of it as a work of journalism that is constantly re-inventing itself. ... Frontline can move from child sexual abuse to early Christianity, from politics to the press; from Hollywood to Washington. But the real test is whether the stories we do matter. They matter when we take a small local story like "An Ordinary Crime" and right a miscarriage of justice; they matter when we mount a massive four-part series like "Drug Wars" and get the attention of the policy establishment; they matter when on September 11, we can reach for our own reporting and show a program about Osama Bin Laden that the White House wants to watch. And we know our content matters when hundreds of thousands of visitors come to the Frontline web site.
That number is now up to 1.2 million unique visitors a month.
In fact, Fanning considers the development of the program's online presence as one of its most significant achievements. As early as 1995, Frontline began supplementing its documentaries with material—interviews, tapes, commentaries—and over time, as digital technology has advanced, so has Frontline's Internet presence. I've watched Fanning work from a middle distance for years. Our hope was that PublicAffairs might develop books with Frontline, but for all the good will on both sides, we could never get a project together. Still, the contact did give me a chance to see Fanning in action, consistently defying the odds against serious broadcast journalism: chiefly, raising the necessary funds; mediating among the competing filmmakers who see Frontline (and the money it can help them attract) as essential to their objectives; and, periodically, standing firm against accusations that the programs are biased--criticism that ranges from Congress, where some repeatedly have tried to eliminate funding for the Corporation for Public Broadcasting (CPB), to the New York Times, which said of one Frontline show about the national financial crisis that it was "just another exercise in Bush bashing."
Fanning seems to be a man in constant motion, a dervish of outreach, decision-making, and solicitation. According to the Frontline website, funding is "provided through the support of PBS viewers and by the Corporation for Public Broadcasting. Major funding for Frontline is provided by the John D. and Catherine T. MacArthur Foundation and by Reva and David Logan. Additional funding is provided by the Park Foundation and by the Frontline Journalism Fund. Major funding for Frontline's expanded 2010-2011 broadcast season is provided by the Bill and Melinda Gates Foundation." The annual budget of about $18 million comes primarily from fees paid by the PBS stations, with the balance from CPB and the foundations.
Recently, Frontline announced that it would expand its programming to a year-round schedule. Fanning's principal deputy is Raney Aronson-Rath, the senior producer. She and Fanning recently hired as managing editor, a new position, Phillip Bennett, who was a managing editor at theWashington Post. So, once again, Fanning is reinventing his program beyond its documentary core. The aim, he told the Boston Globe, "is to retool the show's content for devices like the iPad while breaking news 24/7. Taking weeks or months to polish a story will no longer be the norm. 'As we expand to a year-round series and publish on more platforms—print, broadcast, radio online--it's become a whole new game.'"
Going forward, Frontline is bound to change, accommodating to multiple platforms while maintaining its standards for high-quality film-making. Like everyone else in the news business, adapting to the speed and expectations of the digital age is a formidable enterprise. Whatever Fanning and his colleagues do next, they are building on a base that should make them very proud.