Yes, he's rich, arrogant, and made a fool of himself with his nationally televised Decision. But he's also the greatest active player in the game today.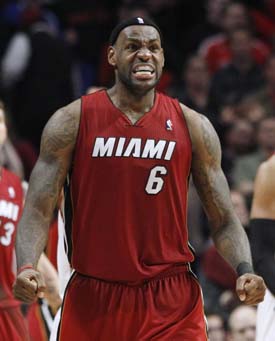 Jeff Haynes/Reuters
Why do you hate LeBron James? Because he didn't want to play for the New York Knicks? That would make you a Knicks fan, right, and live in the New York area? But then, you didn't weep for the Texas Rangers when Alex Rodriguez came to the Yankees, did you? Or for Minnesota fans when Johan Santana left the Twins to pitch for the New York Mets?
More to the point, you didn't mind it so much when C.C. Sabathia left the Cleveland Indians for the kind of money only the Yankees could pay. Are you still mad at LBJ because he left his hometown of Cleveland? (Actually, he was born and raised 40 miles away in Akron.) But that would have to make you a Cleveland Cavaliers fan, wouldn't it, and then you'd have to make the irrational argument that a professional athlete must stick with one team, his hometown team, for his entire career. And no one really believes that, do they?
LeBron James played with the Cleveland Cavaliers for seven seasons; if he's Catholic, that should be enough to get him through a couple of centuries in Purgatory in the Afterlife. Really, after paying those kind of dues, isn't he entitled to spend the rest of his career where he chooses?
Do you hate him because of that stupid ESPN show—"The Decision"—last July, when apparently, following the terrible advice of his agent, LeBron announced his decision to go to the Miami Heat on live TV? All right, hate him for that. But how long are you going to hold a grudge over an ill-advised TV show?
Or ... do you simply hate LeBron James because he isn't Michael Jordan?
There's a very funny scene in the upcoming Cameron Diaz comedy, Bad Teacher, where Jason Segel, playing a middle school basketball coach, gets into a shouting match with one of his players:
"There's no way LeBron will ever be Jordan!" Segel insists. "Call me when LeBron has six championships!"
"That's your only argument?" the kid retorts.
"That's the only argument I need!" Segel screams back at him.
Well, we'll see about that. Tonight, the Miami Heat face the Dallas Mavericks for game one of the NBA finals. Should Miami beat Dallas, LeBron will be more than a year younger than Michael when he won his first championship ring.
Why don't you admit it—you really don't hate LeBron James, do you? You only think you do because you heard so many sportswriters tell you that you were supposed to.
Why should it bug you that he chose not to come to New York? Even if you root for the Knicks, how could you can blame a player for not wanting to jump into the snake pit of backbiting and ineptitude that has characterized James Dolan's ownership of the team? Do you think one player, no matter how great, is the difference between a .500 team and a championship? (Remember that Jordan's best teams in Chicago featured two other Hall of Fame players, Scottie Pippen and Dennis Rodman.) And can you really fault him for not wanting to spend his entire professional career trying to pull the Cavaliers out of mediocrity?
Let's face it: King James is as cocky and arrogant as any good-looking, fabulously talented, and immensely rich 26-year-old is entitled to be. Outside of that, there's really nothing not to like.
He is, without question, the best player in professional basketball. Chicago's Derrick Rose was named the NBA Most Valuable Player Award this past season, but James topped him in nearly every statistic, including points per game (26.7 to 25.0), field goals percentage (.510 to .445), rebounds (7.5 to 4.1), and steals (1.6 to 1.0). Actually, James led Rose in every statistic but one—assists (7.0 to 7.7).
To top it off, James' Heat whipped Rose's Bulls four games to one in the playoffs. Why then was Rose the league's MVP? Simple: James had won it the previous two seasons and the prevailing wisdom is that it's not good for the sport for the same player to be named MVP every year.
However, it certainly isn't bad for the sport for the same team to win the championship every—or almost every—season. Ratings have sagged with no flagship team like the Los Angeles Lakers (the most successful NBA team of the last half-century and winner of five of the last eleven championships) or the Michael Jordan Bulls (winner of six titles in eight years between the 1990-91 and 1997-98 seasons).
But this year, the Heat were on TNT and the ratings soared. Game 1 of the playoffs between Miami and Chicago was the most watched game in cable TV history; in fact, Games 1,3 and 5 are, respectively, the first, second and fourth most watched games on cable ever. (The third most watched game is Michael Jordan's last All-Star game in 2003.)
It's a fairly safe bet that this final series between the Heat and the Mavericks on ABC will draw more viewers than any previous NBA game. It's also an odds-on bet that if you're a basketball fan and you watch these games, sooner or later you're going to start liking LeBron James - or at least appreciate him: appreciate his astonishing combination of size, power, agility, and focus. (If you have any doubt about the last, consider that in the final and deciding game against the Bulls, LeBron brought his team back from a 10-point deficit with three minutes to play, scoring eight points in just over the final 120 seconds.)
And that appreciation will, sooner or later, turn to like and perhaps even love. How long, after all, are you going to carry a torch for the Cleveland Cavaliers or feel sorry for New York? Maybe you should just feel sorry for every NBA team that doesn't have LeBron James.