Yes, he's rich, arrogant, and made a fool of himself with his nationally televised Decision. But he's also the greatest active player in the game today.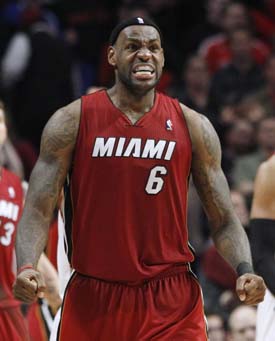 Jeff Haynes/Reuters
Why do you hate LeBron James? Because he didn't want to play for the New York Knicks? That would make you a Knicks fan, right, and live in the New York area? But then, you didn't weep for the Texas Rangers when Alex Rodriguez came to the Yankees, did you? Or for Minnesota fans when Johan Santana left the Twins to pitch for the New York Mets?
More to the point, you didn't mind it so much when C.C. Sabathia left the Cleveland Indians for the kind of money only the Yankees could pay. Are you still mad at LBJ because he left his hometown of Cleveland? (Actually, he was born and raised 40 miles away in Akron.) But that would have to make you a Cleveland Cavaliers fan, wouldn't it, and then you'd have to make the irrational argument that a professional athlete must stick with one team, his hometown team, for his entire career. And no one really believes that, do they?
LeBron James played with the Cleveland Cavaliers for seven seasons; if he's Catholic, that should be enough to get him through a couple of centuries in Purgatory in the Afterlife. Really, after paying those kind of dues, isn't he entitled to spend the rest of his career where he chooses?