'Bridesmaids': Women Get Growing Pains, Too
Judd Apatow has made a career out of portraying boys struggling to become men. His latest film shows female characters grappling with similar challenges.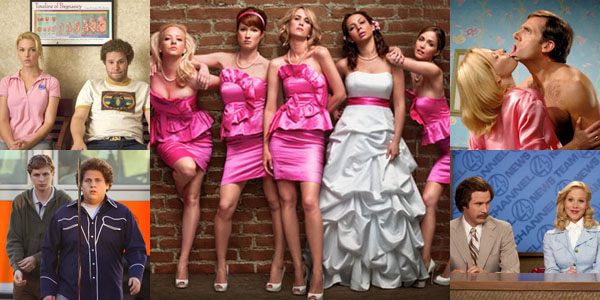 Apatow Productions
In June of 2007, as I finished up my first year out of college, a friend of mine and I decided to see a movie called Knocked Up. I remember being drawn in not because I had a sense of director Judd Apatow's pedigree, but because the buzz around movie suggested that it presented people in their early 20s as something other than Louboutin-shod supermodels with inexplicably low self-esteem. I had the sense Knocked Up would present us as the semi-profane, awkward searchers we were, not of the polished adults we wished college graduation meant we were.
I wasn't prepared for how deeply Knocked Up would touch me, though: The movie's depictions of accidental pregnancy, professional stress, and romantic compromise were stark reflections of my worst fears of adult life. Almost four years later, Judd Apatow is one of the most influential writers, producers, and directors in Hollywood, and another friend and I, blowing off steam after serving as bridesmaids together, went to see an advance screening of Apatow-produced Bridesmaids. That story, about the strains a wedding can put on a life-long friendship, hit me the same way Knocked Up had four years before.
While Apatow and the actors, writers, and directors who work in his orbit (jokingly referred to as Apatown) mostly get credited with turning sloppy slacker dudes into Hollywood icons, they actually deserve acknowledgment for something more subtle. From The 40-Year-Old Virgin to Bridesmaids, Apatown has turned out some of the most incisive movies about one of the rawest facts of adult friendships and relationships: People grow at different rates, and when they don't match up, the emotional fallout can be devastating.
Those maturity disparities, especially between friends, have been just as important to the tone and pathos of Apatown movies as romantic conflicts between babes and schlubs. In Anchorman: The Legend of Ron Burgundy, Will Ferrell's pompous news anchor alienates his team when he embraces a female coworker (even if it's only so he can sleep with her). Andy, Steve Carrell's shy, emotionally stunted salesman in The 40-Year-Old Virgin, may live a life essentially defined by his lack of sexual experience. But the men who help him progress towards adulthood are just as damaged: They're insecure cheats or creepy ex-boyfriends who reevaluate their own lives as they help Andy move forward with his.
And in Knocked Up, Paul Rudd's married-guy Pete may want to hang out with Seth Rogen's slacker baby-daddy Ben, but ultimately, Ben's struggles to figure out how to be a responsible adult force Pete to confront his failures as a father and a husband. One of the saddest scenes in the movie is not between the two young parents-to-be, but the moment when Ben tells Pete how his parenting mistakes have made it harder for him to establish a family of his own:
Superbad is the first movie in the larger Apatow universe to put friendship, rather than a romantic or sexual relationship, at the center of the movie, and the emotions between Michael Cera and Jonah Hill's graduating high school seniors are so intense and painful that it's no wonder that some critics insisted that the real romance was between the two boys rather than the objects of their affections.
What makes Bridesmaids so refreshing is not just that it's the first Apatown movie where women fill up the screen almost to the exclusion of men. It's also that it's the first Apatown movie where the emotional disparities between the main characters come out of genuine and well-developed failures on both sides, rather than laziness or under-explored insecurity. Kristin Wiig's Annie has been through a series of crushing disappointments as the movie begins: The bakery she always dreamed of running has gone under in the recession, its windows papered over, and its sign vanishing letter by letter. Her relationship has been a casualty of the business's failure, and that double failure has crushed her spirit, leaving her rooming with a pair of spectacularly bizarre British twins and failing at selling jewelry to people whose happiness she finds almost unendurable.
Of course it's at that moment that Annie's best friend, Lillian (Maya Rudolph) announces that she's engaged. And not only is she engaged, but she's including her husband's business partner's wife, a hilariously overpolished Rose Byrne, in the wedding party, a choice that immediately makes Annie insecure about everything from the price of her clothes to the quality of her toast at the engagement party. Bridesmaids does a nice job with the small emotional details of the early part of the story. Annie is doubly blindsided by Lillian's engagement because Lillian's boyfriend had acted awkward and distant in the leadup to his proposal, leading both women to think he might be planning to dump Lillian rather than ask for her hand. Lillian's metamorphosis into a bridezilla starts slowly when Byrne's character hooks her up with a designer wedding dress, escalates as Byrne insists on an expensive trip for the bachelorette party, and steals Annie's idea for a bridal shower.
On the way to the aisle, both women make serious mistakes. Annie ruins the bachelorette party and, devastated by the way Byrne's character pushes her out, acts out again at Lillian's bridal shower. But Lillian's acquiescence to a wedding she doesn't want and that doesn't reflect her is worse. Lillian lets another woman buy her friendship at a moment when Annie, her lifelong best friend, is struggling terribly to pay her rent and maintain her emotional equilibrium, issues that ought to be bigger than table settings and shower invitations with live butterflies in them.
My fellow bridesmaid and I are both gainfully employed. Neither of us got dumped in the downturn, and in the course of throwing showers and a bachelorette party, neither of us threw a tantrum involving a giant chocolate fountain, and no interloper swooped in to offer our bride a trip to Paris if she'd shunt us aside. But still, Bridesmaids nails something important and bittersweet about adulthood: Weddings are a borderline between two countries, and it's not easy to help your friend to the crossing and watch her continue on alone. That parting can be particularly painful if, as is the case with Annie, you're not committed to other journeys, other ventures.
Judd Apatow and his acolytes may mostly use dudes who haven't quite grown up to illustrate that point. But no matter where we are in the process of figuring out adulthood—and whether it's graduation, an unexpected pregnancy, or a wedding—the residents of Apatown are particularly deft at illustrating the pain of the parting of the ways.