A 'Bridesmaids' Rebuttal: This Isn't the Movie We've Been Waiting For
Critics are hailing Judd Apatow's latest as a triumph for women in comedy. Why they're wrong.
Critics are hailing Judd Apatow's latest as a triumph for women in comedy. Why they're wrong.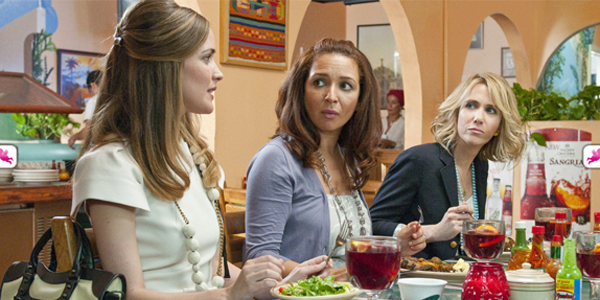 Apatow Productions
We did it, women! Thor may have technically beaten us in numbers, but Bridesmaids—the movie Salon dubbed the "first black president of female-driven comedies"—made a strong showing by coming in second place in this weekend's box office rankings. So we won, right? The female comedy lives?
Let's backtrack a bit. When the Bridesmaids trailer came out a few months ago, it fell in the "chick flick" genre somewhere between the jealousy in 27 Dresses and the "friendship" in Bride Wars. It was easy to draw the comparisons because just like those two movies, this one is centered on a wedding, and the trailer does nothing to imply that this incarnation will be any different than every other comedy that is catered towards women. It seems to hint that it may be a bit more guy-friendly—there are allusions to The Hangover with the trip to Las Vegas—but little else has changed. I wasn't alone in my skepticism about the trailer. In a February post titled "Do Rom-Coms About Weddings Have to Suck?" Vulture complained that the preview suggested the movie would be filled with tired clichés.
I was surprised, then, when critics began heralding Bridesmaids as a triumph for feminism (Salon) or demonstrating the "vital importance of female friendship" (the New York Times). I believe in equal rights, and I think female friendship is vital. Clearly I had misread the trailer and this movie was not only amazing, it was going to be revolutionary!
So, I did what I was told and saw Bridesmaids this weekend. And I was disappointed that it ended up being exactly what I expected it to be, just a tiny bit grosser thanks to some food poisoning. The movie is about women who are "friends"—though most of them only meet after the engagement and have therefore only known each other for a few days. They are all some sort of stereotype; the crazed mom who needs a break from her family (Wendi McLendon-Covey), the innocent prude who wants a Pixar themed bachelorette party (Ellie Kemper), and the oddball who is slightly larger than the rest (Melissa McCarthy). At the center are the three main characters Annie (Kristen Wiig, who also co-wrote) and Lillian (Maya Rudolph) who have been best friends since they were younger, and Helen (Rose Byrne), the newer friend that gets between them. They are involved in an awkward friend triangle that is filled with jealousy—not over anything substantial, but because two of them (Wiig and Byrne) are fighting over the maid of honor position. Obviously the most important part of a female friendship is who gets to be the maid of honor.
What bothers me most is the comparisons to the "bro-mance" movies it is supposed to complement. Bridesmaids isn't like Super Bad, or even The Hangover. As The Atlantic's Alyssa Rosenberg put it last week:
Apatown has turned out some of the most incisive movies about one of the rawest facts of adult friendships and relationships: People grow at different rates, and when they don't match up, the emotional fallout can be devastating.

I agree. Apatow's past films were movies about friendship. But this movie is about enemies who started out friends, and for reasons that are unclear to the viewer, become friends again by the end. Why couldn't it emulate something like I Love You, Man? That movie was funny and about a budding friendship. It was a commentary on how men interact with each other and even about self-confidence. In Bridesmaids, Wiig and Rudolph spend more time apart than they do developing their friendship.
This idea of women being friends and being funny doesn't even have to be revolutionary—it's happening on TV right now. Just this past week on Parks and Recreation Ann (Rashida Jones) and Leslie (Amy Poehler) had a great subplot involving a fight. It wasn't about boys, it wasn't about jealousy, and it wasn't blown out of proportion. It was about Leslie thinking she was doing something good for Ann and Ann not reacting the way she expected. It was about wanting to spend more time with her friend. It was funny and it was resolved without any unnecessary miscommunications.
Bridesmaids may technically pass the Bechdel Test, and I'll concede that the gross-out scene is just as gross as any in the other Apatow movies. But is this the equality we want? Wouldn't we rather have a film that portrays female friendship as faithfully as other movies have portrayed male friendship?