Tribeca Film: Cameron Crowe on Elton John, 'The Bang Bang Club,' and More
Highlights so far from this year's festival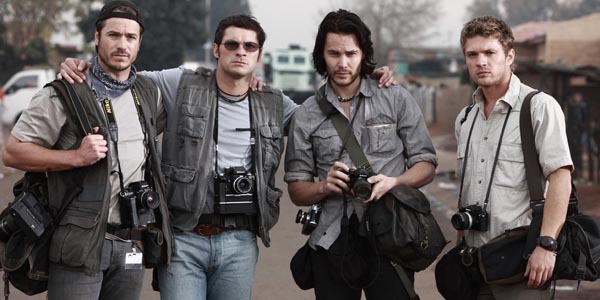 Foundry Films
Please turn off your cell phones—but first check in on Foursquare or GetGlue. This was the concluding message by a Tribeca Film Festival assistant programmer in her brief introduction to Thursday's matinee of The Union, the event's opening-night film. These words, or similar ones, will probably precede any number of other festival screenings. But they really threw into relief the staunchly old-media vibe of the Cameron Crowe-directed documentary, about Elton John's collaboration with his white-bearded idol, Leon Russell. The resulting album is also an attempt to rehabilitate Russell's image. In the film, John frets over how the album will chart in the Billboard 200, and at one point argues with producer T. Bone Burnett about whether the finished product should come packaged in a plastic case or a card-stock Digipak.
The Union's outdoor gala screening was followed by a set from Elton himself, and the movie plays mostly like a fan-only document (at one point during an interview with the frail Russell, Crowe can be seen doing a fist-pump at the margin of the frame). The film sheds little light on the creative process, but it does contain a number of nice moments, most of them via split screen: In the studio, Russell demos a new song, and John, from behind the studio glass, realizes it's a tribute to him; he reacts first with an "Oh, fuck," and then leaves the room in tears. A later sequence cleverly synchs up then-and-now versions of John playing the same song. The proceedings also get enlivened by the occasional celebrity drop-in, most notably Brian Wilson, who appears more brusque than I had thought humanly possible.
There are other Tribeca entries that dovetail better with the social-media push—particularly Flowers of Evil, a lively French film that mashes up Parkour, on-screen tweets, and a romance troubled by Green Movement solidarity—but dramatizations of slightly less recent history appear to be more prevalent. The ones I've caught have been largely underwhelming. Julien Leclerq's The Assault, about a Christmas Eve 1994 hijacking of an Air France flight by Algerian Armed Islamic Group terrorists, is a re-enactment in the style of Paul Greengrass.
Tribeca is offering two recent-history period pieces, The Bang Bang Club and NEDS, on its on-demand service. The former film, starring Ryan Phillippe, Malin Akerman, and Taylor Kitsch, focuses on combat photographers in mid-'90s South Africa. With the death this week of photographers Chris Hondros and Tim Hetherington (also the co-director of Restrepo) in Libya, audiences might be hoping for a more illuminating psychological portrait, or none at all, though to its credit The Bang Bang Club does pay a little more than lip service to the ethical issues inherent in this type of photojournalism.
Peter Mullan's NEDS, which takes place in 1970s Glasgow, charts the downward spiral of one good pupil into juvenile delinquency. The initial classroom scenes are almost perfectly realized, but as it gets more sensational the logistical questions mount. How do you open the front door of your house when you have large kitchen knives duct-taped to both of your hands?
The best of the fest so far, or at least the small portion I've sampled, can be found in the World Documentary Competition. The formally curious Bombay Beach, directed by Alma Har'el, hunkers down in the rubble-strewn areas surrounding California's Salton Sea, providing portraits of an elderly man who peddles individual cigarettes, a college-hopeful South Central transplant, and a 7-year-old with all manner of behavioral problems. Each character seems to be a creative collaborator here as well—they all participate in obviously choreographed musical sequences set to songs by Bob Dylan and Beirut.
Cinema Komunisto, from Serbia, charts the rise and fall of the Yugoslavian film industry—more or less also serving as a shadow-play history of the country itself. Interviewing a set designer, a director, a leading man, and, perhaps most interestingly, President Josep Broz Tito's personal projectionist, director Mila Turajlic examines the state-operated movie business, and its eventual courting of Hollywood and elaborate international co-productions. Copious film clips, most of which reaffirm the glory of the partisan struggle, round out these reminiscences. Post-1991 events are touched on only briefly here, but there is an air of tremendous sadness to these subjects' nostalgia for the way things were.
In many ways Tribeca has snagged the ultimate festival film in Cinema Komunisto. Its structure is clear, its focus is tight, and it makes a seemingly specialized topic accessible. While it's not entirely uncritical of Tito (his projectionist claims to have screened upward of 8,000 movies for him, and his obsession with the movies obviously calls to mind Kim Jong Il's), Cinema Komunisto generally celebrates the process of filmmaking. And for those interested in such matters, it discusses the formation of a particular national cinema. Like The Union, Turajlic's documentary has a deep fondness for a bygone era, but it's definitely worth "checking in" to.
Read all of The Atlantic's Tribeca Film Festival coverage.