Tribeca Film: Adrien Brody Plays a Teacher, a Director Channels David Lynch, and More
More highlights from the festival so far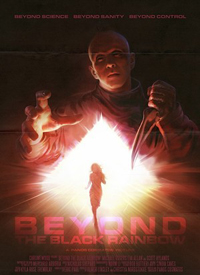 Chromewood Productions
About halfway through the Tribeca Film Festival, just as the films threaten to blur together, comes a world premiere called Detachment. The feature, along with the work-in-progress Kings of Leon documentary Talihina Sky a late addition to the festival's lineup, seems intended to come as a shock to the system (both that of American education and that of the viewer), a kind of challenge to stay engaged.
Brit director Tony Kaye has long shown an interest in American institutions and the overheated rhetoric surrounding them. In addition to American History X (1998)—notable mainly for Edward Norton's Oscar-nominated performance as a reformed skinhead—Kaye made Lake of Fire (2006), an extraordinary black-and-white abortion-wars documentary that took nearly two decades to finish. The filmmaker begins Detachment, written and co-produced by Carl Lund, with doc-style teacher testimonials before zeroing in on Henry Barthes (Adrien Brody), a substitute teacher who overcomes aggressive student indifference, just barely, to deliver impassioned, Ryan Gosling–in–Half Nelson-style alterna-lessons. Other faculty members include James Caan, Lucy Liu, Christina Hendricks, and sweating basket case Tim Blake Nelson; Marcia Gay Harden is their principal.
In his off-hours, Henry tries to rehabilitate a child prostitute, and eases his dying grandfather's conscience by impersonating his mother. Everybody in this movie appears to be on the verge of suicide. It has the air of something a sadistic college freshman might have daydreamed about his high school teachers' lives beyond the classroom. The cast mounts a few convincing teacher meltdowns, but mostly this feels like detention. Detachment might be a particularly dispiriting movie to meet mid-festival, but thankfully plenty of worthwhile features can be found beyond the festival's star-studded Spotlight section, which also contains Michael Winterbottom's The Trip, an amiable but grating tour of the molecular-gastronomic destinations of northern England in which actors Steve Coogan and Rob Brydon play themselves.
Pleasant surprises include Magic Valley, the feature debut from writer-director Jaffe Zinn. The basic structure of the Buhl, Idaho–set film might seem familiar to anyone who's seen more than a handful of American independents over the last decade or so: Discrete storylines, their relationships to one another revealed gradually, converge around a single tragedy. But the tale is exceedingly well told, with a slow build that doesn't feel strained, and evocative photography by Sean Kirby. And the cast, anchored by Kyle Gallner and Scott Glenn, doesn't sound a false note.
But without a doubt the best film I've encountered thus far at Tribeca is Mexican director Yulene Olaizola's Artificial Paradises, an unusually calm drug-addition story that doubles as a poignant tale of human interdependency, as well as a long-take landscape immersion. Luisa (Luisa Pardo), a twentysomething addict scouring her last piece of chiva-encrusted tin foil at a rustic beach resort (presumably, she's put herself in this situation to kick the habit), enlists the help of groundskeeper and veteran marijuana smoker Salomón (Salomón Hernández, an amazing screen presence) to help her replenish her heroin supply. When their efforts fail, and full-blown withdrawal sets in, Salomón stands guard. Perhaps no surprise given the correspondence between the names of the characters and the actors portraying them, but at a post-screening Q&A on Monday, Olaizola emphasized her film's documentary aspects.
Another foreign-language entry contrasting a seaside paradise with lives in crisis, The Good Life is a full-stop documentary about a well-bred Danish mother and daughter barely scraping by in Portugal. The family was once fabulously wealthy, but their inheritance dwindled to nothing, and now they're forced to pinch eurocents. It's a sadder story than it probably sounds—Anne Beckmann is particularly nasty, often sniping at her mother for not raising her properly.
And then there's Beyond the Black Rainbow, a Canadian-Italian co-production written and directed by newcomer Panos Cosmatos. In the horror-tinged sci-fi film, set mostly in 1983, a sinister, possibly extraterrestrial doctor (Michael Rogers) operates some sort of mind-control facility—with "an award-winning garden," as its perfectly tacky New Age infomercial proclaims—where he's imprisoned a thoroughly shell-shocked young woman named Elena (Eva Allan). Cosmatos covers the weirdest hits of David Lynch (dread-filled banal conversations) and French provocateur Gaspar Noé (rapidly pulsating lights recall the director's latter-day cinema of attractions), and also injects his film with a stiff dose of "the ultimate trip," 2001. Yet Black Rainbow, with its grainy film stock, synth-only score, and committed brand of gory nonsense, feels distinctly of a piece. The film might not be traditionally satisfying, but it's certainly an experience—and a testament to the fact that Tribeca really does reward adventuresome viewers.
Read all of The Atlantic's Tribeca Film Festival coverage.