The Evolution of the Princess Myth, From Disney to Diana to Kate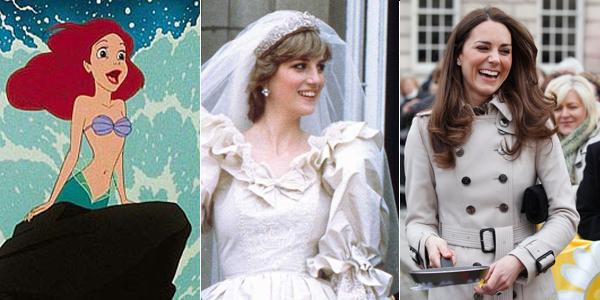 Disney, Reuters
In the photo albums that document my first few years of life, there is a picture of me trying on a princess bride costume for Halloween. My cheeks are flushed, my eyes closed and cast down in an attempt at solemnity. I was not a particularly princessy child, but it was probably inevitable that in the late 1980s and early 1990s, when Disney princesses dominated movie screens and real ones owned the supermarket tabloid stands, that I would succumb, however briefly, to royal fantasies.
I reached the right age to start going to movies precisely at the moment that Disney hit its stride with a new generation of princess stories. From the strong-willed teenager of The Little Mermaid to the bookish and compassionate Belle of Beauty and the Beast to the class-conscious sultan's daughter in Aladdin, Disney reaped a financial and critical windfall by telling richly animated stories based around proactive, intelligent, and nominally royal women. Even though the Disney Princess franchise that grew out of these movies is largely aimed at little girls, at the time of their release, Disney movies were cross-generational phenomena. Aladdin made more than half a billion dollars, and Beauty and the Beast became the first animated movie to score a Best Picture nomination.
The rise of Disney's modern princesses coincided with the tabloid obsession with Princess Diana and other young members of the British royal family. I was obviously too young to understand the full implications of the watery shots printed on low-quality tabloid paper, but I remember pictures of Sarah, Duchess of York getting her toes nuzzled by John Bryan with the same clarity that I recall Ariel and Flounder evading a shark in The Little Mermaid. Disney might have been great at getting its princesses to the altar in theaters, but once the sea witches, evil viziers, and loutish town hunks were out of the way, Fergie and Princess Diana had to confront a different set of monsters--the paparazzi and Camilla Parker Bowles among them. Diana's youngest son was just a few weeks older than I was, but it was his fashionable, vulnerable mother who fascinated me.
It was the summer before eighth grade, and I was in a most unprincess-like scenario—at a New Hampshire outlet mall with my parents—when the monsters won. We couldn't actually believe that Diana was dead when we first heard the news, looping around the Dansk and L.L. Bean stores in our car, flipping from radio station to radio station for confirmation. Her death and the massive outpouring of grief around it were the perfect tragedy for the dawn of adolescence, a simultaneous affirmation of the princess myth and a violent end to it, complete with opportunities for pop-culture consumption. The cassette single of Elton John's Diana version of "Candle In The Wind" was one of the first records I ever bought.
When Tina Brown published her biography of the late princess, The Diana Chronicles, in 2007, it was like reading a secret history of my childhood fascinations. I'd had the sense that things were bad for Diana and Fergie, but I had no idea how bad they were: the childhood abandonment, the bulimia, the self-mutilation, the Royal coldness, Diana's affairs and her willingness to humiliate her sons to exact revenge on her husband. My aspirations to princesshood didn't last much beyond that bridal costume and another princess kit—I went on to be Davy Crockett, Nefertiti, and in one act of spectacular youthful cultural misunderstanding, a geisha. But there was still something cathartic about learning the extent to which we buried a lie along with Diana, the confirmation that however fresh and modern Diana might have seemed for a brief moment, both her accomplishments and her flaws were the products of a dream from an earlier era.
Prince William's marriage to Kate Middleton simultaneously revives that dream and revises it. The wedding offers a wistful chance to believe something we know isn't really true: that a pretty wedding and a tiara are transformative guarantees of security and happiness, that we can go through the same rituals as our parents without making the same mistakes. Disney may not have recaptured its late-80s genius, and the British monarchy's glamor has been tattered and frayed by Diana and Fergie's very public defenestrations from Buckingham Palace. But the Royal Wedding is a magnified version of the hopeful promise that accompanies all nuptials: that a new generation of little girls won't be disappointed when they exit theaters and confront the reality of the tabloids.
With the royal wedding almost here, an exploration of how fantasy and reality have clashed in the past