The Basketball Hall of Fame's Mistake
The newly inducted class includes a colorful player whose glaring weaknesses should have kept him out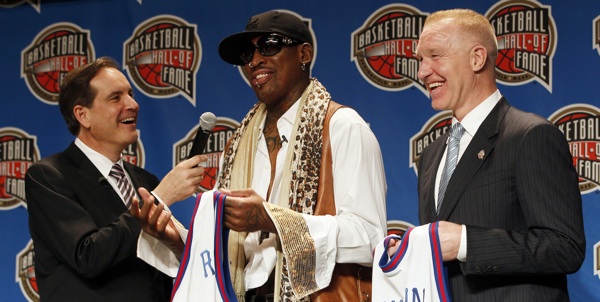 During the lockout shortened NBA season of 1998-99, the flailing Los Angeles Lakers signed a veteran power forward to shore up their defense and rebounding. He behaved erratically, underperformed, and was released after 23 games. The next season, the Dallas Mavericks signed the same player. Before being released he managed 12 games, and was ejected twice. That ended his fourteen years in the NBA, during which he averaged 7.3 points per game, 1.8 assists, shot 58 percent from the free throw line, and played roughly 32 minutes per game, often coming off the bench. That player was elected to the Basketball Hall of Fame this week. His name is Dennis Rodman.
The case for bestowing on him the highest honor in basketball is straightforward enough. He won two championships with the Detroit Pistons, where he started his career, and three more with the Chicago Bulls. Twice he won recognition as the NBA defensive player of the year, he made the all defensive first-team seven times, he twice played on the All Star team, and most importantly, he won the NBA rebounding title seven consecutive times, averaging an impressive 18.7 boards per game in his best season. His career average was 13.1 rebounds per game.
The case against Rodman is nevertheless more persuasive - so much so that I'm as surprised as he is that he made the cut. As Tony Gervino points out in The Awl, "he may have averaged 13.1 rebounds per game over his career, but he only scored 7.3 points a game... Putting an incomplete player like him in the Hall is like crowning a headless woman Miss America." This point is worthy of emphasis. Defenders of Rodman insist he arguably the best rebounder ever, as Sports Illustrated asserted on its cover back in 1996. It certainly was entertaining to watch him jostle for position, jump into the air, contort his body, and even tip the ball to himself before securing possession.
But he is actually 22nd on the all-time rebounding list (and 11th on the rebounds-per-game list). And it's instructive to look at the career scoring averages of the players who grabbed more boards in their careers:
Wilt Chamberlain - 30.1
Bill Russell - 15.1
Kareem Abdul-Jabbar - 24.6
Elvin Hayes - 21
Moses Malone - 20.6
Karl Malone - 25
Robert Parish - 14.5
Nate Thurmond - 15
Walt Bellamy - 20.1
Wes Unseld - 10.8
Hakeem Olajuwon - 21.8
Shaquille O'Neal - 23.7     
Buck Williams - 12.8    
Jerry Lucas - 17
Bob Pettit - 26.4
Kevin Garnett - 19.5    
Charles Barkley - 22.1
Dikembe Mutombo - 9.8    
Paul Silas - 9.4    
Charles Oakley - 9.7    
Tim Duncan - 20.6
Remember, those are players who grabbed more career boards than Rodman. In doing so, most were averaging more than twice as many points as he did. This is particularly relevant when you look at his contemporaries like Charles Barkley, Hakeem Olajuwon and Karl Malone. Imagine if you told any one of those guys, "Don't worry at all about scoring this year. Just grab as many boards as possible." It's hard to believe Rodman would've won all those consecutive rebounding titles in that world. (For that matter, how many rebounds per game would Kobe grab if he made that his only goal?) Something similar can be said for Rodman's defensive honors, as Gervino also notes:
While Rodman was named NBA's All-Defensive First Team seven times in his career, I don't hold that feat in the same regard as Michael Jordan's nine times, or Kobe's eight. Why not? Because those players added defense to the existing burden of scoring, and setting other players up. Running an offense. Playing on both ends of the court. Rodman never had to worry about anything other than not losing his head, rebounding and fronting on defense. Sure he was great at it, but he never elevated his game to be anything more than what he was: the third or fourth best player on any team on which he played.

Here's a rule of thumb. If you could swap a player off of his championship team for a non-Hall-of-Famer, and still be confident the team would've won the championship, the guy doesn't belong in the Hall of Fame. It seems obvious that was true of his time with the Bulls. I am not so sure about the Pistons years, though I do remember that in Game 7 of the 1988 finals, my eight year old self was thrilled with Rodman in the final minutes for fouling Magic Johnson in the back court, and missing an ill-conceived pull-up jumper on a subsequent, crucial possession. The sot wasn't particularly tough - it's just that any Dennis Rodman jump shot was a terrible idea.
We haven't even covered Rodman's antics. Since he won championships in Detroit and Chicago, we'll assume any distractions he caused there were ultimately irrelevant. But Wikipedia has a fair summary of his time in San Antonio, where he played between championships:
In the 1994-95 NBA season, Rodman clashed with the Spurs front office. He was suspended for the first three games, took a leave of absence on November 11, and was suspended again on December 7. He finally returned on December 10 after missing 19 games. After joining the team, he suffered a shoulder separation in a motorcycle accident, limiting his season to 49 games.

Normally, he would not have qualified for any season records for missing so many games, but by grabbing 823 rebounds, he just surpassed the 800-rebound limit for listing players and won his fourth straight rebounding title by averaging 16.8 boards per game and made the All-NBA Team.

Puts that rebounding title in a different light, doesn't it? Hall of Fame players don't typically sit out 19 games merely because they're unreliable. Nor do they generally crash their motorcycles.
How did that season end?
In the 1995 NBA Playoffs, the 62-win Spurs with reigning NBA Most Valuable Player Award winner Robinson entered the Western Conference Finals and were considered favorites against the reigning champion Houston Rockets who had only won 47 games. It was thought that Rockets center Hakeem Olajuwon would have a hard time asserting himself versus Robinson and Rodman, who had both been voted into the NBA All-Defensive Teams.

However, neither Robinson nor Rodman, who had disrupted a playoff game against the Lakers by sitting down on the court, could stop Olajuwon, who averaged 35.3 points against the elite defensive Spurs front-court, and helped eliminate the Spurs in six games.

The Spurs traded Dennis Rodman for Will Purdue, career average 4.7 points per game, 4.9 rebounds and .8 assists. (Shouldn't being traded for Will Purdue itself be disqualifying?) On the Bulls, he replaced Horace Grant, who shouldn't ever make it to the Hall of Fame and likely won't.
A great rebounder, Rodman wasn't the best in NBA history, he contributed far less than most other rebounders of his quality, he left three of five teams he played for unhappy. On teams where he won championships he was - if we're being generous, and taking his best days rather than his worst - the third best player.
This was a mistake.
Photo credit: Reuters.