The Barry Bonds Trial's Silver Lining
The home run king's conviction and the conversation surrounding it reveals something special about the way people talk about baseball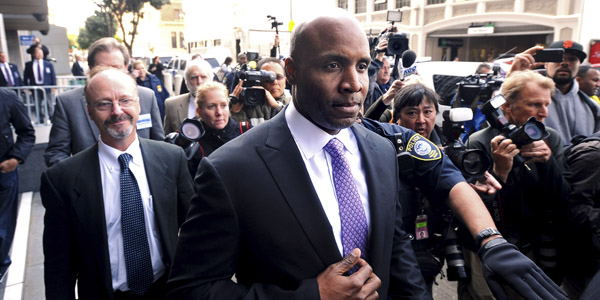 AP/Noah Berger
If there is any silver lining for baseball in the conviction of Barry Bonds on one count of obstruction of justice it is this—that so much of the immediate commentary on the verdict focused on the question of the effect it will have on the all-time home run champion and seven-time Most Valuable Player's chances for induction into the Hall of Fame.
Why a silver lining? Because so far as I know there is never a similar debate about whether someone whose escutcheon has been smudged should be indicted into the football, basketball, golf, or even the professional bowlers' hall of fame. That is not a question, so far as I know, that was prominent in the debate over Michael Vick's or Tiger Woods's transgressions. Clearly baseball is different—and is perceived to embody a higher plane of values in which character still counts. That is rare enough in American life in a time when the revolving door between government 'service' and private enterprise is spinning faster than ever and no concept is too meretricious, degrading, or dissolute to be the basis for reality television programming.
That may be one reason why baseball seems increasingly out of step with popular taste and is sinking in the popularity polls and Nielsen ratings. But the idea that baseball should be a force for good is all to baseball's credit and to the credit of those who still care about it, and tend to its flame.