Texas A&M Beats Notre Dame, Proves Women's Basketball Can Be More Exciting Than Men's
The NCAA women's championship was thrilling, suspenseful, and won the A&M team its first national title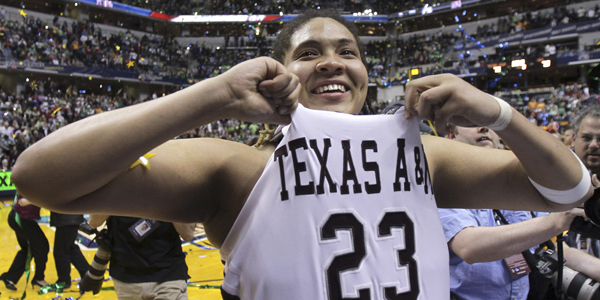 Reuters
Texas A&M's women's basketball team beat Notre Dame last night, 76-70, to win the NCAA championship title. The game was everything the Monday men's final wanted to be but wasn't. As with the men's game—which put second seed UConn against a eighth-seeded Butler—both contenders were relative underdogs: Texas A&M and Notre Dame were both second-seeds, and neither of them big-name programs like UConn, Tennessee, and Stanford, which have reigned over women's basketball in recent years.
But while the men's UConn-Butler match-up yielded a cover-your-eyes-awful game and a final score (53-41) that ranks among the lowest in championship history, the women's game was exciting and suspenseful—A&M's comfortable six-point victory masks how close the game was at certain moments. And while men's fans were disappointed if they were hoping for a "Cinderella story" in rooting for Butler against the better-funded, more firmly established UConn, women's fans were not: A&M's win brings the program its first national championship, signaling the team's arrival in a sport long dominated by a small handful of programs.
Here's the New York Times summary of the game:
The lead kept changing hands, one resilient play following another, two assertive teams playing ferociously to the final buzzer. At the end, Texas A&M prevailed, 76-70, at Conseco Fieldhouse, winning its first national title in a game that will be remembered for its frantic and mesmerizing determination.

For only the second time since the women's N.C.A.A. tournament began in 1982, the final was played without a No. 1 seed; Texas A&M and Notre Dame were No. 2s. Traditional powers like Connecticut, Tennessee and Stanford were absent. But even those more visible teams might not have been as forceful and engrossing.

"We gave you that national championship game without the so-called powers of the world," Texas A&M Coach Gary Blair said. "The two powers tonight were the ones that earned it."
Read the full story at the New York Times.