'Stand by Your Man' to Be Immortalized By Library of Congress
The controversial country anthem is among 25 recordings that will be preserved as part of the National Recording Registry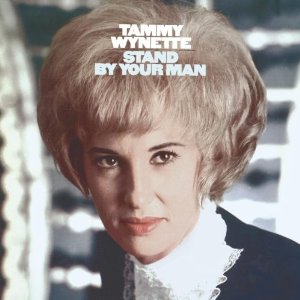 Columbia Nashville
Tammy Wynette's "Stand by Your Man," "Take Me Out to the Ballgame," and Al Green's "Let's Stay Together" are among 25 songs that will be preserved by the Library of Congress. They will be added to the National Recording Registry, established in 2002 to archive recordings that "are culturally, historically, or aesthetically important, and/or inform or reflect life in the United States."
Previous additions to the National Recording Registry include Abbot and Costello's "Who's On First" routine, "Strange Fruit," Billie Holiday's protest anthem against lynching in the pre-Civil Rights era South, and Nirvana's 1991 album Nevermind.
The inclusion of Wynette's 1968 hit on this year's list is bound to cause some controversy, as it's been criticized for promoting a traditional, subservient view of a woman's role in marriage. "Tell the world you love him," Wynette sang. "Keep giving all the love you can. Stand by your man." During her husband's first campaign for president, Hillary Clinton became the most prominent critic of the song when she said on 60 Minutes: "I'm not sitting here like some little woman standing by my man like Tammy Wynette."
Newsweek contributing editor Julia Reed offered a different take on the song in her essay "The Real First Lady"—and gave some insight into the four-times-divorced Wynette:
Most famously, it was employed by Hillary Clinton as a—sort of—defense against the allegations that her husband had cheated on her with Gennifer Flowers. "I'm not sitting here," she told 60 Minutes reporter Steve Kroft, "like some little woman standing by my man like Tammy Wynette."

Like the feminists, Hillary, who grew up in Illinois and probably didn't listen to a lot of Tammy or Loretta or anybody else, missed the point. The lyrics of "Stand By Your Man" echo a recurring theme in country music, that of the moral superiority of women, who stand by their lovers not because they're hopelessly enthralled, but because they know the boys can't help it. "After all," the song says, "he's just a man." Since "he's only human" was a mantra of sorts in her husband's campaign (George Stephanopoulos actually uttered that line to me on more than one occasion), Hillary should have known better. Also one could argue that since that 1991 interview, she has come to embody the true meaning of the song, taking the high ground as it were, during many, many more of her husband's especially human moments.

The same could not be said for Tammy, whose subsequent hits included "D-I-V-O-R-C-E" and "Your Good Girl's Gonna Go Bad." True, she stuck it out with George Jones for a remarkable six years, and she'd been married to George Richey for twenty before she died, but, generally speaking, when the time came, she always knew when to get up and go.
Read "The Real First Lady" in its entirety in Reed's book, Queen of the Turtle Derby.
For backstory on the other new additions to the National Recording Registry, the Hollywood Reporter has a great roundup.