Richard Wilbur at 90: Exploring the Poet Laureate's Atlantic Archives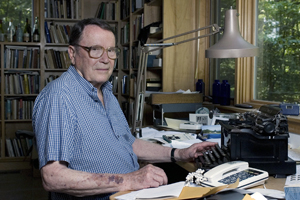 AP
How does Richard Wilbur do it? No American poet in our times has crafted formal verse with greater prowess, and few of any era have honed their lines with as much exquisite finesse. No contemporary's poems sound quite as pitch-perfect or feel nearly so seamless, managing to combine such scrupulous precision with such artful aplomb. And no one has done it so well for so long: In its magisterial arc from his debut collection, The Beautiful Changes, more than six decades ago to last fall's volume of new poems and translations, Anterooms, Wilbur's virtuosity seems practically as inexhaustible as it is indisputable.
In celebration of Wilbur's 90th birthday last month, we've assembled a choice array of his Atlantic publications from our archives, several of them posted online for the first time. We're especially pleased to reprise our original excerpts from The Disappearing Alphabet and Some Words Inside of Words, two of Wilbur's beguiling recent volumes "for children and others." If you haven't read Wilbur for a while—or only know him from a handful of anthology pieces—the range of dexterity on display here might well surprise you. A sexy shallot, a steampunk plaything, Beethoven and bran flakes, a QUIRREL and a HIMPANZEE—such are the wonders and pleasures that he alone could have conjured up in our pages. All told, it goes to show that there's always been much more to Wilbur's artistry than its lapidary graces: the poet with the best ear in the business also is one of our great wits and exemplary spirits, equally devoted to the play of ideas, the allure of words, and what he once lauded as "the love that calls us to the things of this world." Many happy returns all around.
Below, browse the Wilbur poems that are currently in our archives. Every day next week, we'll post a new Wilbur poem that had not previously been available online. And check back later in the month for more highlights from the Wilbur archive.
She (1958)
C Minor (1974)
Bone Key (1995)
The Disappearing Alphabet (1997)
Sir David Brewster's Toy (2002)
Some Words Inside of Words (2004)