'Rabbit Hole': Nicole Kidman's Ignored, Oscar-Nominated Film
The movie, about a couple mourning the death of their young son, made less than $3 million at the box office. Why it's worth watching.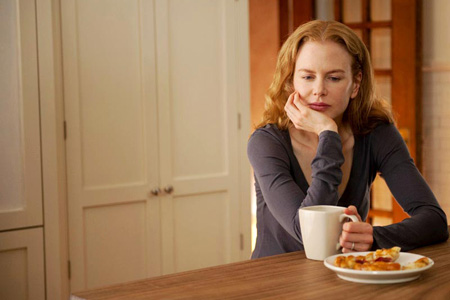 Olympus Pictures
The most devastating moment of Rabbit Hole, a grieving-parents drama currently available on iTunes and coming to home video on the 19th, isn't any traditional waterworks centerpiece (hospital-waiting-room meltdown, memorial-service speech, etc.), or even the obligatory last-act slo-mo flashback. Rather, it's a short exchange about speed limits, occurring about two-thirds of the way through the movie.
Becca (Nicole Kidman), struggling to cope eight months after her son was run over in the street outside their house, finds herself following the college-bound student who was behind the wheel that day. There is at first something accusatory about her tailing of Jason (Miles Teller), as if she is wondering how he can go about his business after what he'd done. But after an unintended run-in at the library (Jason pays a $7 fine on an overdue book about parallel universes), she finds herself sitting down with him for regular park-bench talks. These appear to have a soothing effect on her; she's not uppity with Jason, as she is with others. She does occasionally scold him, but in a safely ironical way ("You shouldn't be playing hooky, young man.").
After showing Becca his comic-book-in-progress (itself titled Rabbit Hole, approvingly interpreted by her as a kind of Orpheus-and-Eurydice story), Jason practically blurts out that he might've been driving too fast on that day, and that this is something he'd been wanting to tell her: "It was a 30 zone, and I might've been going 31 or 32." The film centers on the difficulties of (and between) Becca and her husband, Howie (Aaron Eckhart), but with this apology, the extent of Jason's anguish also comes into focus.
Despite an Oscar nomination for Kidman (also a producer on the project), and largely respectful reviews, Rabbit Hole failed to crack $3 million worldwide at the box office. The next-lowest-grossing nominee in the lead-performance categories, fellow wallow Biutiful, starring Javier Bardem, made more than seven times that. But Rabbit Hole, adapted by David Lindsay-Abaire from his Pulitzer Prize-winning play, is certainly not a film to steer clear of. It's probably too prickly—its Westchesterites, particularly Becca, are well-practiced at nasty asides—for some tastes. But thanks largely to its principals—Kidman and Eckhart, with crucial assists by Sandra Oh (as a group-therapy booster, covert pothead, and emergent affair possibility for Howie), Dianne Wiest (as Becca's mother), and particularly Teller—the hour-and-a-half movie isn't the least bit plodding, despite its heavy Ordinary People subject matter.
Directing the material is John Cameron Mitchell, a counterintuitive hire, to say the least. Mitchell wrote, directed, and starred in Hedwig and the Angry Inch (2001) and Shortbus (2006), both risqué, rough-around-the-edges works that probably couldn't be more tonally different from the decidedly-not-exuberant Rabbit Hole. But perhaps his interest in bohemian lifestyles (the very explicit Shortbus concerns an underground sex salon in New York City, and its finest moments deal with the head rush of acceptance) made him somewhat of an ideal candidate to locate and bring out the pain in seemingly innocuous suburban exchanges. Another of this film's strengths: the precision with which it shows how loaded even pleasantries can become for the grieving. In one scene, Howie enthusiastically presides over an open house, hardly allowing the realtor (or "realitor," as he says) to get a word in edgewise. When the prospective buyers ask about the room filled with toys, Howie practically deflates.
As for Kidman, she's as good here as any of her fellow nominees were in their respective films, turning in a more finely calibrated variation on her no-holds-barred ice-queen routine from Margot at the Wedding (2007). She plays Becca as unsparing, but, as she recoils after one of her own barbed remarks, always with the suggestion that she might be most critical of herself, for letting her self-pity curdle into anger. The dead-child device may seem like a dubious one, too often the recourse for movies eager to jerk tears with a minimum of effort, but Rabbit Hole is surely not one of these films. It conducts an admirably full survey of the aftermath.