'Modern Family': What Makes a Bad Parent?
This week's episode offered lessons on how to care for children well—or not
This week's episode offered lessons on how to care for children well—or not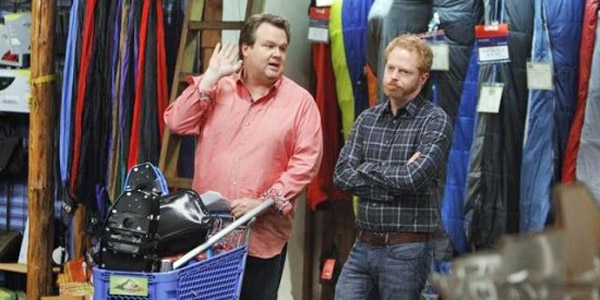 ABC
This week's Modern Family offered lessons in parenting. Searching for the perfect couple to act as Lily's guardian, Jay and Mitchell host try-outs for the obvious picks: Jay and Gloria, Phil and Claire, or Cam's podunk Missouri relatives.
Phil and Claire get off to a bad start—pans are burning, Hailey and Claire are yelling, Luke tries juggling with knives ... things are chaotic. Jay and Gloria might have a better shot, but Cam is suspicious because of Mitchell's dad issues.
Enter this week's lesson: What makes a good parent?
Phil and Claire mess things up when Claire hauls Luke to the psychiatrist because he "gets distracted" (read: probably has ADD). None of this bodes well for their shot at the guardian position. Did they mess up Luke? Are they wrong for wanting to medicate Luke? Probably both. But, that's parenting: you mess up your kids and then try to fix them and probably mess them up more in the process.
Cam and Mitchell aren't convinced—Phil and Claire are out, they have far more offenses than their competitors. But then, Jay berates Manny in public and Gloria drills holes into Lily's ears.
More bad parenting?
No. That's just how this parenting thing works.
So, who do they choose? Well, after Claire and Phil abandon Luke in the shrink's parking lot, they're not even in the running. But, Cam isn't sold on Jay and Gloria either. He has a problem: he wants perfect guardians, which of course, do not exist.
Eventually, we see that despite his parenting the first time around, Jay handles Manny's eccentricities well—he treats him like an adult, but coddles him at just the right moments. The lesson seems obvious here: Nobody is a perfect parent, but experience has its benefits.