Michael J. Fox Woos 'The Good Wife,' and Fails
The Back to the Future star appears on the show as a lawyer who wants to hire Alicia away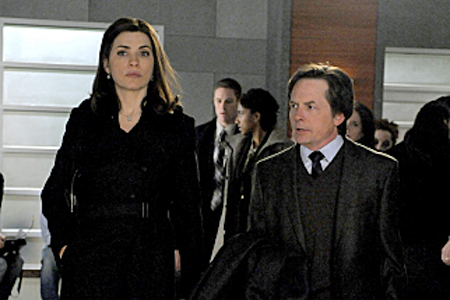 CBS
Alicia is edging toward the whole truth—that Kalinda, her prized legal investigator, once, long ago, spent the night with Alicia's husband—but has still been spared the final revelation. She will surely have to learn, and cope with, the truth eventually, but The Good Wife scriptwriters will stall as long as they can, forcing us to imagine, with dread, the terrible showdown ahead.
But Alicia continues to swim bouyantly through the shark-infested waters of her profession, this week acting on behalf of corporation employees driven to despair, depression, and a notable suicide by corporation executives who want to whittle down a largish workforce by inducing long-time employees to resign, thus forfeiting severance, pension, and medical benefits. Fortuitously, Kalinda finds a tape of incriminating conversation between executives of that company, and tracks down a former employee willing to admit she was bribed to remain silent about the scheme to hasten employee departures. Alicia, once again, forces a handsome settlement, thus avoiding a trial.
Alicia's charm and courtroom finesse continue to win admirers, in this case Michael J. Fox, who appears on the losing side of the corporation suit and announces that he has bought the substantial practice of a former Lockhart & Gardner Senior Partner, who left L&G with some anger, and took with him 20 or so of the firm's prosperous clients. Fox invites Alicia to join him and offers to double her salary. Alicia, as we fully expect, declines without a trace of calculation.