Lincoln's Assassination: Is Shakespeare to Blame?
A Bard expert explains how John Wilkes Booth may have been inspired by the emperor-slaying hero of Julius Caesar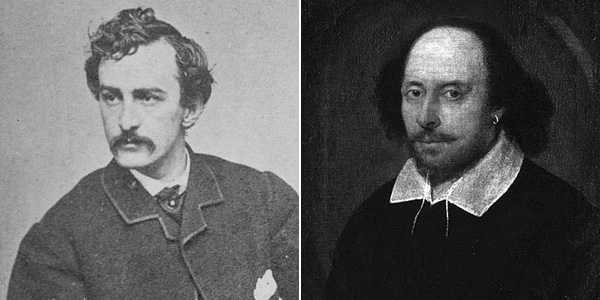 Wikimedia Commons
Today—April 14th—is the anniversary of one of the most dramatic moments in American history: John Wilkes Booth's assassination of President Abraham Lincoln at Ford's Theatre in Washington, D.C.
Booth was an actor, and he may have been inspired to commit his crime by the most famous playwright in history: William Shakespeare. In a piece in the October 1990 issue of The Atlantic Shakespeare Guild president John F. Andrews argued that Booth modeled himself after Brutus, the emperor-slaying hero of The Bard's play Julius Caesar:
As he fled across the boards of Ford's Theatre to the horse that awaited him in the alley, he must have been convinced that he had identified himself forever with the role that Shakespeare had scripted for antiquity's most notable assassin.

What he may not have realized was that he had cast himself even more indelibly in the role of antiquity's most infamous villain. The night that Booth had selected for his deed was April 14, Good Friday, and the symbolism of the date contributed immeasurably to the rapidity with which his victim came to be enshrined as a martyr. The President's redemptive qualities were emphasized in one sermon after another. Inevitably, the name of his killer became associated not with "the noblest Roman" but with Judas, the betrayer of Jesus, who had been placed by Dante, in the Inferno, alongside Brutus and Cassius in the lowest circle of hell.
Read "Was the Bard Behind It?" by John F. Andrews in the Atlantic archives.
The Lincoln assassination—and its aftermath—are dramatized in The Conspirator, Robert Redford's new film, which comes out tomorrow.
See what else is On Our Radar this week.