'Hunger Games': Josh Hutcherson and Liam Hemsworth Cast as Peeta and Gale
The two actors join Oscar nominee Jennifer Lawrence in the adaptation of Suzanne Collins' popular young adult series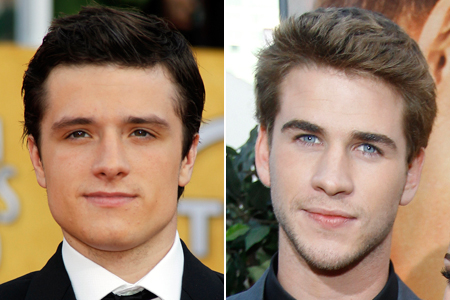 Reuters/Lucy Nicholson/Mario Anzuoni
Actors Josh Hutcherson and Liam Hemsworth have joined the cast of the film adaptation of Hunger Games. The movie will be the first installment of the hugely popular book series by Suzanne Collins that follows a girl named Katniss, a teenager in a postapocalyptic world chosen to fight to the death in a televised tournament. Hutcherson will play Peeta Mallark, a fellow participant who grew up with Katniss, fights alongside her, and harbors a crush on her. Hemsworth will play Gale Hawthorne, Katniss's 18-year-old best friend and hunting partner. They join Oscar-nominee Jennifer Lawrence (Winter's Bone), whose casting as Katniss Everdeen was announced last month.
Hutcherson, who publicly campaigned for the role, is best known for his parts in Journey to the Center of the Earth and, most recently, the Oscar-nominated The Kids Are All Right. He was also one of the finalists to play Peter Parker in the upcoming Spider-Man update. Hemsworth's biggest role to date is as the romantic lead opposite Miley Cyrus in the adaptation of Nicholas Sparks' The Last Song.
Just as passionate fans were critical of the 20-year-old Lawrence being cast as 16-year-old Katniss—saying she was too blonde, too old, and too sexy to play the olive-skinned, dark-haired, waifish heroine—expect similar complaints following this casting announcement. Hutcherson is already two years older than Peeta in the first novel, and doesn't fit the "ashy blond hair that falls in waves over his forehead" and "blue eyes" character description laid out in the book. Hemsworth, the blonde, brawny Australian, is 21—three years older than Gale—and, like Lawrence, does not share his character's dark hair, olive skin, and gray eyes.
 
The Hunger Games has been on The New York Times bestsellers  list for over 100 weeks and has sold more than three million copies. The film adaptation, which will be directed by Gary Ross, is set to be released in theaters on March 23, 2012, a date which will likely skyrocket Lawrence, Hutcherson, and Hemsworth to Harry Potter/Twilight levels of fame.