How the Tribeca Film Festival Handles Its Identity Crisis
The fest learns to navigate its dual role as a booster shot for the downtown Manhattan economy and a showcase of cutting-edge movies
The fest learns to navigate its dual role as a booster shot for the downtown Manhattan economy and a showcase of cutting-edge movies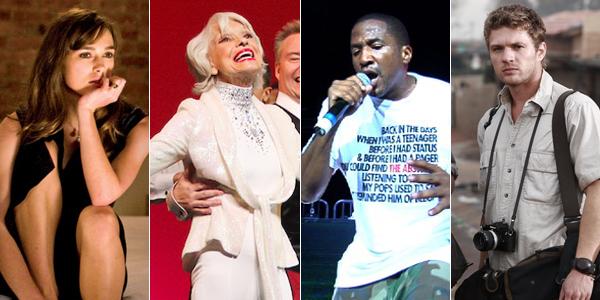 Gaumont/Dramatic Forces/Rival Pictures/Foundry Films
Founded with the express purpose of rejuvenating Lower Manhattan in the wake of 9/11, the Tribeca Film Festival is more deeply connected with its host city than your average fest. The annual spring event is in and of New York in a fashion that sets it apart from, say, Sundance and Park City, Utah.
As such, programmers each year are faced with a balancing act: blending New York-based and -themed productions with those with broader appeal. That tug-of-war between the local and global is at the heart of Tribeca, a festival that aims to remain true to its distinctive roots while becoming a major player in the international film world. Nowhere is that dichotomy more evident than in the contrast between the robust collection of New York-centric documentaries set to screen during this year's festival and organizers' concerted attempt to bring the fest to your living room and computer through on-demand and virtual platforms.
Two of the five feature-length documentaries under the New York interest heading are centered on subjects with pre-existing fan bases: Carol Channing and seminal hip-hop group A Tribe Called Quest. You don't have to live in the five boroughs to be interested in Carol Channing: Larger Than Life or Beats, Rhymes & Life: The Travels of A Tribe Called Quest. Far more localized are two of their lower-profile companions: A Matter of Taste and Limelight. Both epitomize one long-standing Tribeca archetype: films that connect the stories of true NYC characters with broader thematic portraits of the worlds they inhabit.
A Matter of Taste, from director Sally Rowe, is a documentary that follows local celeb chef Paul Liebrandt during a rocky professional decade. In 2000, at age 24, he became the youngest recipient of The New York Times' coveted three-star rating, for his work at Central Park South eatery Atlas. Acclaimed for crafting multilayered, boundary-pushing cuisine, the British native seemed headed toward culinary greatness. Yet he left Atlas after one year at its helm. Subsequently, due to a confluence of factors, some within his control and others not, Liebrandt faced a long road of disappointment and marginalization.
Rowe followed her subject on and off for years, with her camera welcomed into his kitchens and benefiting from his considerable candor. The result is a film at once highly specific, name-dropping Manhattan hot spots and major players on the restaurant scene, and engagingly universal. It's as much an insightful look at the conflicting interests, fickle trends, and delicate ecosystems of a vibrant work environment as it is a specific portrait of a place and time.
Through the story of Peter Gatien, once dubbed the "King of New York Clubs," Billy Corben's Limelight explores the heady days of NYC nightlife during the 1980s and '90s. Corben's subject is a fascinating larger-than-life figure—Gatien's run at the helm of such major now departed local nightclubs as the Limelight, Palladium, and Tunnel ended for good with his 1999 guilty plea and payment of a $1.9 million fine for tax evasion, which preceded a deportation to his native Canada. As Gatien faded from the scene, so too did the last vestige of the edgy, wild New York, scrubbed clean and subsumed by Giuliani-era reforms.
As valuable as these and other locally oriented films are when it comes to Tribeca adhering to its founding principles, they're not what draws the brand-expanding eyeballs an ambitious festival seeks. To that end, in an overt attempt to reach beyond Tri-State area audiences, programmers offer four high-profile selections through Tribeca Film's video-on-demand platform. The VOD category, available in more than 40 million homes, features films starring big names Keira Knightley (Last Night) and Ryan Phillippe (The Bang Bang Club), a Glasgow-set coming-of-age story with crowd-pleasing potential (NEDS), and a midnight-movie revenge thriller (The Bleeding House).
Most notable is the Tribeca (Online) Film Festival, which offers a cutting-edge way for audiences outside New York to take part in the fest. Housed at tribecaonline.com, the T(O)FF consists of five sections. The Festival Streaming Room offers six international features and 18 shorts from the fest, which will screen for three to five 24-hour windows. Online audiences will be able to watch live streams of red carpets and other events; participate in online only Q&As with Whoopi Goldberg, Brian Williams, and more; read about cinematic developments in The Future of Film blog; and learn about T(O)FF filmmakers through custom feeds.
These sweeping digital initiatives are no less essential to Tribeca's identity than the small, New York-based films it spotlights. Things can't always run smoothly at a fest grounded in such seemingly conflicting aims, but that's what sets this annual spring celebration apart from its higher-end counterparts and makes it an event that is, for all its flaws, vital.
Read all of The Atlantic's Tribeca Film Festival coverage.