Game of Thrones Premiere: "Winter Is Coming"
The new HBO series is almost perversely inaccessible—but it's worth the effort to let the story unfold
"Winter is coming."
–Ned Stark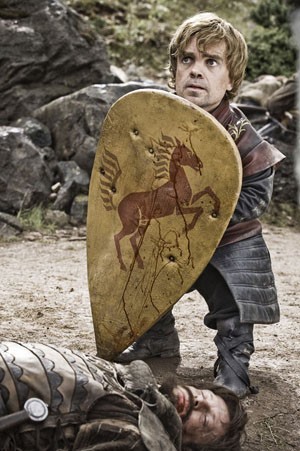 Game of Thrones, HBO's latest original series, is something of a torchbearer for fantasy television as a whole. It's also a show that couldn't have existed even a decade ago, before the advent of both long-form, serialized television and much higher production budgets for television. HBO has spared no expense in bringing George R. R. Martin's vast, sprawling A Song of Ice and Fire series to life; The show's immense cast is almost universally strong, and the fantasy land of Westeros feels lived-in, and looks terrific. Game of Thrones is undeniably impressive in its ambition and scope.
It's also almost perversely inaccessible (though perhaps no more so than Deadwood or The Wire, which also began by laying out worlds of enormous complexity and daring viewers to keep up). There are at least two dozen important characters introduced in "Winter is Coming" alone, each with his or her own allies, enemies, and personal motivations (I was absurdly grateful for the character guide HBO sent with the press kit, which I probably consulted every three minutes or so). Westeros has a history that stretches back thousands of years, with seven storied noble families, two distinct theologies, and a second language ("Dothraki," which was created—much like Star Trek's Klingon—by a professional linguist exclusively for this series).
This week's premiere episode, "Winter is Coming" is primarily concerned with the Stark family, led by patriarch Ned (Sean Bean). Ned oversees Winterfell, the aptly named territory that lies between the seven kingdoms of Westeros and the frigid, untamed northlands. In rapid succession, we meet the Stark family—Ned; his wife, Lady Catelyn (Michelle Fairley); eldest son Robb (Richard Madden); prim daughter Sansa (Sophie Turner); the tomboyish Arya (Maisie Williams); and carefree son Bran (Isaac Hempstead-Wright). There's also the bastard Jon Snow (Kit Harington), Ned's son from an affair, and Theon Greyjoy (Alfie Allen), a longtime ward of the Starks. On paper, this sounds enormously clunky, but "Winter is Coming" manages to convey most of this information with passable subtlety (due primarily to some very tight writing and editing) during the first 15 minutes.
With the groundwork laid out, the true action in Game of Thrones begins when Ned receives a raven (the Westeros equivalent of a telegram) informing him that "King's Hand" Jon Arryn has died of a sudden illness, and that King Robert Baratheon (played with boozy bravado by Mark Addy) is on his way to Winterfell. Ned knows that Robert wants him to replace Jon Arryn as King's Hand—an honored but extraordinarily taxing position (Robert, cheerily describing the job: "Run my kingdom while I eat, drink, and whore my way to an early grave.") Ned is less than thrilled about the task, but he's also suspicious of the circumstances surrounding Jon Arryn's death, and the post—which will require him to reside in the capital, King's Landing—will give him the chance to investigate.
Far away, across the Narrow Sea, we're introduced to Viserys and Daenerys Targaryen (Harry Lloyd and Emilia Clarke), the surviving heirs of a deposed former king. Viserys is scheming to retake the throne from Robert by marrying his sister off to be Khaleesi (think "queen") to the fearsome Khal Drogo (Jason Momoa). At her brother's behest, Daenerys suffers through a nightmarish wedding of barbarism and sexual violence. It's in these scenes that the highly serialized nature of Game of Thrones is most problematic; "Winter is Coming" leaves Daenerys as she's being raped by her new husband, and the gauntlet of miseries she suffers throughout this episode is made even more disturbing by the total lack of resolution.
Back in Winterfell, King Robert arrives with his entourage in tow, which includes his wife, icy Queen Cersei Baratheon (Lena Headey) and her two brothers, Ser Jaime Lannister (Nikolaj Coster-Waldau) and Tyrion Lannister (an epicurean dwarf commonly known as "the Imp," played with terrific, scenery-chewing gusto by Peter Dinklage). Cersei and Jaime—who turn out to be a lot closer than viewers might expect a brother and sister to be—are secretly working a long con to shift the balance of power in Westeros, and Jaime doesn't take kindly to Ned being appointed the King's Hand. When Ned's inquisitive 10-year-old son Bran stumbles onto Cersei and Jaime in delicto, Jaime pushes the boy out of a castle tower to the hard ground below to keep the incestuous love affair a secret.
In total, the most impressive thing about "Winter is Coming" is how quickly the series' many shades of gray have been woven into the plot. It's no accident that we're introduced to a vicious, feral-seeming White Walker (one of the series' bogeymen) as he beheads a soldier—and that less than 10 minutes later we're introduced to Ned, the series' (ostensible) hero, as he executes a soldier in the same manner. This is an ugly, merciless world, and the line separating its noblemen from its savages is a thin one—if it exists at all.
This moral gray is also, of course, the driving force behind the "game of thrones"—the scheming and machinations by which people aim to gain power. In Westeros, there's no shortage of people who want power, and there's not nearly enough of it to go around. "Winter is Coming" does an artful job of laying out an enormously dense world, full of violence, hatred, and treachery. It's not the most accessible show on television, but much like its breathlessly evocative opening credits, Game of Thrones has the feeling of a complex machine—made of countless small, interlocking pieces, churning slowly into place. For those with the patience to let the game unfold, it's well worth the effort.
Read all of The Atlantic's Game of Thrones coverage.
Note: For the sake of viewers who are experiencing the Game of Thrones story for the first time, we request that those who have read the Song of Ice and Fire series avoid revealing spoilers for upcoming episodes in the comments section below.