Cameron Crowe's Ups and Downs, 'Jerry Maguire' to 'Elizabethtown'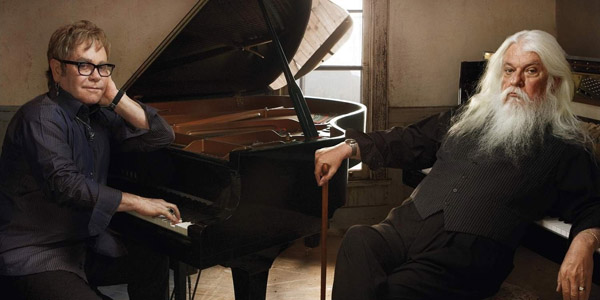 Decca
The 10th annual Tribeca Film Festival kicks off next week with an outdoor screening of The Union, a documentary about the collaboration between Elton John and fellow Rock and Roll Hall of Famer Leon Russell. The film marks somewhat of a departure for its director, Cameron Crowe, who is best known for making Say Anything... and Jerry Maguire, two of the most beloved screen romances of the last 20 years.
The Union's subject matter might not come as any particular surprise: In the '70s Crowe was a teenage contributor to Rolling Stone, and John's songs have previously held pride of place on the filmmaker's curated mixtape soundtracks—most memorably in Almost Famous, with its spontaneous tour-bus "Tiny Dancer" sing-along. But the foray into documentary, coming almost six years after his last feature, Elizabethtown (in which John's "My Father's Gun" backs two pivotal moments), opened to very tepid reviews and slow business, seems to indicate a creative change of course. In retrospect, this seemed to be a long time coming. A look back at Elizabethtown, and Crowe's preceding aughts output, reveals a filmmaker increasingly restless, even apparently insecure, with his material.
Crowe hit a high point with 2000's Almost Famous, a film about an earnest, "uncool" teenage rock journalist on tour with a band called Stillwater. The semi-autobiographical film was his follow-up to that font of mid-'90s catchphrases, Jerry Maguire, and it serves as a kind of rock-nostalgia origin story for why so many Crowe protagonists lapse into ecstatic radio sing-alongs, drumming with their fingers on the steering wheel. Almost Famous, available on home video in both the two-hour theatrical version and a 162-minute director's cut, remains more a smattering of really terrific moments (like the above-mentioned "Tiny Dancer" sequence, or the narrowly-averted-plane-crash scene) than a well-orchestrated whole, but it's exceedingly pleasant in its ambling.
It's odd that Crowe's subsequent film, the hokey but unfailingly entertaining Vanilla Sky—which reunited the writer-director with Jerry Maguire himself, Tom Cruise—feels nearly as scattered and confessional as Almost Famous. Odd because the film is a remake of a Spanish-language film called Abre Los Ojos—Vanilla Sky is Crowe's first and thus far only adapted screenplay—and it's a head trip involving facial disfigurement, cryogenics, and lucid dreaming. Publishing-empire heir David Aames (endowed by Cruise with an almost parodic level of charm) experiences love at first sight with a dancer (Penelope Cruz, who also co-stars in Abre Los Ojos), but then his wildly jealous stalker (Cameron Diaz) crashes her vintage car into a wall, with David in the passenger seat, from which point the narrative fractures into a jigsaw puzzle of dream-realities.
The personal nature of this film is not merely a function of soundtrack selection—though glacial cuts by Radiohead, Sigur Ros, and Spiritualized haunt this film's airwaves—but the unflinching way it considers a punishing comedown from the high life. Aames's apartment is outfitted with tasteful memorabilia that might very well have been personally selected by Crowe (for instance, a poster of Truffaut's Jules et Jim and a shattered electric guitar encased in glass), trappings that become essentially meaningless once David's hall-of-mirrors identity crisis gets under way.
There is an even greater air of unease in Elizabethtown, though it hews closer to Crowe's enlightened-rom-com stock-in-trade. Like Jerry Maguire, Elizabethtown begins with a top-of-his-field charmer shooting himself in the foot professionally: "As someone once said, there's a difference between a failure and a fiasco," says shoe designer Drew Baylor (Orlando Bloom), whose latest product has just flamed out spectacularly, in the very first line of the film. And so Crowe lets the possibility of catastrophe hang over this movie from frame one, which obviously doesn't do the below-average dramedy any favors.
As Cruise's character does in Vanilla Sky, Drew flirts with suicide—in one of the movie's many unsuccessful attempts at achieving something like morbid levity, he rigs up a suicide contraption by duct-taping a kitchen knife to his stationary bike—before repairing to Kentucky to mourn his father's death, deal with all manner of down-home family shenanigans, and fall in love with a persistent American Airlines stewardess (Kirsten Dunst).
Bloom is not a natural comedian, or at least the manically thrashing, at-wits'-end kind that Crowe asks him to be here, so all the funniest, most touching moments in Elizabethtown are throwaway side bits: Drew's cousin (Paul Schneider) informing him that "my condolences" is an "incoming phrase"; a kid-silencing video that features a weirdly serene hard hat named Rusty blowing up a house. There appears to be a similar anxious willingness on Crowe's part to immolate his own film. Playing Drew's mother, Susan Sarandon delivers a memorial-service speech in which she says the word "boner" three times, sending the audience into hysterics. Not long after, the room actually catches fire.
Perhaps Crowe, proto-Apatovian in his mixture of disarming sincerity and total ribaldry, simply found himself less sure-footed with this formula in a marketplace glutted with Judd Apatow productions. Whatever the case, it's hard not to take this barn-burning memorial-service scene as a final indication of where this film falls in its own failure-or-fiasco distinction. But this is not to suggest that Elizabethtown caused Crowe to beat a retreat into nonfiction once and for all— We Bought a Zoo, starring Matt Damon and Scarlett Johansson, comes out in December.