Billy Ray Cyrus Misses Kurt Cobain, and Other Unexpected Artists Who Mourn His Death
On the 17th anniversary of the Nirvana frontman's suicide, a look at the wide range of musicians affected by his loss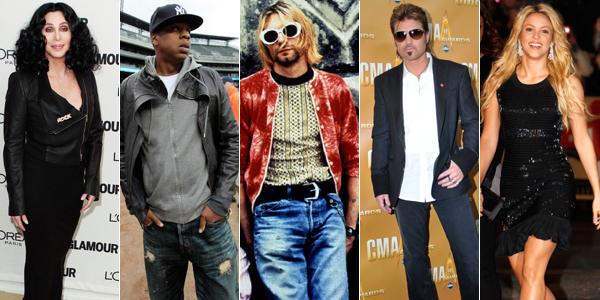 Reuters
Today is the 17th anniversary of Kurt Cobain's suicide. In the years since his death at the age of 27, the loss of the Nirvana frontman has been mourned by his family, friends, and colleagues: his widow, Courtney Love, his former bandmates, and artists who perform a dark, grungy style of music that's similar to Cobain's, like Neil Young.
But Cobain has also been eulogized by a range of unexpected artists, from one-hit-country wonder Billy Ray Cyrus to hip-hop impresario Jay-Z:
In an interview that appeared in last month's GQ, Cyrus detailed both his unlikely friendship with Cobain and the profound effect his suicide had on his own life:
"I stepped back. I was supposed to go and do another world tour. I said no. I canceled my tour. Kurt Cobain had just died, and that really had an impact on me. He was one of those guys that became a friend to me that I never expected. We met at a venue one night, some big coliseum somewhere--his rig was pulling out and mine was pulling in--and I was standing in the shadows, 1 a.m. in the morning, and he's 'Hey man, congratulations--you pissed the whole world off.' We shook hands, and I said, 'Thanks, man... I love what you all do.'" After that, Cobain congratulated him at an awards ceremony when most of his peers did not. "We crossed paths a couple more times," says Cyrus, "and then I was in St. Louis..."

He asks whether I'd like to see something, and leads me into a dark hallway. Framed on a wall, scribbled on the small pages of the St. Louis Regal Riverfront Hotel stationery, dated April 8, 1994, is the poem that he wrote upon hearing of Cobain's death. "It was about what we do as entertainers," he says, and recites it to me. "It came so fast," he says. The final page:

But after all was said and done
And the big top now came down
No one could ever doubt the fact
The circus came to town

When I say they seem like unlikely friends, he points out that they'd both just had baby girls--Frances Bean, Miley--within three months of each other. "That's what we talked about, that we each had a little girl...." Cyrus shows me pictures of Miley on the same wall, when she would run onstage as an infant, collect the roses. "One more thing about Kurt--Kurt was one of those guys. That's why I'm concerned about Miley. I think that his world was just spinning so fast and he had so many people around him that didn't help him. Like Anna Nicole Smith--you could see that train wreck coming. I was actually trying to reach out to Anna Nicole Smith, because I kept telling Tish and everybody around me, going, 'This is a disaster.'
But the "Achy Breaky Heart" singer isn't the only unexpected musician who was moved by Cobain's music and suicide. Here are some of the most surprising:
Cher:
"You know, I don't know any of his music. And I don't know how I was impacted; I only know I woke up one morning and Courtney Love was reading his suicide note on MTV, and I just felt bad," Cher said in an interview with Rolling Stone in 2000. "I didn't even know him. I remember my son was really upset about his death, and just something about his suicide note made me feel bad for him. I just thought it was a weird thing that she was reading the note, which was something that was really private, over the TV."
Following that experience, Cher wrote a song in honor of Cobain: "(The Fall) Kurt's Song." Here's a sample lyric: "It's a shame about your future/ It's a crime about your past."
Jay-Z:
Jay-Z also paid tribute to Cobain in one of his songs. Here's a lyric from "Most Kingz": "Most kings get driven so insane that they try to hit the same vein Kurt Cobain did."
Shakira:
Colombian pop star Shakira remembered growing up listening to Cobain's music, even having her first crush on him: "I remember the first time I saw him. I saw the 'Smells Like Teen Spirit' video and instantly fell in love with him, even though I couldn't see his face. I just wanted to see his face so much. After weeks of finding out anything I could about Nirvana, I saw his face -- and he had a face like an angel. I loved him. He was my platonic love. I hope Courtney doesn't hear this."
Miley Cyrus:
And like her father, Miley Cyrus is a fan of Cobain's—though her connection may not be on as deep of a level: "I like Kurt Cobain. [He] is like my dream boyfriend."